Every gamer must be familiar with the concept of in-game purchases, the goods, features, or powers, etc., that a player can buy to use in the virtual world. In-game purchases are used as a monetization model by most fees-to-play games, and they have been growing rapidly in the last few years. There are various ways to make these microtransactions, and PayPal Karma Koin is one such way.
This guide will discuss everything you need to know about Karma Koin, from buying it to redeeming it.
What is Karma Koin?
Karma Koin cards are prepaid game cards used to make in-game purchases. They function as an alternative to credit cards that are usually used to make such purchases. Karma Koin, developed by Nexon, is accepted by over 15 game publishers.
It helps convert your physical cash to a digital currency that can be used in an online game of your choice to make purchases. Karma Koin enhances your gaming experience by making it easier and more convenient to make in-game purchases.
How does Karma Koin work?
PayPal Karma Koin functions like a gift card for avid gamers, and the money credited into these cards can be converted into in-game currency. You can buy Karma Koin online or at a retail store and use them.
After buying a Karma Koin, you get a PIN that you can use to make purchases. Your Karma Koin card is debited every time you make a payment. You can use the card, like a prepaid debit card, until the balance is completely exhausted.
While most gift cards for Spotify, Google Play, or Walmart, etc., work only in those stores, PayPal Karma Koin gift cards can be used for different games without creating an account.
Note: Karma Koin donates 1% of each purchase made to various charities around the world. You are making a positive change in the world every time you purchase with Karam Koin.
How to buy them?
Karma Koin cards are available in both physical and digital formats. The cards are available in different denominations like $10, $25, $50, and $100 to suit every budget.
You can buy them all over the world. The physical Karma Koin cards are available in the USA, Canada, Australia, New Zealand, and Europe. Some of the biggest retailers like Walmart, 7-Eleven, CVS, etc., have these cards available for purchase. You can check whether any stores near you offer them on the Karma Koin site.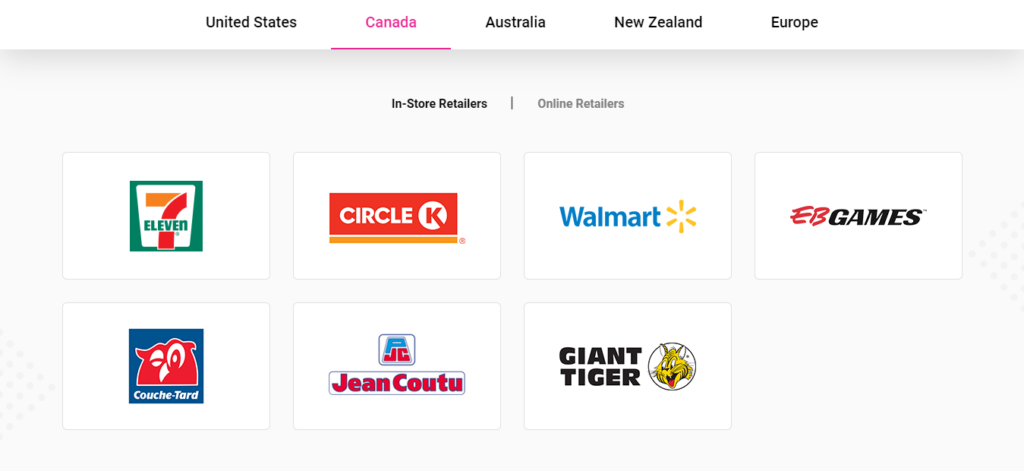 Buying them online is simpler as a lot of online retailers sell them globally. Some of the big online retailers like GameStop, Pcgamesupply.com, OffGamers, etc., sell them on their sites. Verify whether the site you are buying from is listed on the Karma Koin site.

PayPal Karma Koin
PayPal offers different gift cards on its site and is widely used to purchase Karma Koin gift cards. The process is extremely easy and fast. You need to have a PayPal account to buy PayPal Karma Koin cards.
1. Visit the PayPal Digital Gifts site and search for Karma Koin or click here to go directly to the page.
2. You can choose to buy $10, $25, $50, or $100 worth of Karma Koin card.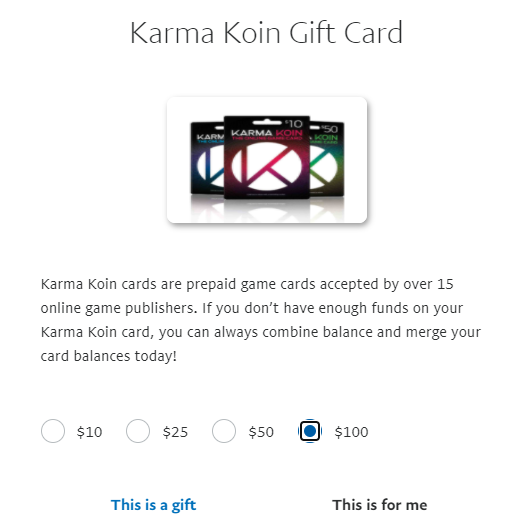 3. You can buy it for yourself or give it as a gift.
4. Click on "Add to Cart" and "Buy Now" to purchase it.
5. It may take up to 24 hours to deliver the gift card.
Your gift card will be sent by email with a unique code to be used for online game purchases.
Note: If an online or in-store retailer, listed on the Karma Koin site, is not carrying the cards, contact the Karma Koin support team. They will ensure the retailer is restocked.
How to use Karm Koin cards?
Many games and publishers accept Karma Koin as a mode of payment. Video game publishers like Nexon, Wargaming, Webzen, Bigpoint, etc., are supporters of these cards. Currently, around 22 games are available where you can use the cards.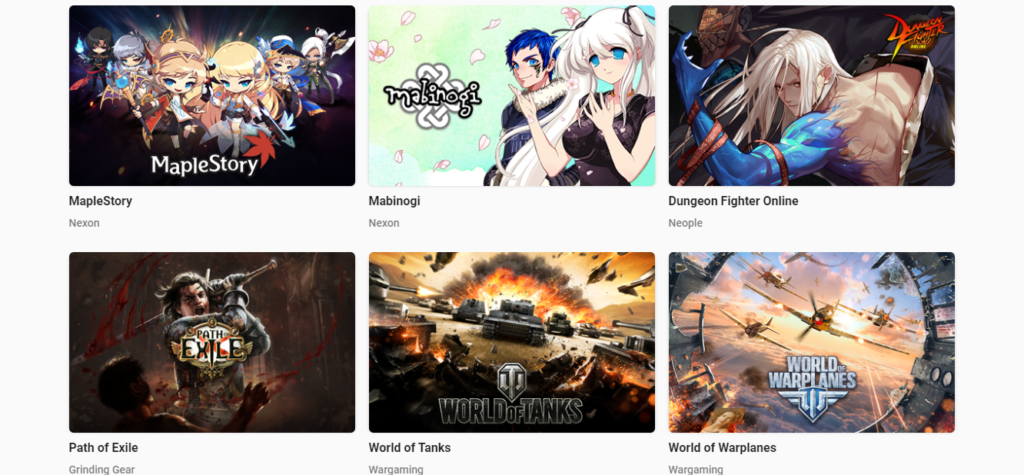 One of the primary reasons for the success of Karma Koin cards is their ease of use. Whether in the physical or digital format, all you need is the PIN of the card.
After you buy a physical card, scratch the silver at the back to reveal the PIN. In the case of PayPal Karma Koin or any other digital card, you will be sent a PIN mail.
Whenever you make a purchase, select Karma Koin as a mode of your payment, enter the PIN and follow the game's checkout process to redeem your Karma Koin balance. The money in your card is then converted into in-game credit/virtual currency that can be used for in-game purchases.
How to combine PayPal Karma Koin cards?
If you have multiple cards with a low balance, you can merge them into a single card with one PIN. Combining cards ensures you have enough balance in one card to make purchases and save time by having a single card.
1. Visit the Karma Koin website and click on the "Combine Cards" section.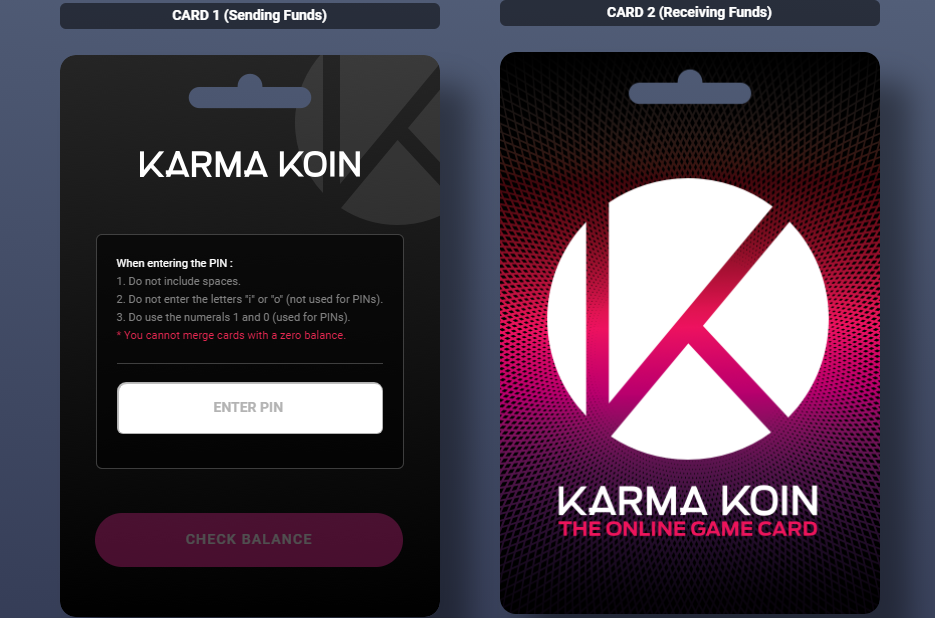 2. Enter the PIN of the card from which you want to send funds (card 1).
3. Then enter the PIN of the card you want to receive the funds (card 2).
4. The balance of card 1 is added to card 2.
You can combine as many cards as you want but a single card can not have a balance of over $500. You don't get a new PIN for the combined card.
Also Read >> SigaVPN: The Best Version of Cheap VPN Service
FAQs on PayPal Karma Koin
How to check my card balance?
You can check the balance on the Karma Koin site. Click on "Check Balance" and enter your PIN to check your card's remaining balance.
How many games allow Karma Koin?
Currently, 22 games allow Karma Koin for purchases.
Where can I buy Karma Koin?
You can buy Karma Koin in online retailers like PayPal, OffGamers, etc. and in physical retail stores like Walmart, CVS, etc.
Are there alternatives to Karma Koin?
There are other prepaid game cards like Razer Gold Game Cards, Roblox Game Card, etc.
In the end…
With the number of microtransactions taking place in the games increasing, inevitably, the use of prepaid game cards will also become more widespread. Its ease of use and speed have made Paypal Karma Koin gift cards very popular. More games are now accepting them to expand the gaming experience. Soon many of your favorite online gamers might follow them in Karma Koin cards.