Ashampoo Burning Studio 2022 is software that helps burn discs of different types such as CDs, DVDs, etc. Apart from that, this software helps to burn audio files, video files, some other special media category files, and Blu-ray discs quickly. Ashampoo comes with many useful tools and software. It is one of their useful software.
Ashampoo Burning Studio 2022 also works perfectly fine for converting audio files and creating a playlist from those as per the user's choice. In Ashampoo Burning Studio 2022, some new features help the user a lot.
The disc burning, disc ripping, and disc copying effortlessly with a wide range of settings and customization are all available here.
How to Download and Install Ashampoo Burning Studio 2022?
The user needs to visit the official website of Ashampoo. Then select the desired file and download it. When the download is finished, the user needs to install it properly. After that setup of the software needs to be done properly.
Ashampoo Burning Studio 2022: System Requirements
To download and install Ashampoo Burning Studio 2022 on the system, the user must be aware of the required specifications of a system to work it smoothly. Then, a user can easily check it on their website and make sure if this software will work on that system or not.
Those system requirements are as follows:
Operating System: Windows 7; Windows 8, 8.1; Windows 10.
Memory capacity: At least 2GB of RAM is required.
The system must have 250 MB of Hard Drive space.
A stable and active internet connection is needed to verify the licensed program at a certain interval of time.
Ashampoo Burning Studio 2022: Cost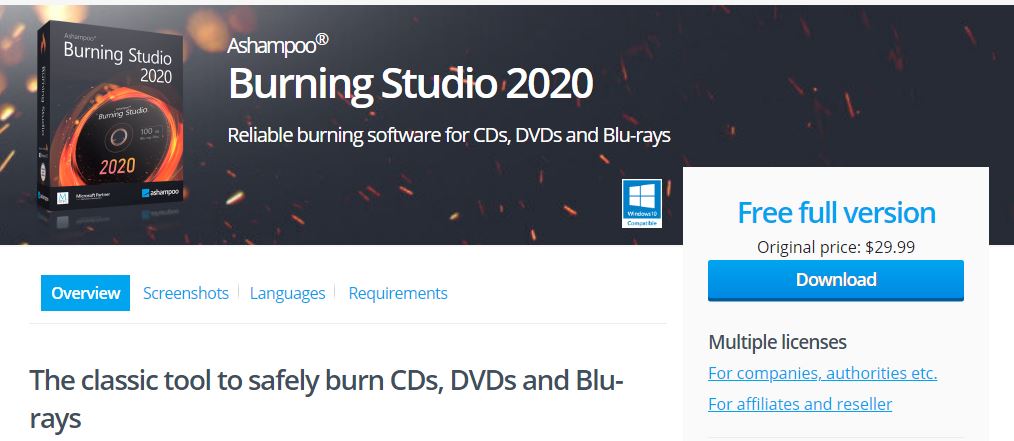 Ashampoo Burning Studio 2022 comes with a price tag of 29.99 dollars for a one-time purchase. It comes in more than 18 countries with its languages and price tags.
However, they offer a free version for regular users. The free version also helps the user to do usual tasks effortlessly. The free version has no time limit of use. However, the paid version comes with a 30-day free trial for the users.
Features of Ashampoo Burning Studio
Ashampoo Burning Studio 2022 has some unique features like burn CDs, copy files and protect backups. Those are described in detail as follows.
CD and DVD Burning: The most important feature of this software is to burn CDs and DVDs. A user might need to burn different types of files such as photos, music files, videos, and many more. The user also needs to create a backup for these files. Ashampoo Burning Studio 2022 makes it easier. The process will be seamless, and the results are also efficient. Apart from CDs and DVDs, burn Blu-ray discs, and other rewritable discs are also easier with this software by Ashampoo.

Copy large videos and movies: Videos and movies of higher resolution, such as HD and Full HD, are possible and easier to do with this software. The user can easily copy video content from different video CDs and Blu-ray discs without wasting much time.

Burning of high-quality images: ISO images and other high-quality images are easier to burn, copy, and backup with this software. For the professionals who work with these types of images, Ashampoo Burning Studio 2022 is a great tool.

For protected backups and timely updates: This software helps the user burn files and helps create a backup for them. After that, its password-protected system keeps those files safe and secure. Compressing files into small ones and splitting big files into multiple discs is also possible with Ashampoo Burning Studio 2022. In addition, the time to time update of this software makes it efficient to work.

Burning and ripping music files: For the audio files, it does a decent job too. Burning and ripping CDs and other discs is easy with this software. The extraction of music files is simple here. The user can create a list of their selected music with this software seamlessly. After ripping and extracting the procedure, the output files could be in the format of .mp3, .wav, and .wma.

Customer support: They provide a quality customer support experience to the users. The user can visit their official website and check the required steps to get proper support. Apart from that, there is also a FAQs section in the user manual to get help. Otherwise, the user can ask for support by contacting their support team via email.
Pros and cons of Ashampoo Burning Studio 2022
This software comes with so many advantages. However, there are some disadvantages too. Those are as follows:
Pros
Easy and user-friendly interface.
A wide range of customization options available.
A quality disc-burning software that works on a wide range of file types.
Available at a moderate price as well as a lifetime free version.
Responsive customer support if any issue arises.
Cons
This software setup is complicated and could take a long time.
In addition, the user might face some issues while installing.
Also, Read | Corel Painter Essentials 5 Won't Open: 4 Best Fixes for This Problem
Ashampoo Burning Studio FAQs
Here are a few questions from users who want to use Ashampoo Burning Studio.
Is Ashampoo Burning Studio 2022 a costly software?
No, they provide two different versions. One is the paid version and the other one is the unpaid version. Even the paid version is not costly as it comes with a price tag of 29.99 dollars for a one-time purchase. The unpaid version is free for a lifetime. 
Can the Ashampoo Burning Studio 2022 be able to burn high-resolution videos and images?
Yes, it is easy to burn high-resolution videos(HD and full HD) and images(ISO images) with this software.
What about the security of the files after burning, ripping, and extracting with Ashampoo Burning Studio 2022? 
The files after burning, ripping, and extracting with this software have a backup and those files are password protected. As a result, those files are safe and secured. 
What's the best link to get Ashampoo Burning Studio in 2022 at the Cheapest Rate?
Conclusion
Just like other products of Ashampoo, this software is also a useful tool for the users. It offers a wide range of facilities like disk burning, ripping, extracting, and even backup for the products with password-protected systems.
It also provides a lifetime free version for low and medium users. The paid version is not costly at all. Overall it is useful software for every user. Ashampoo provides frequent and timely updates that make the software efficient.