Whether it is a shiny new PC or an old lumbering one, all systems face performance issues and malware threats. It is inevitable for any PC. To manage such problems, you have a lot of system repair and optimization tools.
Restoro is one such software that promises to secure and safely repair your PC. In this review, we look at every aspect of this powerful technology, from features to prices.
Quick Overview: Restoro is one of the best system repair and optimization software. It is a versatile tool that can replace damaged files, repair malware damage, and restore peak performance.
Positives
+ Easy to use
+ Wide range of features
+ Competitive prices
+ Fast and efficient scans
Negatives
– Limited customer support
– Lack of protection against malware
What is Restoro?
Restoro is one of the most popular system repair and optimization software, even though it is relatively new on the market. It is a complete system solution that removes malware threats, restores max performance, detects dangerous websites, frees up disk space, and replaces damaged windows files.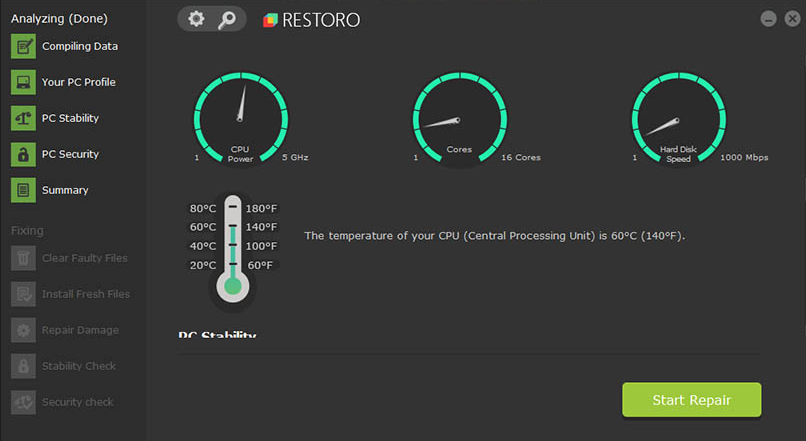 This PC repair software is designed exclusively for Windows computers. It takes the hassle out of fixing computer issues, where you must reinstall Windows OS. Instead, you can use Restoro to replace damaged OS files without losing personal files and saved data or settings.
It should be used regularly to maintain your PC's peak performance and keep it safe from external threats.
Must Read | Is Restoro Safe to Use
Pricing and Plans
When it comes to cost, the software falls somewhere in the middle of the pack compared to competitors. However, considering the number of features, they offer the prices are quite competitive. In addition, while there is only one version of the software, there are three differentlicensing plans available.
1 license, one-time repair: $29.95
Unlimited use and support for 1 year: $39.95
3 licenses unlimited use for 1 year: $59.95
Although they offer a free version, it can only scan your PC. To do any kinds of repairs, you need a license key. You can pay using PayPal or credit cards. One of the best things about it is the 60-day moneyback guarantee, which allows you to test the software risk-free.
Ease of Use
The software is lightweight and only needs a network connection and 512 MB of available RAM to operate. This makes it ideal for slow and old computers.
The software is also fairly easy to set up and use. You can download and install it from their official website in a few minutes. Once the installations are done, a scan is done automatically to analyze various aspects of your computer, which should not take more than 5 minutes: the scanning diagnoses any hardware, stability, and security issues with your PC.
All you need to do to solve the problems is click on repair. Then, it takes just one click to fix all the issues. No technical knowledge or expertise is required, which is a boon for beginners. The simple and straightforward user interface has been one of the main advantages of Restoro.
Also Read | Threatlocker: A Detailed Discussion About its Positive and Negative Sides
Features and Functionality
The software has a wide range of features to help fix different issues in your PC. The main operating principle behind the software is identifying, removing, and replacing damaged files on your system. The corrupted or deleted files are replaced with fresh Windows files and components from their continuously updated online database.
Restoro stops computer freezing and crashing, increases performance, and improves the stability of your PC. When used regularly, it can keep your computer running at its best.
Its real-time monitoring tool can help keep tabs on your computer. Their scanning system is divided into three parts:
Hardware scan: Handles low memory space, RAM comparison with the global average, and CPU power and temperature.
Stability scan: Identifies programs that crash often.
Security scan: Locates Spyware and Viruses residing in the most common malware execution locations and identifies system files damaged by the viruses.
What can Restoro fix?
Windows Errors: This is a common error that occurs when an operation has failed or due to an unexpected condition. It can be harmless or cause critical damage to your PC. A manual repair can be cumbersome and might require professional technicians. So, it is easier to use the software. It can identify damaged system files and replace them with ones from its 25,000,000-file database.
Blue Screen of Death: This is a fatal system error that leads to your computer crashing, typically caused by hardware or driver-related issues. Like the above error, rather than going through the difficult process of manual repair, you can repair it with a single click using Restoro.
Damaged DDL: Missing, damaged, or faulty DLL files is the most common error caused by frequent program installs/uninstalls. You can use Restoro to eliminate the risk of downloading insecure components online.
Computer Freezing: This happens when a program or system fails to respond to any input. With the repair software, avoid having to reboot the PC or running an antivirus scan. Instead, you can use Restoro to find out if it is an issue with RAM.
Operating System Recovery: When you have to reinstall Windows completely, it involves lengthy back-ups, long installations, and days to find and reinstall all of your favorite programs. Restoro will help you avoid all that by reviving your entire system, leaving it error-free and stable.
Virus Damage: The repair software works in conjunction with antivirus programs to repair the damage the viruses have already caused. They use whitelists and blacklists to detect exterminate harmful components in your operating system.
What does it not fix?
3rd Party Programs: It does not replace or repair files belonging to 3rd party programs. E.g., Microsoft Office, iTunes, Skype, Adobe Software, Mozilla Firefox, etc.
Virus Protection: It is not Antivirus software and does offer pre-emptive protection against malware. It is recommended to use it as a complementary solution to an antivirus.
Hardware Issues: While it can scan your hardware and identify parts that may need to be replaced, it does fix hardware issues.
Customer Support
One of the biggest minuses of the software has been its limited support services. While you can submit a ticket request online, there is no phone or live chat available. There are few resources to guide you through the process, but they are not well organized. The FAQs are detailed enough to get you started. But there is not enough to support you beyond that. For premier software, it is unsatisfactory to see such inadequate support.
Conclusion
Restoro is an amazing system repair and optimization software that is trustworthy and reliable. It has such an enviable collection of features to function as an Anti-Virus tool, a registry cleaner, and an in-home technician. In addition, there are very few limitations to what it can do. Although the customer support could be better, its user-friendly interface makes it extremely easy even for beginners. Use the free trial to see if it suits your needs.
Click here to Get the restoro at the best price.
FAQs
What is Restoro?
Restoro is one of the most popular system repair and optimization software.
Is it any good?
Restoro is an amazing system repair and optimization software that is trustworthy and reliable.
What is the price?
There are three different licensing plans available,
1 license, one-time repair: $29.95
Unlimited use and support for 1 year: $39.95
3 licenses unlimited use for 1 year: $59.95