Do you want to do any of the following things?
Safely access public Wi-Fi
Stream geo-blocked content
Use Torrent without fear
Work from home securely
Easy part: To do all those things, all you need is a VPN.
Difficult part: Choosing a VPN
Here we pit two of the premier VPN providers against each other, TorGuard vs IPVanish, and see who comes out on top.
The comparison will be done based on all the essential features of a VPN. So, don't fret. Let the TorGuard vs IPVanish match begin.
A Brief Intro to TorGuard vs IPVanish
Before we begin the comparison, it is better to know a little about the VPNs we are comparing. If you already know, skip to the next section.
TorGuard VPN Service encrypts your internet access and provides an anonymous IP so you can browse securely. It is a solid VPN service that functions as a one-stop privacy shop that protects your web traffics and offers a ton of add-ons. Along with VPN, TorGuard also provides an anonymous proxy and secure email.
IPVanishis a top-tier VPN service provider that ensures a secure environment for everyday internet activity. This US-based VPN service is a robust solution that provides a list of features. They also offer a secure storage space of 500GB to access with VPN protection.
Now that you have some knowledge about these VPNs, let the rumble begin.
TorGuard vs IPVanish: TL;DR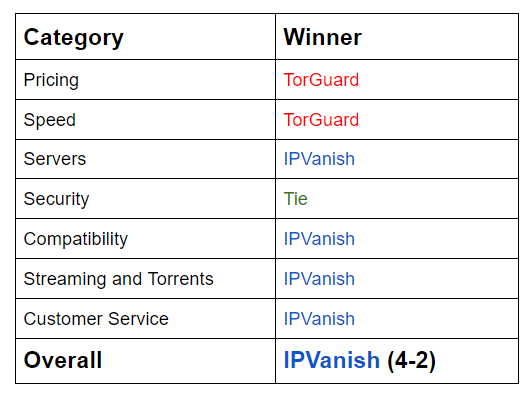 TorGuard vs IPVanish: Pricing and Plans
Before we get into the features, it is important to compare prices and plans. If you have a strict budget, it is useless to read about the VPN's servers and kill switches, only to find out you can not afford it. So, let's get this money problem out of the way.
Pricing and Plans
TorGuard: The prices start from $9.99/mo or $59.99/yr for the basic anonymous VPN plan and can go up to $169/mo for a business VPN. They also offer a 7-day free trial. Again, the prices are competitive compared to some of the other providers on the market.
IPVanish: The prices range from $9.99/mo or $89.99/yr for the basic VPN plan to $10.99/mo or $99.99/yr for VPN+storage. But as a kicker, for the first month or year, depending on your plan, you can get IPVanish for the low price of $3.49/mo or $31.49/yr. In addition, the basic VPN plans are fully refundable for up to 30 days.
There is no clear winner. For short term usage, IPVanish provides unmatchable prices. But when it comes to long term plans, TorGuard is considerably cheaper, and they also offer a larger variety of plans.
Winner: TorGuard
TorGuard vs IPVanish: The 3S
Speed
TorGuard has consistently performed well in the speed tests conducted all over the world. In the tests performed using OpenVPN protocol, depending on the location and time, the speed has ranged from 100mbps to over 250mps. Although it falls short by a decent margin compared with NordVPN, it is still better than a lot of the service providers. With the recently deployed WireGuard protocol, the speed is expected to be more than 300Mbps.
IPVanish has provided inconsistent speedsbased on the location. In the US, it provides competitive speeds that are regularly above 200Mbps. While in some of the European countries, it has been scratchy at best, delivering speeds in the range of 50-100Mbps. Compared to OpenVPN, performance picked up significantly when we switched to IKEv2.
Winner: TorGuard (by a whisker)
Servers
TorGuard has over 3000 servers in approximately 55 countries. The servers are well distributed across America, Asia, and Europe. It belongs to a small group of VPN providers, which have 3000+ servers. Although the number of servers is high, the distribution is only better than the average VPN.
IPVanish has 1600+ servers in approximately 75 countries. When it comes to servers, geographic diversity is more important than the number of servers. And IPVanish offers an excellent distribution of servers globally. Unlike other VPN, IPVanish has full ownership of its server network, which is a great advantage.
Winner: IPVanish
Security
TorGuard has robust security to maintain your privacy. It offers AES 256-bit encryption (you can choose other encryption methods), an internet and app-level kill switch, and no IP or DNS leak issues. TorGuard supports multiple VPN protocols, including WireGuard, OpenVPN, and IKEv2. It also provides some additional features like Split tunneling, StealthVPN, Ad & malware blocker, etc.
IPVanish offers a similar set of security features from AES 256-bit encryption to kill switch to protocols like OpenVPN and IKEv2. However, they do not have WireGuard yet. Instead, they have L2TP/IPSec, SSTP, and PPTP tunneling protocols to add extra versatility. In addition, unlike other VPN providers, they give you the option to customize OpenVPN connections.
Winner: Tie
TorGuard vs IPVanish: Compatibility
TorGuard is compatible with most devices, including Windows, macOS, Linux, Android, and iOS. It also has dedicated apps for Amazon Fire TV & Fire Stick. Browser extensions are available for Chrome, Firefox, and Edge. In addition, you have the ability to connect to up to 8 simultaneous devices with each subscription.
IPVanish can be configured to almost any device, but they offer native apps for all major devices like Android, Chromebooks, iOS, Linux, macOS, and Windows. It also has dedicated apps for Amazon Fire TV & Fire Stick, Android TV, Chrome OS. But the piece de resistance of IPVanish must be the ability to connect to an unlimited number of devices with a single account.
Winner: IPVanish (by a large margin)
TorGuard vs IPVanish: Streaming and Torrenting
TorGuard does not unblock all the streaming sites like Netflix, Disney+, Amazon Prime, etc., with a standard VPN subscription. You need to buy one of TorGuard's dedicated residential IPs for an additional monthly fee to access geo-blocked content. Torrenting is one of TorGuard's biggest strengths. It is fully compatible with BitTorrent, uTorrent, Vuze, qBittorrent, etc. They provide a SOCKS5 proxy, no limitations on P2P traffic, port forwarding, and split tunneling
IPVanish can provide access to sites like Netflix, Disney+, YouTube, Sling, etc. But it does not get into Amazon Prime Video and sometimes does not bypass all VPN blocks. Like TorGuard, it also supports BitTorrent, unlimited P2P transfer, a SOCKS5 proxy, and split tunneling. But the main difference is it does not allow port forwarding.
Winner: IPVanish
TorGuard vs IPVanish: Customer Service
TorGuard provides a comprehensive customer support system with a knowledge base, video guides, user forums, 24/7 live chat, email tickets, and a toll-free phone number (only US). But these resources are unfortunately limited, with a lack of in-depth articles, inactive forums, etc. Even though the replies are quick, they do often resolve the queries easily.
IPVanish has a wide range of customer support resources with a System Status page with consistent updates on outages and any other issues. Articles (not particularly well-written) on common questions and problems are available and can be easily searched. It also offers a phone line (globally), Email, and 24/7 live chat that is very quick and effective in answering your queries.
Winner: IPVanish
TorGuard vs IPVanish: The Result
Winner: IPVanish
TorGuard and IPVanish are both reputed VPN service providers with powerful features and customization options. But in the TorGuard vs IPVanish matchup, there can only be one winner. IPVanish managed to edge out TorGuard on the back of its unlimited connections, streaming capabilities, and great customer support. Although TorGuard put up a great fight with its strong connection speeds, flexible configurations, and affordable pricing. In the end, it comes down to your personal preference and priorities when it comes to essential features. Hopefully, this post made the decision-making process easier.
Also Read>>>Avast VPN Vs NordVPN: 8 Best Step By Step Comparison
FAQs
TorGuard vs IPVanish: Which is cheaper?
For the first year, IPVanish is cheaper. But in the long run, TorGuard is the more affordable one.
TorGuard vs IPVanish: Can I stream blocked content?
With IPVanish you can access geo-blocked Netflix and Disney+.
TorGuard vs IPVanish: Overall, which is the best VPN?
Overall, IPVanish edges out with its unlimited connections, streaming capabilities, and great customer support.