Like movies, TV shows, and pretty much everything else, sports have also moved towards streaming. Although sports lovers everywhere rejoiced in having a cheaper and more convenient place to watch, soon, a few drawbacks of major streaming sites became evident.
Many smaller streaming sites have emerged in the last few years to take advantage of this opportunity. BCE Premium TV is one such site.
In this post, we discuss in detail BCE Premium TV and its advantages, sports featured, etc.
What is BCE Premium TV?
BCE Premium TV is a streaming service that bundles live sports channels. Sports aficionados all over the world can get access to their favorite sports channels with this streaming service.
Founded in 2013, it has over 1.5 million people using its streaming service globally. BCE TV broadcasts cable and satellite sports TV channels on the Internet legally.
It offers over 100 live sports and full HD channels in one package to satisfy fans of every sport. With live matches of almost all the football leagues, from the major ones like La Liga to minor ones like the Swiss Super League, the streaming service is a dream for football fans.
Advantages of BCE Premium TV
Compatibility: The streaming service is compatible with all devices, TVs, PCs, mobiles, and tablets.
Affordability: It is cheaper than some of the other streaming services that offer the same amount of content. The prices start from as low as $85/yr.
Design: It has an attractive and user-friendly design, which is very important for any streaming service.
Content: With 100+ premium sports channels like Fox sports, sky sports, ESPN, NBCSN, NFL network, etc., BCE Premium TV offers a wider array of sports content.
Accessibility: Its entire library of content is accessible from every country in the world, unlike other streaming sites which are unavailable in many places or have geo-blocked content.
Quality: With its powerful servers, you experience very little downtime. You can enjoy your matches without any interruptions.
Features
Most streaming services only provide a few sports channels each. So, it is difficult for fans of more than one sport to enjoy them without paying for multiple streaming services. BCE Premium TV solves that problem by providing sports as varied as MMA to Golf under one roof.
Some of the available channels are,
Fox Sports
beIN Sports
Sky Sports
ESPN
Arena Sport
Setanta Sports
Eleven Sports
BT sport
WWE Network
NBCSN
You can check out the rest of them here.
Some of the big sports championships available to stream are,
FIFA World Cup
NHL
Asian Games
NBA
NFL
Olympic Games
European Football Leagues
MLB
UFC
Formula one
You can check out the rest of them here.
If you ever have two games happening simultaneously or had to miss a game, you can record the game on BCE Premium TV and watch it as many times as you like. You will also be provided with a live TV guide for all the premium channels.
BCE also has other streaming packages like BCE Sportflix, an extensive library of sports programs you can watch on-demand. It also has a professional soccer website where you can track games, chat with fans, shop, etc.
As a bonus, to encourage loyalty, a few lucky customers of BCE Premium TV are given cash prizes every month.
Pricing and plans
BCE Premium TV offers various plans for customers based on duration.
1 month: $20
3 months: $40
6 months: $55
1 year: $85
You also get 2 months bonus and 4 months bonus on buying the 6 months and 12 months packages, respectively. You can cancel at any time without any cancellation fee.
Getting started
You need to buy a subscription plan to get the username and password to log in. Fill in the billing information accurately before payment.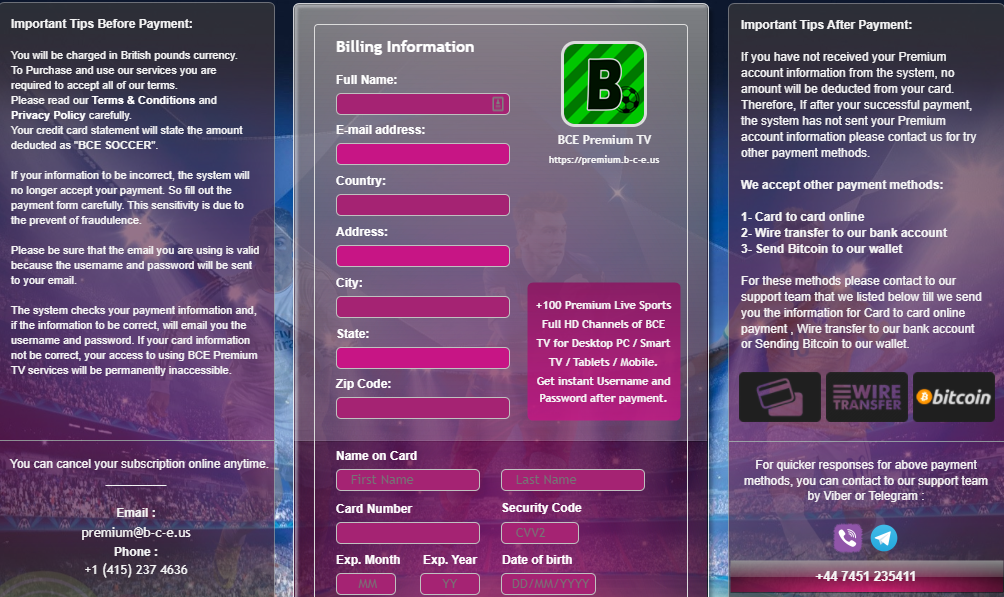 They accept debit and credit card payments from Visa, MasterCard, and American Express. Other modes of payment are also available like the card to card online, wire transfer, and bitcoin payment. You can contact their support team for the details.
Should I buy it?
BCE in BCE Premium TV stands for the biggest center of entertainment. It feels apt as it is one of the biggest in terms of live sports channels offered. Although available globally, they are not a particularly well-known streaming service, which comes with its own set of risks. The value and worth of the service are undeniable, nonetheless. They do have good ratings and a decent following, which might be more than enough for the sports aficionados to take the plunge.
Also, Read>>>Beginner's Best Guide to PhoneSites: Get a Landing Page Online in 5 Minutes
FAQs on BCE Premium TV
What is BCE PremiumTV?
BCE Premium TV is a streaming service that bundles live sports channels.
Is it legal?
Yes, it is a completely legitimate streaming service.
Is it available in my country?
Yes, it is available all over the world.