From cold calling to social media ads, lead generation has gone through a drastic change over the years. Gone are the days of reaching out to uninterested prospects.
Now, they come to you, your social media pages, and your websites. And you should be ready to capture them when they show up.
PhoneSites offers an easy and effective way to build lead capture pages for your business.
Read on to find out how you can create lead-generating webpages using PhoneSites in under 10 minutes.
What is PhoneSites?
PhoneSites is a lead-generating website builder for businesses. It is the fastest and simplest way to build sales funnels using landing pages and follow-up emails/texts.
PhoneSites allows you to create mobile-optimized landing pages for promoting your products or services as a part of the sales funnel.
You can create an unlimited number of magnet landing pages that allow you to attract leads and nurture them by sending follow-up emails and texts to convert them to paying customers.
Is it necessary?
If you are still using your homepage, contact page, or about us page as the post-click landing page, you are wasting a valuable opportunity. It is an essential part of your sales funnel.
A landing page is where you make a first impression and where you need to capture the lead. A post-click landing is disconnected from the rest of your website. Its only job is to convince a visitor to give us information for some resource, product, or service, thereby becoming a lead.
So, more landing pages mean more leads.
Did You Know?
Businesses with more than 40 landing pages have nearly 400% more leads than those with less than 5 – HubSpot
But creating multiple landing pages can be intimidating and difficult. You might probably be forced to hire consultants and web developers to help you. But PhoneSites eschews all that for an elegant solution.
The main selling point of PhoneSites has been its ease of use. You can build web pages on your phone without any technical skills or training. No coding or web development and design experience are needed to build these landing pages.
The speed at which you can build them using PhoneSites helps you create landing pages for offers immediately. They have also claimed lead conversions from their web pages to be 10x those created using other software.
With its follow-up email and text campaigns, you can build a relationship with your leads and convert them to customers.
Features of PhoneSites
Design and build custom web pages for your site to attract leads.
Choose from pre-built templates for various sectors to save time.
Incorporating visual media like high-quality images and videos to attract clients.
Emails and text follow up with CRM to keep you connected to the leads.
Free SSL certificate for every page you create to ensure the privacy and security of your data.
Free subdomains for your website.
Integrate with any CRM system supported by Zapier to share data.
Extremely mobile-friendly.
PhoneSites sales funnel
Unlike other sales funnels, PhoneSites lets you go online with your landing pages and ads in less than an hour. The simplicity and speed of the platform can probably provide you with leads on the same day.
Awareness
Use social media to promote your offers, content, products, or services to people. Facebook and Instagram Ads can be used to direct people interested in what you are offering to your landing page.
Generating leads
Once on the landing page you created using PhoneSites, they will fill the contact form to access the content you are offering. Now, they become your lead. Use tracking code like Facebook Pixel to track conversions and optimize your marketing strategy.
Nurturing and converting the lead
Connect PhoneSites to your CRM software using Zapier webhook. Send regular follow-up emails and texts to your leads to stay connected with them. Convert them into customers after you have built a relationship with them.
Pricing and plans
PhoneSites offers two plans, the Essential Plan ($49/mo) and the Unlimited plan ($99/mo).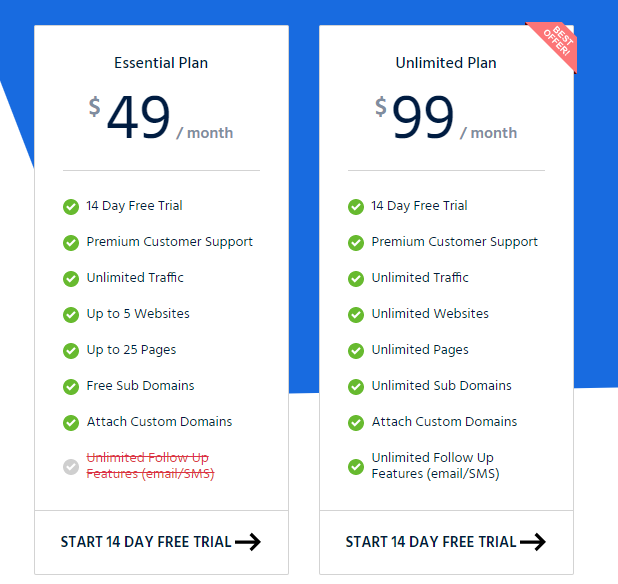 They also offer a 14-day free trail.
How to use PhoneSites?
Creating a new website
1. Once you log in, you will be taken to your dashboard.
2. Click on "New Website" to create a new site.
3 You can create a website from scratch or chose from one of the templates.
4. Choose a name and subdomain for your website.
5. You can connect the subdomain to your custom domain in configuration.
Creating new pages
1. You can create different landing pages for your website by clicking on "New".
2. Choose from templates based on your needs and then customise.
3. You can add different blocks and navigation.
4. You can add images and change their size and shapes.
5. Customise your headline and sub headline.

6. Edit the contact form by adding and deleting fields.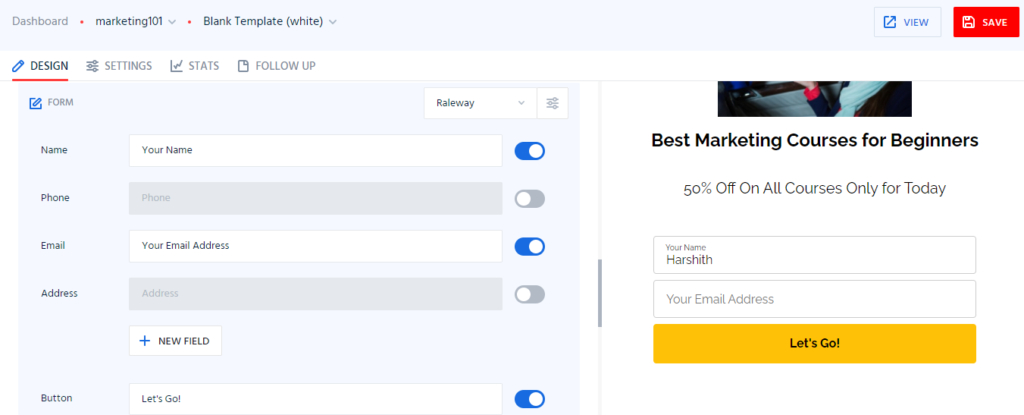 7. Click on "Settings" to change meta tags of the page.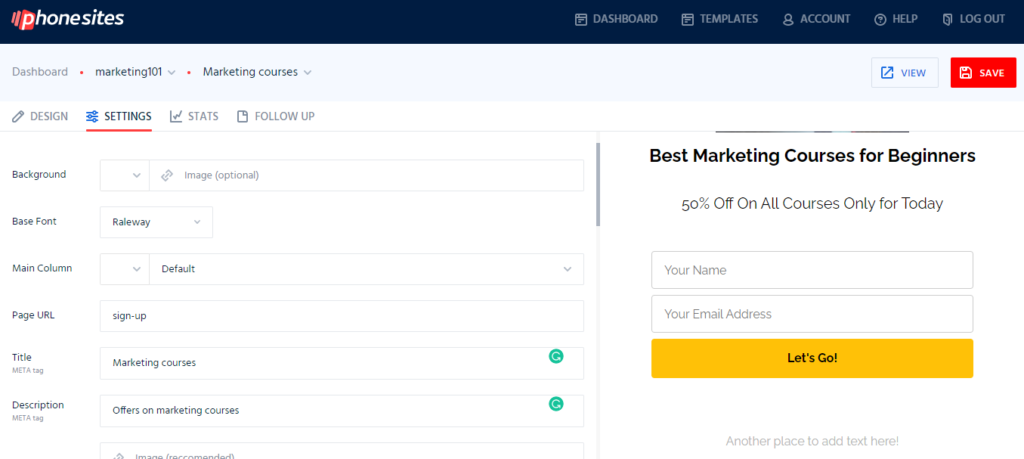 8. Save you page and it is online for people to visit and sign up.
Follow Up
1. Click on "Follow Up" to set up emails and text follow up.
2. For email follow up, you can directly add details and save.

3. For large-scale follow-up campaigns for leads, you can integrate with MailChimp or Twilio apps to send your lead data to them.
Also, Read>>> Learn About Arsenal MKG: The Best Real Estate Lead Generation and CRM Platform
FAQs on PhoneSites
What is PhoneSites?
PhoneSites is a lead-generating website builder for businesses.
Can I connect to CRM?
Yes, you can integrate with different CRM like HubSpot, Salesforce, etc.
Are there any alternatives to PhoneSites?
There are a few landing page builders like Landingi and Unbounce.
In the end…
The importance of landing pages for generating leads has been well documented. But the problems faced while generating multiple landing pages are often ignored. There are many other complicated applications to create landing pages. PhoneSites happens to be one of the easiest to use among them. With pre-built templates and integrations with 3rd party software, it has everything you need to build your sales funnel. Their claim of generating a lead page in under 5 minutes has proven to be true. For anybody who doesn't have the technical skills, a large budget, and time, PhoneSites is ideal.