The error 0x800706ba has been around for a long time now. The error has somehow shown up from Windows XP to Windows 10, causing trouble to the users. The causes and the consequences of the error 0x800706ba might be different on the different versions of the windows but are somehow related technically. While on Windows XP, this error is generated when the system fails to connect to a remote RPC server. On Windows 10, it causes some update-related issues.
Error 0x800706ba on Windows XP
Windows XP is known as the most popular version of Microsoft Windows, But unfortunately, it was also known as the most vulnerable. The error code 0x800706ba shows that the RPC Server is unavailable. RPC shorts for Remote Procedure Call is a communication protocol widely used in the Distributed System. It allows running a subroutine task on another remote machine as normal execution.
When a client computer running Windows XP sends an RPC request to the server, it waits for the response from the server. Still, if the network is interrupted just after sending the client request, then a response is never received. In such a case, the port used for sending the recommendation remains open, and port exhaustion is caused. The future client request to the remote server fails, and error 0x800706ba is caused.
Fixes on Windows XP
Microsoft had released a hotfix just for this particular issue on windows XP in April 2007. The hotfix was only applicable to Windows XP. The hotfix was then available to download from Microsoft's official website. But, Windows XP is depreciated now, and Microsoft has officially stopped supporting Windows XP a long time ago. So, there's no point in looking for the hotfix now.
Recommended Reading | Windows Update Error 0x80080008: Causes and 7 Best Possible Solutions
Xbox error code 0x800706ba
Not only on Windows, but the error 0x800706ba can also show up on Xbox one Consoles. Xbox users have reported having run into the "SOMETHING WENT WRONG" Screen with error code 0x800706ba to report on the website. The issue doesn't show up while playing games or media, but when the user surfs through the Xbox store or settings menu. According to users, the problem seems to come up after a software update, So users can wait till the next update to get this issue fixed. But if the condition worsens and games become unplayable, then a reset is always an option. Follow these steps to reset your Xbox one without removing your games.
Go to All Settings.
Go to System -> Console Info & Updates.
Select Reset Console -> Reset and keep my games and Apps
WMI error 0x800706ba
WMI stands for Windows Management Instrumentation. It is an infrastructure provided by Microsoft for the management and operation of Windows products. It is a well-developed system used for gathering information about the status of Local and Remote hosts. The most common error to get in this environment is "WMI Error: 0x800706ba, The RPC server is unavailable." This error usually shows up due to exhausted ports waiting for the responses from the not-responding servers.
To Check your RPC connectivity, run the following command in PowerShell with Admin privileges.
Get-WmiObject Win32_ComputerSystem –ComputerName Remote_host
Remote_host is the server's name or IP address to which you are trying to connect. If your ports are not exhausted, and you're still getting this error, you should check your Firewall settings as it might be blocking RPC connections.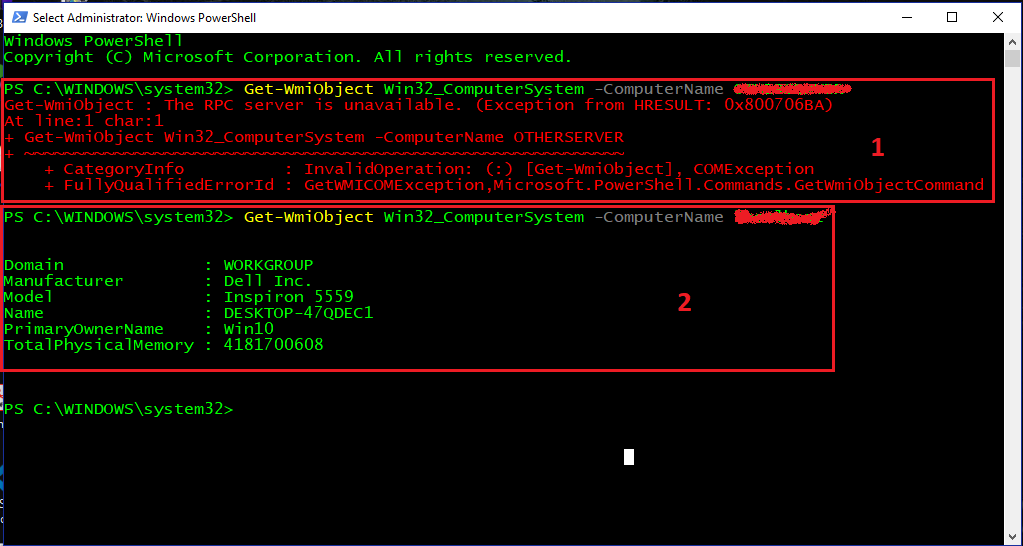 Error 0x800706ba on Windows 10
Windows 10 is a much more secure and mature operating system than Windows XP, device driver support and security features in Windows 10 is much more robust and effective than previous versions of windows. Still, there is always room for errors. A user can encounter unexpected errors at an unexpected point. On Windows 10, this particular error usually appears when updating windows. There are many possibilities for this error to show up, such as corrupt system files, corrupt registry entries, RPC server-related issues, inappropriate device drivers, or malware in the system.
Download error 0x800706ba
If you are having trouble with Windows Update and receiving error code 0x800706ba while trying to update, it might be caused by some important system files being corrupted. There are several ways to work around this issue. The error shows up while the system tries to download the latest Update for Windows. Corrupt system files are responsible for Windows Update Download error 0x800706ba.
windows store error code 0x800706ba
If you faced the Download error code 0x800706ba while downloading or updating Windows, it is probable to encounter the same error in the Windows store. The Windows Store is the official place to find, download and update compatible software applications for your PC. If you are constantly annoyed by the error code in the windows store, follow the solution provided in this article to get rid of the trouble.
Rectify Error Code 0x800706ba
Run an SFC Scan
System File Check(SFC) is a system utility program that can deal with most of the problems caused by corrupt files. Follow the given steps to run an SFC scan.
Right click on the start menu.
click on Windows PowerShell (Admin).
Type sfc /scannow in the shell and hit enter.
Depending on your system and the number of issues found, the process would take some time to complete.
Run Windows update troubleshoot
Windows update troubleshoot could be the best way to deal with any update-related issue. Try running the troubleshooter by following the given steps.
Right click on start menu.
click on settings and open it.
Look for Update & Security and open.
In the menu on the left hand side click on Troubleshoot tab.
Click on windows update and then on Run the troubleshooter.
Let the troubleshooter run the process accordingly.
When the troubleshooter process in done Restart your computer.
Check Windows Update Services
Another possible reason for receiving error 0x800706ba with windows update might be the windows update services that run in the background to ensure proper working of the Windows Update. Follow the given procedure to check on these updated services.
Press windows key + R.
type services.msc in the search box and hit Enter.
Search for servcies such as background intelligent transfer services, windows update,etc
Make sure all the required services are running and are set to automatic.
click on OK
Restart your computer.
Printer Error 0x800706ba
If you are trying to print something and are prompted with the message "Cannot Print to any device, error code 0X800706BA,". This issue might be caused due to inappropriate or incompatible drivers, or maybe because you recently updated your Windows, and old drivers won't work with the new update as smoothly as they should. To resolve this issue, you may have to uninstall the older drivers and install/update the new ones. Here are a few things you could try to make your printer work again.
If your printer came with a disc with a compatible driver, uninstall the current drivers from Device Manager and install the one with the printer. However, if you don't have a driver disc, the most promising way to find a compatible driver for your printer is through the manufacturer's website. Search the website for drivers by the model identification of your unit, and you should find the compatible driver. Download the driver and install it.
FAQs on Error 0x800706ba
When did Microsoft stop supporting Windows XP?
Microsoft officially dropped the support for Windows XP on April 8th, 2014.
What is a security patch?
An update in the system software, primarily intended to fix security-related bugs and vulnerabilities.
Is RPC an application layer protocol?
RPC can be thought of to cover both the application and transport layer of the TCP/IP protocol stack.
Conclusion
It is a clear fact that the 0x800706ba is one of the most common and frequent appearing error codes in windows. But as we have seen, all the issues caused by this error can be handled and worked around with a few simple steps. However, to save yourself the hassle of dealing with errors daily, it is recommended that you always keep your system up to date(windows update, drivers update, etc.) and protected(Antivirus, security patches, etc.).