In this article, I will brief you on all the functionalities, accessibilities, and serviceabilities the Farbar recovery scan tool provides.
What is Farbar Recovery Scan Tool?
Farbar Recovery Scan Tool is an application that scans and reports the details about the Windows registry and other system files. It helps prevent the accidental removal of registry items and helps identify known threats.
Farbar Recovery Scan Tool is a portable application that can diagnose and fix various malware issues. It can also be identified and fix problematic boot issues. The app is also compatible with 32-Bit versions. The app is free and can be used by all Windows users.
2 Main Features Of Farbar Recovery Scan Tool
The main features of FRST are presented in a simple and coherent format.

Aside from detecting infections, it can also fix boot issues and identify system errors.
2 Limitations To Use Farbar Recovery Scan Tool
Farbar Recovery Scan Tool is a good application for new users, but it's not the easiest to use for beginners.
If your system has a boot issue, then it should first boot to the Recovery Environment and then run Farbar Recovery Scan Tool.
Click here to download the latest 2022 Farbar Recovery Scan Tool application for your PC system(32/64-Bit Versions) in less than 10 seconds.
Key Notes To Take Away:
The Farbar Recovery Scan tool can be used for both 32-bit and 64-bit systems. Before you run it, make sure that the version that matches your system's bit type is installed.
You may not be exactly sure which version is the right fit for your system, so you must seek out for both versions to figure out the most suitable version for your system.
Farbar Recovery Scan Tool is not recommended for Windows XP 64-bit systems.
Remove Ransomware with Farbar Recovery Scan Tool
Follow up the following procedure step-by-step to be able to use the farbar recovery scan tool easily.
Prerequisite: To ensure that you diagnose your system properly, you need to run this application under administrative rights only to gather logs. It is not a problem to be concerned about but be vigilant about the fact that you may see automatically generated program prevention warnings while running it.
How to Remove Malware Infections with Farbar Recovery Scan Tool?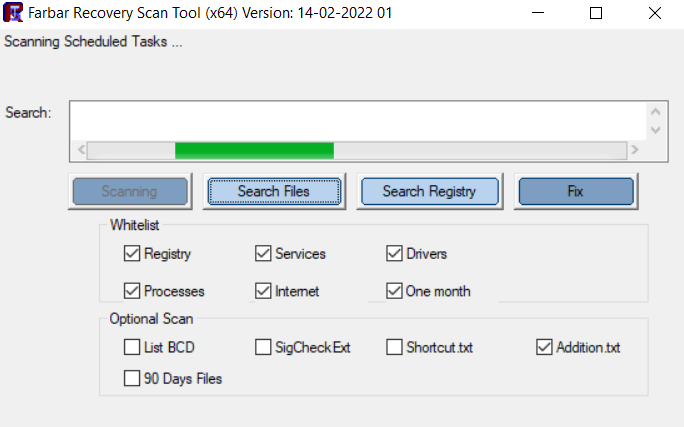 Foremost, you need to download the farbar recovery scan tool according to the OS requirements of your PC system (32-bit or 64-bit).
Now that you have downloaded it on your system, I'd want you to quickly extract the application and run it in a normal or Windows Safe Mode on your system.
Click-right on the FRST app and then select "Run as administrator" after saving the file to your system.
To run as an administrator, click on the farbar recovery scan tool executable file (.exe format) and then pick to run as an administrator. Once this system has been efficiently downloaded and authenticated, it's going to show a disclaimer on your desktop.
Now, ensure that you checkmark the following boxes under the Whitelist and Optional scan:

Registry
Services
Drivers
Processes
Internet
One month
Addition.txt

Please allow programs to run regardless of the warnings. Some programs, even those labelled as legitimate, may still cause issues due to their nature. If this happens, please allow the program to run.
The scan usually takes a few minutes to complete, and it will display a green progress bar at the bottom of the screen. If the program is still showing no progress after 30-40 minutes, then please close it.
If Emsisoft Anti-Malware sends an alert when it is running, it will most likely send it again during the scan.
Upon completing the scan, it will show you a list of files that it has saved, and it will also open in Notepad. To close them, press the OK button.
Now, if both the Notepad and FRST windows are already open, close them by clicking the X in the upper-right corner without saving them to your system.
Select Ok to terminate every statistics window.
If you run FRST from any other computer, the one's documents can even seem like log documents
A Few Quick Tips to Fix Those Records Generated By FRST
I just want you guys to let you know that if you have any P2P Software Programs installed on your desktop, then I must warn you that your system, in that case, will only make it more permittable to malware infections. It is unequivocally stumping up your current problem only.
Note to make: Even if a program is safe, sharing files from uncertified sources is still not safe. Only the safest P2P program is safe to share files from. Hackers and a few computer nerd programmers usually use P2P filesharing to distribute their warez content.
However, this tool does not imply that all programs should be removed. However, it can help users quickly remove problematic registry items.
>> Control Panel Add
>> Remove Programs
Since you're not using it, you can also uninstall AVG. You can also do Windows Defender to prevent it from reinstalling itself.
Farbar Recovery Scan Tool (FRST) won't fix anything unless an essential requisite is done to ensure that it should be having something instead of trying to resolve the issue you earlier had.
4 Essential Alternatives for Farbar Recovery Scan Tool in 2022
Here are the best alternatives for FRST that you don't want to miss out on at present with their sources.
RKill – Download RKill (bleepingcomputer.com)
AdwCleaner – Download AdwCleaner (bleepingcomputer.com)
ComboFix – Download ComboFix (bleepingcomputer.com)
Junkware Removal Tool – Download Junkware Removal Tool (bleepingcomputer.com)
FAQs Related To Farbar Recovery Safe Tool

Is it safe to use Farbar Recovery Scan Tool?
Can FRST fix boot issues as well?
Indeed, it can. This application can also fix boot issues and scan for malware.
Why is Farbar Recovery Safe Tool not that popular in modern devices?
Although, it, being a free windows application, is consistently being used by Windows users to a certain level. FRST, standard desktop software has so many alternatives in 2022 that novice users are more interested in the latest tools that are wide open and available to all.
Conclusion
This article was written was to make everyone aware of the standard Farbar Recovery Safe Tool and how popular it is still amongst the traditional windows users. We discussed various aspects around which include how to use it, the best FRST alternatives, and a smooth quick-restore to the restore log generated with the aid of using the farbar recovery safe tool in detail.
I hope you find this article informative and enlightening to converge knowledge about these malware diagnosis recovery tools (Farbar Recovery Safe Tool).