Do you want to do any of the following things?
Safely access public Wi-Fi
Stream geo-blocked content
Use Torrent without fear
Work from home securely
Easy part: To do all those things, all you need is a VPN.
Difficult part: Choosing a VPN
Here we pit two of the premier VPN providers against each other, Hotspot Shield vs NordVPN, and see who comes out on top.
The comparison will be done based on all the essential features of a VPN. So, don't fret. Let the Hotspot Shield vs NordVPN match begin.
A Brief Intro to Hotspot Shield vs NordVPN
Before we begin the comparison, it is better to know a little about the VPNs we are comparing. If you already know, skip to the next section.
Hotspot Shield is one of the world's fastest VPN that protects you with military-grade encryption. It helps you access sites and streaming content from around the world. Unlike other premier VPN service providers, they also offer a completely free version.
NordVPN has been on the top of many best VPN lists over the years. It is a premium VPN service that provides you with a secure, encrypted tunnel for online traffic flow. Known for its reliability and endorsed by some of the most prominent people in this sector, its reputation precedes itself.
Now that you have some knowledge about these VPNs, let the rumble begin.
Hotspot Shield vs NordVPN: TL; DR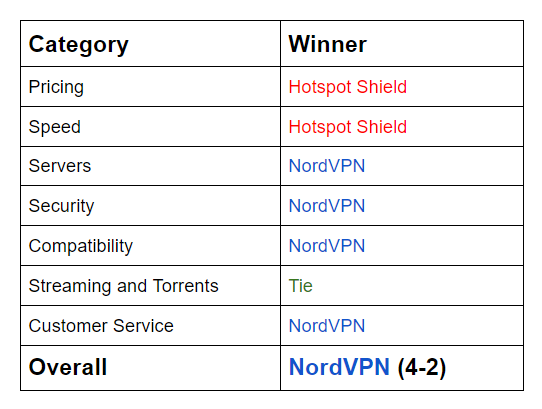 Hotspot Shield vs NordVPN: Pricing and Plans
Before we get into the features, it is important to compare prices and plans. If you have a strict budget, it is useless to read about the VPN's servers and kill switches, only to find out you can not afford it. So, let's get this money problem out of the way.
Hotspot Shield offers 3 subscription plans, Basic (free), Premium ($7.99/mo), and Premium Family ($11.99/mo). It is one of the few premium VPN service providers that offer a free version with a few basic features for beginners. One of the biggest advantages of Hotspot Shield is its 45-day moneyback guarantee which gives you enough time to test out the service.

NordVPN offers 3 subscription plans, 1-month ($11.95/mo), 1-year ($4.92/mo), and 2-year ($3.71/mo). But the prices for the annual and biannual plans change to $119/yr when it is up for renewal. All three plans have a 30-day moneyback guarantee to help you try the service risk-free.
Winner: Hotspot Shield
Hotspot Shield vs NordVPN: The 3S
Hotspot Shield vs NordVPN Speed Comparison
Hotspot Shield claims to be the fastest VPN on the market. It uses the Catapult Hydra protocol that is designed to improve performance. Various reviewers from around the world conducted tests to verify this claim. In them, the VPN has consistently delivered speeds higher than 350Mbps and even touched 600Mbps in the US. This is significantly higher than the highly-rated VPNs like ExpressVPN. But one drawback is it doesn't support the popular OpenVPN and WireGuard protocols.
NordVPN has always delivered on the speed front. On the OpenVPN connection, it averages a speed of 150-200Mbps, which is perfectly serviceable. But when switched to NordLynx, it delivered speeds in the range of 300-350Mbps, which is faster than most competition. It provided decent performance even at long distances.
Winner: Hotspot Shield (by a large margin)
Servers: Hotspot Shield vs NordVPN
Hotspot Shield has 1800+ servers in over 80 countries. It has servers in Africa, South America, and even in regions with repressive internet policies, such as China, Russia, etc. Hotspot Shield shares server infrastructure with five other VPN companies owned by Aura and does not own all its servers. All their servers are P2P-friendly and have a built-in block for malicious and phishing sites to keep you safe.
NordVPN has 5400+ servers in over 59 countries. Although it has a decent geographic diversity, most of its servers are in the US and UK. It has a footprint in Asia, South America, Africa, and s countries with restrictive internet policies like Hong Kong, Turkey, etc. Unlike Hotspot Shield, its servers are dedicated, and none are virtual locations. It is also moving towards owning all its servers.
Winner: NordVPN
Security: Hotspot Shield vs NordVPN
Hotspot Shield uses its own Catapult Hydra protocol, in addition to the support for IKEv2. It provides the standard AES-256 encryption, leak protection, and malware protection. Hotspot Shield has an automatic kill switch but only for Windows apps. While they don't log usage information, they still duration of sessions, bandwidth consumed, domains accessed, and device hashes. If you are using the free version, they may share information with third-party advertisers.
NordVPN is known to be very conscious of the privacy of its users. They offer AES-256 encryption and a choice of protocols from NordLynx, OpenVPN, and IKEv2. NordVPN has plenty of features like Split Tunneling, Double VPN, Onion over VPN, and Obfuscated servers to ensure utmost privacy. You also get an internet kill switch and an app kill switch that automatically cuts your connection if your VPN drops. And as a sweetener to its already great security measures, it also does not keep any logs.
Winner: NordVPN (by a large margin)
Hotspot Shield vs NordVPN: Compatibility
Hotspot Shield is compatible with most devices and has dedicate apps for Windows, Linux, macOS, Android, and iOS. It has browser extensions for Chrome and Edge and can be configured on routers. It also has dedicated apps for Fire TV & Fire Stick and Android TV. You can connect to 5 devices simultaneously with the Premium plan.
NordVPN is similar to Hotspot Shield in terms of compatibility. It has dedicated apps for Windows, Mac, Linux, Android, iOS, Fire TV & Fire Stick, and Android TV and browser extensions for Chrome, Firefox, and Edge. It can also be set up on routers, NAS, and firewalls. IT support 6 simultaneous connections.
Winner: NordVPN
Hotspot Shield vs NordVPN: Streaming and Torrenting
Hotspot Shield is one of the best when it comes to unblocking streaming content. You can access Netflix, Amazon Prime Video, Disney+, etc., and get around region controls on any other platform without any hiccups. This service is also very torrent-friendly and fully supports P2P on all servers.
NordVPN has proven to be a great option for streaming. It can provide Netflix, Amazon Prime Video, Disney+, and YouTube with servers from any location. Its unblocking performance is awe-inspiring and can help you access even niche streaming sites. This service does not support P2P on all its servers. But if the service detects P2P activity, it can automatically re-route your connection to a torrent-friendly alternative.
Winner: Tie
Hotspot Shield vs NordVPN: Customer Support
Hotspot Shield has a web-based support center with articles organized by categories and platforms. But the articles are not in-depth and detailed. They also offer 24/7 live chat and email support.
NordVPN has a support centre with tutorials and guides that could be organised better. The site also has a chatbot to offer quick answers. They have 24/7 live chat, email, and a phone line to help you.
Winner: NordVPN
Hotspot Shield vs NordVPN: The Result
Winner: NordVPN (4-2)
Hotspot Shield and NordVPN are both ranked as the very best VPN service providers in the world. But in this Hotspot Shield vs NordVPN fight, only one can emerge as the victor. It is NordVPN, with its consistent speeds, reliable privacy, and effective unblocking of streaming sites. But Hotspot Shield is no slouch when it comes to delivering top-of-the-line performance, seamless streaming, and a friendly user experience.
If you are a beginner looking for something that is affordable, easy to use, and has reliable speeds, then go for Hotspot Shield. But when it comes to top-notch protection and the latest VPN technology, NordVPN is almost invincible.
Also Read >>> Avast VPN Vs NordVPN: 8 Best Step By Step Comparison
Hotspot Shield vs NordVPN FAQs
Here are a few questions we often hear when comparing Hotspot Shield vs NordVPN.
Hotspot Shield vs NordVPN: Which is better?
It is NordVPN with its consistent speeds, reliable privacy, and effective unblocking streaming sites.
Hotspot Shield vs NordVPN: Which is safer?
NordVPN is known to be very conscious about privacy of its users.
Hotspot Shield vs NordVPN: Which is faster?
While both are incredible fast, Hotspot Shield takes the cake here as the fastest VPN sevice provider.