With more than 3.5 billion people using social media, marketers and advertisers have jumped on to capitalize on the boom. As a result, social media marketing has grown by leaps and bounds in the last decade.
With a growing audience, managing social media has become a job for large teams. To effectively handle brand building, sales conversions, and customer service through social media, you need large groups of people working together. For that to happen smoothly, you need to have a platform like Hootsuite Mobile for teams.
In this post, you will get an introduction to Hootsuite Mobile and how it helps teams.
What is Hootsuite Mobile?
Hootsuite is a social media management platform founded in 2008. It handles all the tasks of a social media manager like scheduling posts, dealing with customer queries, crisis monitoring, managing teams, finding prospects, reporting metrics, etc.
The platform caters to everyone from individual entrepreneurs to large enterprises. Their user interface is in the form of a dashboard and supports social network integrations for Twitter, Facebook, Instagram, LinkedIn, and YouTube. It also allows teams to collaborate and function together effectively.
Hootsuite has a mobile application to help you stay connected with the platform wherever you are. You can seamlessly manage and maintain your social media presence on the go. It is available both in the Apple App Store and Google Play Store.
 The mobile app offers most of the functionalities present in the desktop version, and you can work fluidly between them. Hootsuite mobile for teams has proven to be an incredible tool for collaboration among team members.
Collaboration without Hootsuite Mobile for Teams
Without Hootsuite mobile for teams, it can lead to communication failures, redundancies, and ultimately a drastic reduction in productivity.
Creating posts: The process of composing a post for social media involves more than one person. Editing and refining your draft without having any input from your team members is a lost opportunity. Assigning team members to social media accounts or specific posts becomes laborious and chaotic without a proper platform.
Scheduling posts: Getting approvals for posts from the publisher without a platform is unnecessarily time-consuming. Keeping track of all the scheduled posts by different members to see who is posting what and when can be an extremely difficult task without a proper collaboration tool. It can also lead to a lack of flexibility when it comes to making changes.
Customer engagement: To keep the conversation of your brand flowing, you need to monitor and engage with your social media streams. But with millions of people on social media, it is difficult to monitor without adding team members to that social media stream. Without a timely assignment of team members to conversations, customer engagement can lead to chaos.
4 Ways Hootsuite Mobile for Teams Helps with Collaboration
It is imperative for social media professionals to collaborate with their teams while on the go. Since social media does not sleep, you need someone to monitor and engage all the time. This is especially true of large enterprises that receive a high volume of queries from customers and prospects every day. To ensure effective social media management, you need a proper collaboration tool like Hootsuite mobile for teams. It can transform the way you manage your team.
Monitor streams
The Hootsuite mobile application allows you to share social media engagement streams with teams. This gives other team members the opportunity to monitor the same social feed and see which messages have been responded to. It helps identify and reply to customer queries quickly.
Manage assignments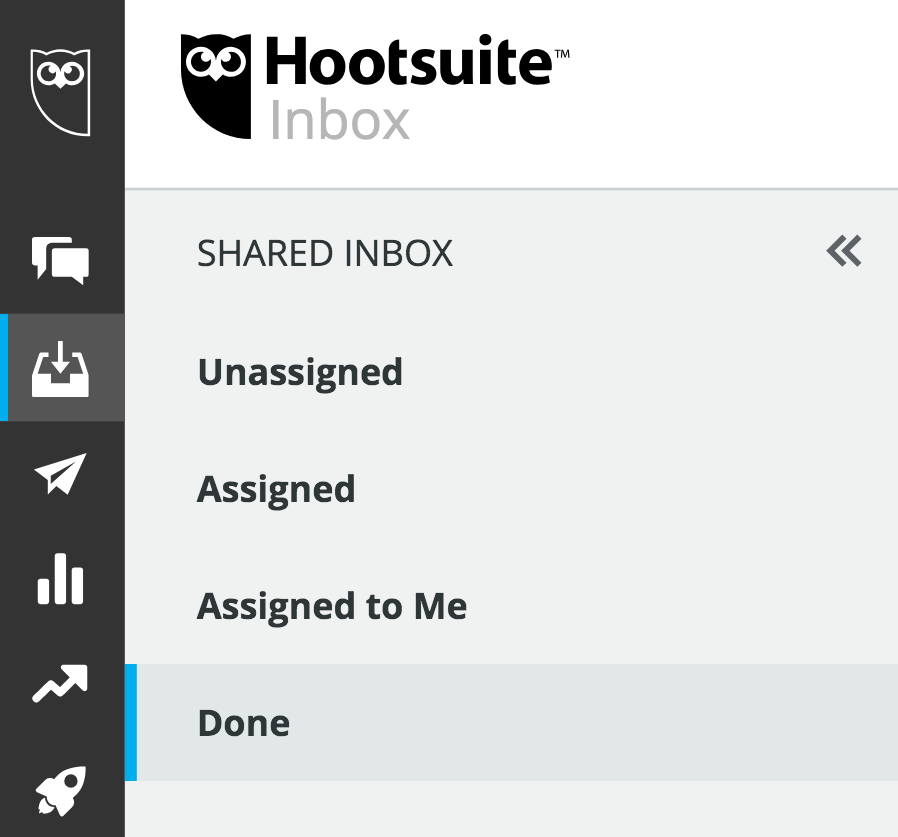 Within the social media streams, incoming social messages can be assigned to your team members or other teams. All you need to do is tap on "more" and on "assign to" before selecting the team or person you want to respond to the messages. Assigning can help if another team member is better positioned to address the message or if you are busy and unable to reply. Coloured frames indicate if a message has been assigned or resolved.
Depending on your plan type, you might have access to Inbox which helps teams manage incoming messages and conversations. Inbox offers a view of private messages directed at multiple social media accounts across different platforms. In the Inbox, you can reply to a conversation, or assign it to a teammate. Social media managers can make sure no query or message goes un-replied. Once a message has been addressed, the checkmarks it as done.
Manage drafts and approvals
In the Hootsuite mobile app, team members can create drafts in the "Publisher" or the "Compose" section will message approval functionality. You can give editing permissions to your team members, enabling them to make changes from their own mobile device. If you have approval privileges, you approve, edit, or delete a draft message composed by your team members right from the app. In the publisher area, you can check for pending approvals at any given time.
Ease of use
Since you can access your Hootsuite app from anywhere and at any time, it allows you to be more adaptable, flexible, and collaborative. Any assignments or approvals made on your desktop are immediately visible on your mobile app and vice versa leading to a seamless experience.
In the End…
Hootsuite mobile for teams is a boon for social media managers in more ways than one. It makes life easy for them by offering convenient ways to delegate tasks to their team members. With a simple click of a button, you can assign a task, add collaborators, and edit posts as you see fit. It is the ideal collaboration tool for social media managers on the go.
Also Read >>> Learn About ActiveConversion: The Best B2B Digital Advertising Software
Hootsuite Mobile for Teams FAQs
What is Hootsuite mobile?
It is the mobile application of the social media management platform.
How does Hootsuite mobile for teams help?
The tool leads to better team collaboration by allowing you to assign messages, share streams or approve posts from team members whether in the office, or on the go.
Are there any other alternatives?
There are quite a few like Buffer, Sprout Social, SocialWeaver, etc.