Coming across MusNotifyIcon.exe? Don't know how to deal with it? Don't worry. We got you covered!
Well, we all know the number of updates Windows forwards to our devices is no less than a double-digit number for a year. However, that not being the central idea of today's article, we will discuss a service named MusNotifyIcon.exe that is indirectly related to these updates. Moreover, these updates actually spoil the flow if you are at work, thus resulting in an efficiency decrease. So in this article, we will discuss few problems and what this service actually is.
What is MusNotifyIcon.exe
Many people have seen the files named MusNotifyIcon.exe, MusNotification.exe, MusNotificationUx.exe, MusDialogHandlers.dll, and MusUpdateHandlers.dll in your Windows. The main purpose of these files is that they work together to show the Windows Update Status Icon in the taskbar in the notification area. Whenever your device gets a new update, has to install a new update, or has a restart required, these files come into play.
You can find these files on this path: C:\Windows\System32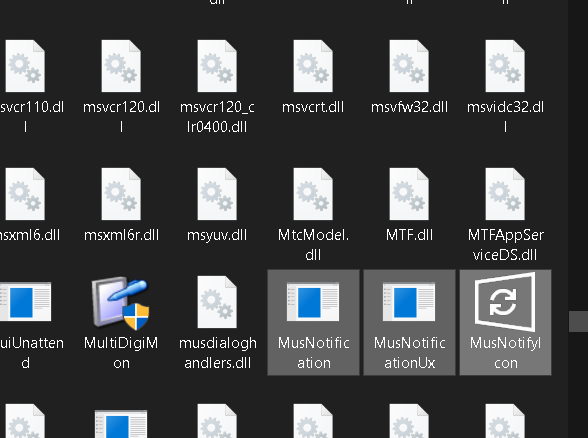 Now many people think this particular file is not safe for windows. Let's comment on that!
Is it safe?
This kind of exe file is usually categorized as Win64 EXE files. Microsoft created this file for use in the operating system. This exe file was first released on Windows 10 operating system when it was first released in 2015.
Firstly, Microsoft created this file should calm you down that it is not a virus. If you are anxious and think that your device is infected with these executables, you need not worry. The main function of the MusNotifyIcon.exe is to show the icon of the Windows Update in the Taskbar notification area.
Thus, this program is not a virus or malware. In abundant cases, it is completely safe. Now again, there may be some files pretending to be MusNotifyIcon and may posses a threat to your device. Thus always check on it and keep yourself safe.
You usually see this running in your task manager under the processes tab without any icon and may misunderstand that it is a virus. But it is not.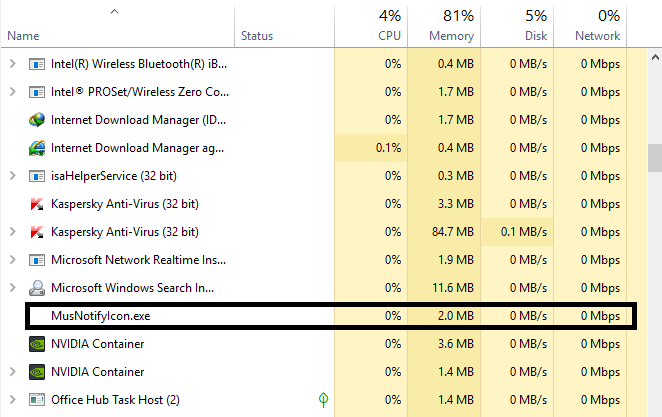 Do you need MusNotifyIcon?
Now, this can be both a yes and a no.
Many people consider removing this executable as they are very disciplined and do not need any reminder to update their system. They are aware that they will have to update their system and can do without any reminder. Thus they can delete this executable. Moreover, it will not take up any resources of your device and increases your CPU. Furthermore, since you don't have the exe file, there is no way that your device or that particular folder can catch a virus.
Now for those people who cannot remember to restart their PC, install their update, or download the new update, this exe file may be important. Though you may set reminders, many people tend to ignore the reminder in between some work.
In general, you don't have to uninstall MusNotifyIcon.exe if you are worried about malware. If you are a person suited to option one of this component, you can delete it. You can find the uninstallation process in the further components.
FIX for MusNotifyIcon keeps popping up with red exclamation mark
Now, most people are annoyed with this event where this icon appears on the taskbarxclamation mark. Moreover, it on the taskbar notices that some actions are needed through the Windows Defender, but when you actually check the status, everything is fine.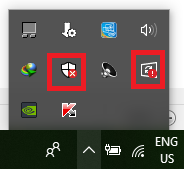 This event usually occurs when you are missing out on an important system update or a windows update. The other files, along with MusNotifyIcon, are responsible for this error/event. The only way you can remove this error is firstly by Installing the latest update. You can head over to settings and then Update and security, and then click on check for updates. This will check for updates and then ask for downloads if there are any. After downloading, restart your device, and the problem will be fixed.
Now many times, the exclamation mark does not vanish even if you have done your update. In this case, you can try one of the following ways:
Try to run a full device scan for malware and unnecessary files. Delete them, fully clean your drives and check if the error still persists.
You can try uninstalling and reinstalling the program which you will see how to in the coming components.
Try to uninstall the updates of the windows and re-update to the latest version. This may solve your error fluently.
FIX for MusNotifyIcon.exe could not be found
This error is also one of the common errors that users face despite having the program installed.
You can try the following fixes:
Try to reinstall the program which you will learn in the coming components,
Do a system clean using cmd and type the command sfc/scannow and hit enter. This will look for files that are pretending to be MusNotifyIcon and will remove them
Restart your device and try again for the problem
FIX for Windows failed to start- MusNotifyIcon.exe
This is the rarest errors in the case of this program. This happens when an update is not installed successfully or malware pretends to be the actual program.
First run a complete device scan via your antivirus and clean all the junk files and try to see if the problem still persists
Run windows in safe mode through the advanced option menu while restart and reinstall the windows update. If you want to know how to reinstall the update, visit the link provided in the first Fix.
How to Uninstall MusNotifyIcon.exe
If you are confident enough to update your windows without any reminders and on time, you can proceed with this step.
Open registry editor through cmd or the run command or the search icon near the start button. Once opened, search and locate the DLL files associated with MusNotifyIcon and unregister them manually. Once done, click on edit and then find. Now type in MusNotifyIcon.exe and search for the exe file. Now delete it and restart your device.
This will obliterate the program from your system
Download/Update MusNotifyIcon
Microsoft generally does not release these kinds of exe files for download as they are bundled up. However, there are few sites where you can download the program and repair it.
Go to this link: https://www.pconlife.com/viewfileinfo/musnotifyicon-exe/ and scroll down to find the version for your download. First, update your windows to the latest version and download the latest version from here.
Download the program and install it. This will reinstall the program, and you are good to go. If you are first uninstalling and then reinstalling the program, do not delete the DLL files in the above steps.
FAQs Related to MusNotifyIcon.exe
Is it safe to download from the links provided?
Yes, the links provided are 100% safe and genuine.
Are there any safer alternatives to this program?
No, fortunately, there are no alternatives. This is the best program provided by Microsoft for such a purpose.
Can I delete the EXE file from the directory rather than uninstall it in such a way?
Yes, you can delete it directly, but the DLL files will affect your work.
Final Thoughts
MusNotifyIcon is good to have a program in your device until you regularly check it for viruses and malware. It is not a virus. It does not pose any danger to your system by default. Thus, you need not worry much about this program. However, if you want to uninstall the program, the steps have been provided above. Also, 3 major issues have been solved. Do let us know your thoughts. Adios!