Building an app or creating a website used to be reserved for people with extensive technical knowledge and resources. Now, everything has changed. No-code platforms have ushered in the era of accessible technology.
Businesses belonging to every sector from hospitality to real estate are leveraging these no-code development platforms to build their own apps and websites. Appy Pie is one such platform. But it is also so much more than a simple app maker.
Read on to find out everything there is to know about Appy Pie and the products they offer.
What is Appy Pie?
Appy Pieis a no-code application development platform that is based out of India. Founded in 2015, it claims to be the fastest-growing app maker in the world. They aim to democratize technology by removing economic and technological barriers, which have prevented business owners of all sizes from embracing cutting-edge technology to grow their business.
They have various products, including mobile app builders, website builders, graphic design software, and chatbot builders. These products make it quick and easy for people with no technical expertise to use advanced technology in transforming their businesses.
With over 6 million clients, the platform caters to everybody from corporate houses to mom-and-pop stores, from music companies to indie artists. They also have curated enterprise solutions in the form of Appy Pie Plus.
Appy Pie Pricing
One of the biggest selling points for this platform has been its unique free plan option. Although it offers only a mobile website (No Apple App Store or Play Store), it is still great for beginners.
When it comes topaid plans, they have the following,
Basic: 99/app/mo, Android only, 500 downloads.
Gold: ₹1499/app/mo, Android only, 10,000 downloads.
Platinum: ₹1999/app/mo, Android and Apple, 25,000 downloads.
The prices mentioned above are for the yearly subscription. A monthly subscription is also available. There are other differences in features among the plans. You can start with the free plan and upgrade later. They accept payments through Credit Cards, Debit Cards, PayPal, & Online Banking. If you cancel your subscription, your app would be locked.
Appy Pie Products
App Builder
Appy Pie's flagship product is its no-code application building platform, also known as appmakr. Until recently, mobile app development was exclusive to people with large resources. This platform addresses that problem by making it quick, easy, cheap to develop a mobile app.
You can develop different apps like native mobile apps, cross-platform mobile apps, hybrid mobile apps, and progressive web app. With their intuitive software, you can bring your app to life in 5 simple steps.
Enter your business name.
Choose the specific application category.
Pick a color scheme of your liking.
Select the device you want to test your application on.
Add the features you want.
Their submission team eases the process of publishing your mobile application on Google Play Store or Apple App Store. Appy Pie's application creator software has customized solutions for every business niche. For example, they have customized app-building solutions for restaurant apps, on-demand delivery app, dating app, shopping app, and business apps. A wide range of features to meet the requirements of every business niche offered.
---
---
Website Builder
Appy Pie has a free website builder that requires no coding skills or technical expertise. It can be done in 3 simple steps.
Enter the name of your business
Add the features you want.
Launch your website.
You can launch a basic website in a few minutes for free. Their website creator software has a simple interface, drag and drops functionality, offline capabilities, and next-generation features. With the platform, you can create secure, progressive, responsive, and lightweight websites.
You can create different types of websites like a business or an eCommerce website. They offer website builders with different features for different needs. For example, website builders are available for a restaurant website, social network website, event website, eCommerce website, etc.
For example, eCommerce needs certain unique requirements like a store, payments, and rating features. They cater to the needs of a wide variety of websites.
Build Chatbots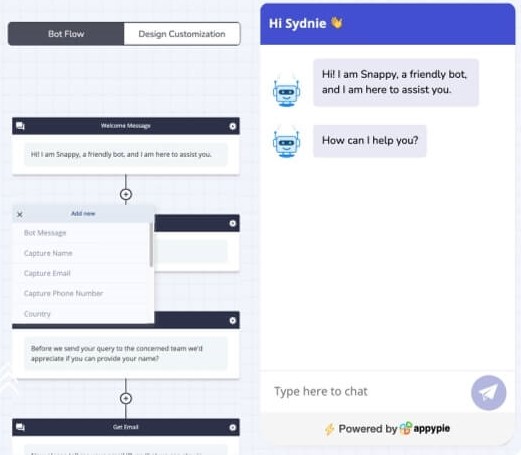 Chatbots have become extremely popular because of their versatility. They can welcome visitors to your website, collect information, generate leads, and answer customer queries. Building a chatbot can enhance your business in many ways.
With Appy Pie, you can build a chatbot without any coding in a few simple steps.
Enter the name of your bot.
Select the bot type and personality.
Train and test your bot.
Launch the bot on your website or mobile app.
You can customize the chatbot to the needs of your business and your brand. You can build multiple chatbots for multiple purposes to automate business processes like collecting customer information, providing support, etc.
You can create different chatbots like a conversational bot, appointment bot, and lead generation bot. They offer features to cater to the requirements of each chatbot. In addition, you can integrate your chatbots with various marketing and analysis tools to increase their viability.
Workflow Automation
Automating your business processes and integrating cloud applications can maximize your efficiency and productivity. Appy Pie has an all-in-one integration tool to help you connect your apps. These connections sync up your data and automate your workflows.
From simple to complex business workflows, all of them are built using triggers and actions. You can build it in a few simple steps with no coding expertise.
Select the applications for Trigger and Actions.
Select the desired connect you wish to integrate and automate.
Integrate the selected applications.
Design your workflows with real data synced from your applications.
Test your connections and go live.
With this, you can eliminate routine manual works that are time-consuming. Appy Pie Connect lets you integrate more than 150 apps like HubSpot, Mailchimp, Discord, etc. In addition, you can use existing popular integrations that are available to save time.
In the End…
Appy Pie is one of the best no-code platforms with a range of products that can drastically improve your business. You can create mobile applications, websites, workflow automation, chatbots, graphic designs, and live chat software.
They provide an extensive set of features that cater to different business requirements at an affordable price. In terms of features and pricing, it is a no-brainer. But there have been a few complaints regarding its lack of customer support and the quality of some of the features. Even with those few complaints, it is still a solid product. Since it has a free version, you can try it risk-free.
Also Read>>>Beginner's Best Guide to PhoneSites: Get a Landing Page Online in 5 Minutes
FAQs
What is Appy Pie?
It is a no-code application development platform.
What are the products offered by Appy Pie?
They have various products, including mobile app builder, website builder, graphic design software, and chatbot builder.
Are there any alternatives to Appy Pie?
There are quite a few lie AppYourself, Zoho Creator, Swiftic, etc.