Whenever you need to access a desktop computer remotely, you need a digital portal that can help you connect to it securely over the internet. Remote support tools can do just that.
If businesses need to solve their technical problems without having technicians being physically present, remote support solutions are the best option.
Here we pit Bomgar vs TeamViewer, two of the best remote support tools out there.
Whether you are a small, medium, or large enterprise, choosing the right remote software tool is essential to ensure the productivity and security of your service desk.
Read on to learn about the pros and cons of each tool and discover who comes out on top in the Bomgar vs TeamViewer fight.
A Brief Intro to Remote Support Software
Before we get into Bomgar vs TeamViewer comparison, it is better to know what exactly they are. Remote support software allows service desk remote access, view, and control to any computer or mobile device connected to the internet. While there are many different use cases for these tools, they all need to be reliable, easy to use, and secure.
The ideal solution increases customer satisfaction, reduces incident handling time and costs, improves existing workflow by streamlining the process, mitigates risk by addressing security concerns, and extracts more value from other service desk tools like CRM.
Bomgar vs TeamViewer: Opening Salvo
Bomgar
Bomgar, now BeyondTrust Remote Support, is an award-winning solution for enterprises looking to access and support any device around the world securely.
Organizations in all vertical markets use it to quickly connect, view and control remote systems and devices, chat and collaborate with end-users or other technicians. Its customers include eBay, Starbucks, Williams-Sonoma, and Carbonite.
TeamViewer
Available in over 30 languages, TeamViewer is one of the most popular providers of remote control and online meeting software.
It offers various products like remote support with AR, cloud-based backup, ITbrain, remote monitoring, and IT asset tracking solution. Its customers include Microsoft, IBM, Siemens, Intel, and Philips.
Bomgar vs TeamViewer: Platforms
A remote support solution should allow technicians to provide support without worrying about their or the end-user's platform. The broader the platform support, the better the solution.
Bomgar
Bomgar supports key platforms like,
It also offers support from any web browser and can access and control any remote device on or off a network. It also supports legacy devices using RDP, Telnet, SSH, and VNC. Overall, Bomgar covers around 32 devices.
TeamViewer
TeamViewer offers the highest total combined coverage of 127 manufacturers for mobile devices, operating systems, and IoT devices on the market. Along with the platforms supported by Bomgar, it also supports platforms like Blackberry OS and commercial-grade devices, such as point of sale systems (POS), interactive kiosks, and digital signage. TeamViewer has by far the broadest system coverage when it comes to non-desktop operating systems.
Winner: TeamViewer
Bomgar vs TeamViewer: Collaboration
Collaboration features help improve customer experience and reduce incident resolution time.
Bomgar
Bomgar has features like,
Chat support
Remote camera sharing
Android and iPhone screen sharing
Embedded chat and support
Defined escalation paths
Request routing
It allows secure access to the command line for network troubleshooting and system diagnostics and allows secure usage on remote networks without requiring VPN tunneling. It provides augmented reality capabilities and enables troubleshooting beneath the operating system by leveraging Intel vPro technology to access remote desktops.
TeamViewer
TeamViewer has a comprehensive set of features, including chat support, screen sharing, AR solutions, etc. But it does not work through proxy servers, and both computers must have the software installed. TeamViewer was also the fastest in transferring a larger compressible file and could transfer more Mega-Bytes of data per second (MBps) than any of the other applications like Bomgar, Azure, etc.
Winner: Bomgar (by a hair)
Bomgar vs TeamViewer: Integrations
The remote support system should fit seamlessly with the various service desk systems in your environment. Support solutions with strong integrations with the leading ITSM, CRM, and systems management solutions make the experience better for both your technicians and customers.
Bomgar
Bomgar has pre-built integration with ITSM, CRM, and systems management solutions, such as ServiceNow, Cherwell Software, Remedy, Salesforce, etc. It integrates with the highest number of third-party solutions, which can increase ROI on your existing investments.
It has many ITSM integration capabilities, including integration with external directories, custom integration capabilities and robust APIs, one-click elevation from chat to a full remote session, and automatic routing of incoming support requests to a free technician.
TeamViewer
TeamViewer has pre-built integrations and the TeamViewer API that you can use to expand your work environment. Use their pre-built apps and scripts or develop your own custom solutions. The TeamViewer API can serve as a flexible and customizable interface.
Some of the applications it integrates with are,
Active Directory
Avira
Salesforce
Jira
Freshservice
Zendesk
Microsoft Dynamics
ServiceNow
Amazon Workspaces
Ninja
But compared to Bomgar, it has a much smaller selection of available integrations which can lead to inefficiencies and a lack of synergy with your current systems.
Winner: Bomgar
Bomgar vs TeamViewer: Security, Audit, and Compliance
In today's threat environment, remote access tools need to have security features, advanced encryption, least privilege enforcement, audit logs, recordings of all sessions, etc. You also need to produce detailed attestation reports to prove compliance with regulations you are subject to, like PCI, HIPPA, GDPR, etc.
Bomgar
Bomgar enforces robust encryption, including the use of SSL for every session connection. It can work through firewalls without VPN tunneling and uses outbound-only session traffic using TCP Port 443 to minimize port exposure. It segments each remote support customer via single-tenant environments to ensure data is never mixed. It provides 2-factor authentications to increase security.
Session logging data is stored for up to 90 days in un-editable format. You can log and record session activity and track team performance to serve as an audit trail for security and compliance.
Bomgar has an integrated vault to store, share, and track the use of privileged credentials. It is also the only remote support solution to have a FIPS federal validation.
TeamViewer
TeamViewer has four levels of fortification: trusted devices, enforced password reset, two-factor authentication, and a master whitelist. TeamViewer data encryption is based on 4096 RSA private/public key exchange and AES (256-bit) session encryption. All their program files are secured using DigiCert code signing technology. It also has two-factor authentication.
TeamViewer's anti-virus integration TeamViewer Endpoint Protection provides 24/7 reliable and certified protection for online or offline devices. With Remote Management, you can proactively monitor your IT hardware and receive alerts. TeamViewer is HIPPA and SOC compliant.
Despite robust security measures, TeamViewer has a history of cyberattacks and hacking. Although it has made huge strides in improving security, they still have a few issues to address.
All customers share a single instance of the software, and there is no password vault integration and no password rotation. Each technician can also turn off session recordings, and recordings are stored on the user's system, damaging their ability to be audited.
Winner: Bomgar
Bomgar vs TeamViewer: Deployment
Select a remote support solution that offers deployment and licensing options that suit the needs and requirements of your organization.
Bomgar
Bomgar is the only remote support tool that offers Cloud, SaaS, and physical and on-premises deployments. It also provides a variety of licensing options.
TeamViewer
TeamViewer supports mass deployment to thousands of devices with a few clicks. You can deploy full versions or modules to your entire network of devices silently.
But TeamViewer does not offer an on-premises or virtual appliance deployment option. And the SaaS architecture mingles all user data in one instance.
Winner: Tie (depending on your requirements)
Bomgar vs TeamViewer: Pricing and Support
Bomgar
It has a 7-day free trial. They have two plans, Cloud ($2097/yr, per concurrent license) and Owned Appliance (get a quote), which is a one-time purchase.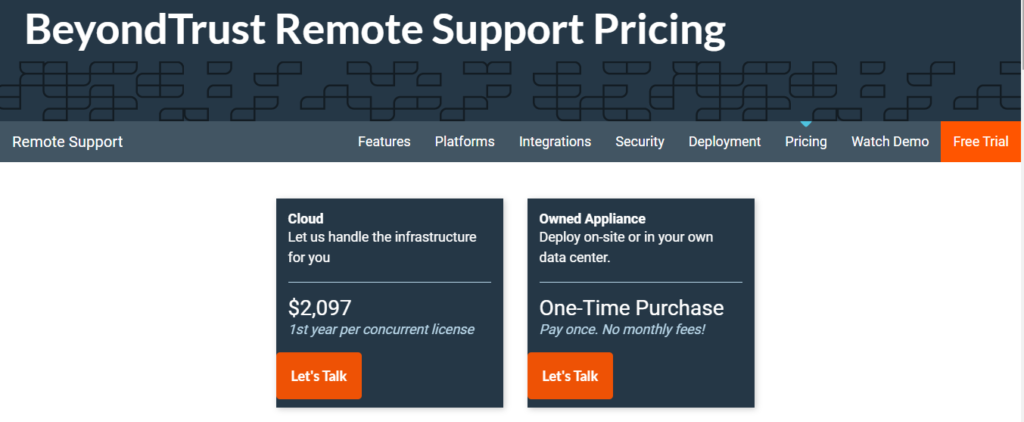 Bomgar offers following support options: Chat, Phone Support, Training, Email Support.
TeamViewer
It is free for private and non-commercial use. You can request a 14-day free commercial trial. Three plans are available, Business ($31.90/mo), Premium ($59.90/mo), and Corporate ($129.90/mo).
TeamViewer has FAQs, Community, Knowledge Base, Online Support, Phone Support, Video Tutorials to guide you through the process of implementation.
Winner: TeamViewer
In the end…
Overall Winner: Bomgar ?
Even though both are incredible tools for secure access and support of any device or system, there can be only one victor in the Bomgar vs TeamViewer fight. Bomgar might be relatively newer and less popular compared to TeamViewer, but when it comes to features and security, it is in a league of its own. Having said that, you cannot go wrong with either of these tools. It ultimately comes down to personal requirements. If you need something cheaper, go for TeamViewer. But if you want something more dynamic, go for Bomgar. In the end, they both are winners.
Also Read >>> Audition vs Pro Tools: Best Comparison Guide
FAQs
Bomgar vs TeamViewer, which is better?
While both of them are excellent tools, Bomgar has slightly more features. But ultimately, it comes down to personal preference.
Bomgar vs TeamViewer, which is cheaper?
TeamViewer is more cost-effective. It also has a free version for non-commercial use.
Bomgar vs TeamViewer, are there any other alternatives?
There are quite a few alternatives like Zoho Asist, LogMeIn, NinjaRMM, etc.