Most shippers faced the same problems.
Lack of access to the right shipping options.
Too much manual processing.
Not getting the best price.
Unreliable shipment tracking.
Does any of this sound familiar to you? If you oversee the shipping, the answer is most likely a yes.
But with platforms like Carrierrate, these problems are things of past.
In this post, learn about how Carrierrate can help solve your logistical problems and make your life a whole lot easier.
What is Carrierrate?
Carrierrate is a comprehensive transport management system for shippers. It allows shippers, from the smallest to the largest business, to manage a full shipment life cycle.
Developed by GlobalTranz, a leading third-party logistics provider, Carrierrate functions as a one-stop-shop for shippers' needs. From providing quotes to tracking shipments, it helps with your day-to-day tasks.
Carrierrate2.0 is the latest redesign of the platform. It has improved on analytics and communications while still retaining the familiarity of the earlier version. This post is about the latest version, Carrierrate2.0.
Carrierrate helps with logistics needs like,
Inventory management
Support for multiple shipment modes like LTL, TL, and EXP
Shipment and exception management
Online invoicing and claims management
Dedicated customer service
Freight bill auditing
Warehousing and supply chain management.
Benefits of Carrierrate
Ease of Use: The platform is user-friendly and intuitive. It truly fits the shipper's needs like a glove and supports him in discharging his specific duties and responsibilities.
Save Money: You can get quotes from both regional and national carriers for your shipment requirements with a single click. Then select the carrier based on the lowest price offered and save money.
Increase Productivity: Everything a shipper needs are available in a simple format on this system. Select specific carriers for shipments based on different criteria like cost, delivery time, on-time percentage, etc., to increase efficiency. With the analytics tools, you can monitor different metrics and make informed business decisions.
Save Time: You can get rates, select a carrier, schedule pickup, create a bill of lading, track shipments, and manage invoices all on one platform. With this system, you will never need to contact your carrier. The automated workflow also saves time drastically.
Features of Carrierrate
Intelligent Advanced Search
Get rate quotes for Low Truck Load, Truck Load, and Expedited shipments. Locate shipments, customers, and products with ease using the advanced search.
Address and Product List
The new address book feature automatically and intuitively loads contact information and sets commodities, class numbers, and NMFC numbers related to any given stored address. This feature reduces data entry errors and speeds up the process.
Save Quotes
This gives you the ability to save quotes and retrieve them in the future with great ease. You can have multiple quote tabs at the same time for different customers.
Carrier Analytics
With newly added metrics, you can sort each quote based on different parameters. The performance stats of each carrier over the previous 30 days are available. You can use the information to select the carrier that is right for each shipment. Also, with control over carrier insurance, you can customize loads for specific needs.
Decision Driving Analytics
To help you make informed decisions, Carrierrate introduces comprehensive and powerful reports about shipping activities. You have features like,
Carrier scorecard: It provides detailed information about your top carriers like the number of shipments, average costs, weight, etc.
Customizable dashboard: This fully customizable dashboard is a robust data source that provides opportunities for increasing efficiency and cost-saving.
With these reports and dashboards, you can quickly overview the key performance indicators that you can track and follow to optimize your shipping.
Help and Communications
A new live chat feature offers customers the ability to communicate with the agents. They engage with your shippers in real-time. As a result, shippers can be reliably informed.
Large Shipper Support
New features like user management, location management, address book, and product list have been introduced to help serve the needs of large shippers.
Getting Started with Carrierrate
Since Carrierrate is exclusive to GlobalTranz customers, you need to create an account with GTZship. The steps given below will help you get started with this system.
1. Login to GTZship with your personalized username and password.
2. Once on the home page, click on "Rates" and select from LTL, TL, or EXP to get rate quotes for different modes of shipping.
3. Enter origin and destination details and information about the shipment to get quotes from different carriers.
4. Sort your carriers based on the lowest cost, quickest delivery, etc., and select the best carrier for your needs.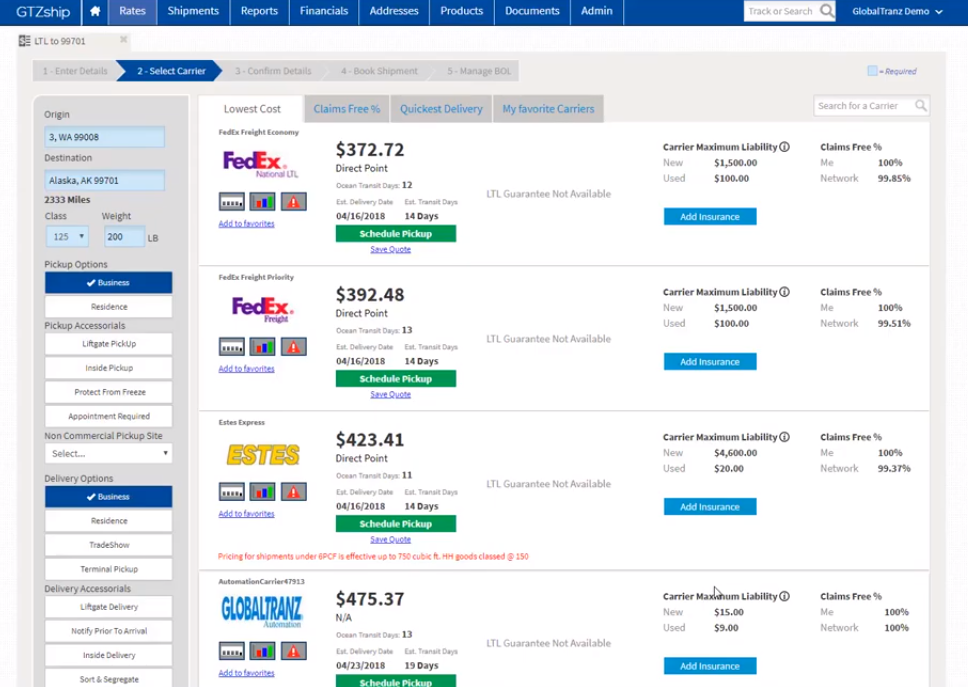 5. Click on "Schedule pickup", confirm shipment details, and click on "Book it".
6. Mange bill of ladles and print shipping labels.
And that is it. You have just booked a shipment with the carrier of your choice in a few clicks.
Also, Read >> Learn About TowDesk: Best Towing Software Solution
FAQs
What is Carrierrate?
Carrierrate is a comprehensive transport management solution for shippers.
Can I make payments on Carrierrate?
Yes, you can make payments and manage invoices on the platform.
Are there any other alternatives?
There are quite a few alternatives like KuebixTMS, Freightview, 2Ship, etc.
In the end…
Carrierrate is an ideal platform for shippers everywhere to increase operational efficiency and lead to overall cost savings. It is an all-in-one system that provides both rate quotes and reporting tools for shippers. The ease of use means that you can start using it without minimal training and support. You can request a demo of the platform to check if it suits your needs. There are also tutorials on their youtube channel for you to get acquainted with the platform.