Storing text and sharing it has been around for more than three decades now. The number of storage websites has only grown over the years. With a litany of choices available, selecting one such website is a difficult task.
Here we compare two of the best, Hastebin vs Pastebin. This is to help avoid the hassle of going through varied sources to select the best site.
Read on to find out which among Hastebin and Pastebin is a more suitable option for your requirements.
Hastebin vs Pastebin: What are they?

Hastebin and Pastebin are a type of online content hosting service where users can store plain text. They are text storage websites where you can easily store snippets of code or text and then share them with other people online.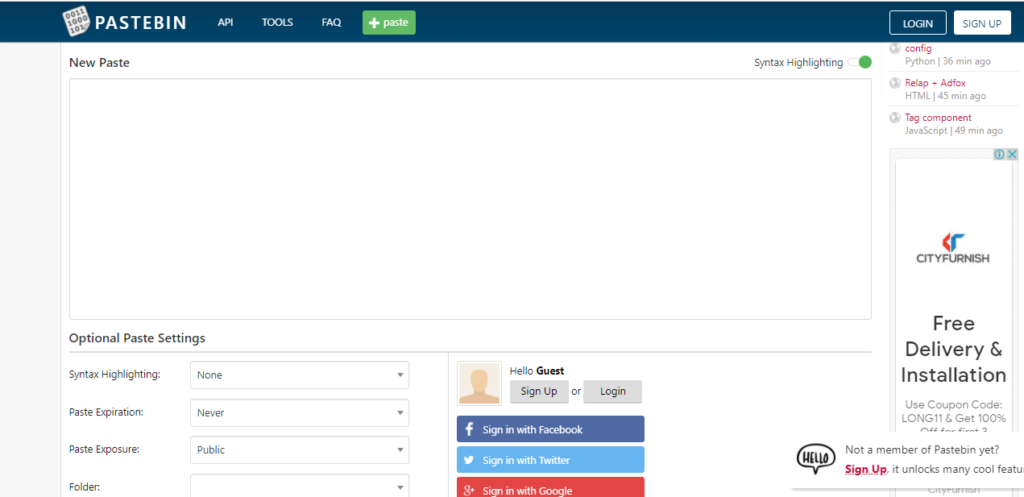 A little bit of history…
Before getting into Hastebin vs Pastebin, it is better to get a little bit of background on these sites. Also, If you are interested in making awesome presentations online you can use AhaSlides. It is one of the Useful Presentation Tool.
To delve a little bit into the origin of such sites, we need to travel to the late 90s, when sites like Pastebin first started popping up. They were initially developed to share blocks of code with their proper formatting easily, and without blocks of computer, data flooding the queue and disrupting the intricate flow of chats.
They were widely used in IRC (Internet Relay Chat) chatroom that was devoted to computing. Unlike modern chat apps, WhatsApp or Trello, IRC was a much more basic chatroom that mostly featured single-line messages.
 Whenever users needed to share large blocks of computer input or output, such as a 50-line block of code, it led to disruption of chats and sometimes even led to the users being banned.
So, it gave rise to Pastebin sites where you can paste a giant block of code with syntax highlighting and proper formatting. All you need to do when you want to share is post a single hyperlink in the chat. By replacing multiple lines of code with one line of URL, it helped coders communicate easily.
People still use them if their messaging app does not support proper formatting.
Pastebin was one of the first Pastebin or text storage sites to be developed. As a result, it has remained widely popular over the years.
Over the years, alternatives like Hastebin have arrived to contend for the throne of the best text storage website.
Hastebin vs Pastebin: Price ?
Hastebin
Hastebin is an open-source online text storage tool. So, it is free to use for anyone. All you need to do is create a free account to use all the features.
Pastebin
Pastebin is also available for free, but it is not open source. You can use Pastebin as a guest, a member, or a pro member. The features and limits change depending on your membership status.
Pro membership has subscription plans at $2.95/mo or $23.95/yr and a one-time purchase plan at $49.95.
Hastebin vs Pastebin: Tools and Applications
Hastebin
Hastebin is available as a website primarily. The original Hastebin website is broken and works only from time to time. Since it is an open-source tool, you can fork it or clone it before you use it. There are already countless existing forks with minor or no changes available on the internet.
Hastebin also has a chrome extension that automatically generates and opens a Hastebin link.
Pastebin
Pastebin is primarily a website set up in 2002. But in addition to that, Pastebin has many other tools and applications. Like Hastebin, it has a chrome extension that can automatically paste the selected text into the text area and present a unique URL to share on submission. Pastebin is available as a mobile app.
It also has a multitude of other tools, add-ons, extensions, and applications including Pastebin Desktop for Windows, Firefox Extension, and Mac OS X Desktop Widget. You can see the full range on their website.
Hastebin vs Pastebin: Features ✌
Hastebin
With Hastebin, you can type or paste text and save it. You can also edit it, share it via Twitter, and click on "Just Text" to display raw text on a separate page.
 The coding language you type or paste will be automatically detected and formatted with highlighted syntax. The unique URL is also generated immediately after saving it. All the content posted on this site will be saved for 30 days from the last viewing.
Pastebin
Pastebin offers many features beyond the basic storing, saving, and sharing of text, some of which are exclusively available for pro users.
You can create multiple folders to store your pastes. You must select the coding language if you want to highlight the syntax. The pastes can be public, unlisted, or private, depending on your choice. You also have the ability to decide on the paste expiration time ranging from 10 minutes to never.
Pro users never get their pastes automatically deleted due to inactivity, and they have the option to directly upload files instead of having to paste the raw text into the text area.
Hastebin vs Pastebin: Privacy and Security ?
Hastebin
While Hastebin prevents search engines from crawling and finding your pasted content, they do not guarantee any privacy, and you should be careful with pasting anything sensitive here. Although hosting the application on your own infrastructure might help with the problem.
Pastebin
In the case of Pastebin, search engines can index public pastes. But your private pastes can not be accessed by anyone else. A couple of new features have been introduced to offer additional protection. You can set a password for your pastes and let the paste burn after being read.
Even with all these safeguards, posting on Pastebin comes with a significant risk of cyber theft. In recent years, many cybercriminals have started using Pastebin as their stomping ground by sharing personal information, passwords, etc., on the site. So, it is better to be careful when using the site.
Hastebin vs Pastebin: Ease of Use ?
Hastebin
The biggest positive when it comes to Pastebin has to be its user interface. It has a minimalist interface that can do all the tasks with a few buttons. It has a command-line interface that covers the entire window, which makes it easy to use. There are also no ads and captcha to hamper your experience.
Pastebin
Pastebin UI is more cluttered compared to the other ones. Display ads cover the window making it difficult to use. It would be best to avoid ads and captchas, which is not very convenient if you had a Pro plan. But with a Pro plan, you can customize your layout to adjust fonts and sizes and hiding public pastes.
In the end…
In the battle of Hastebin vs Pastebin, deciding a winner is difficult. Each of them has its own strengths and weaknesses. In the end, selecting a text storage site comes down to your personal requirements. If you want something cheap and easy to use, it is better to go with Hastebin. But on the other hand, you want more functionalities and are willing to spend on it. It might be better to choose Pastebin. Hopefully, this post helped you make an informed decision.
FAQs
Hastebin vs Pastebin: What are they?
They are text storage websites where you can easily store snippets of code or text and then share them with other people online.
Hastebin vs Pastebin: Which is cheaper?
Both of them can be used for free. But Pastebin also has a Pro version.
Hastebin vs Pastebin: Are there any other alternatives?
Yes, there are many alternatives like JsFiddle, GitHub Gist, TextBin, etc,