Squirreltemp is the name of a file that may sometimes reside in your default local disk (C Drive) inside the folder named AppData. This executive application file runs in the background regularly to check for updates and new versions for some applications or software like Brave browser, slack, atom editor, etc.
What is Squirreltemp?
It is an application that is found mainly in your Microsoft Teams folder for updating Teams regularly. This might be left unnoticed by most users who do not poke inside their system files. This application works in the background and does its task of finding new and better versions.
This will help you acquire the latest versions and features of not only Microsoft Teams but also some other applications and software.
How did squirreltemp get inside my computer?
The apps which need frequent updates and versions may have this thing inside their download folders. While downloading and installing those apps, squirreltemp also gets inside. Some of the systems have this execution app on your device already. A few of the apps are:
Microsoft Teams
Discord
Brave (and a few more apps)

Is it useful or not?
It is helpful for good working and high processor computers to find new things brought up by your required apps for you instantly, as squirreltemp can find the latest versions and updates.
It has its disadvantage as this folder may pop up an entirely black screen in front of you or lags down your system.
This black screen is caused when there is a lot of data in your squirreltemp file, and your system needs to reboot or restart to clean the unnecessary junk.
Is squirreltemp a virus:
No, it is not a virus. It is just a library of files that can aid in keeping windows applications up to date. This may sometimes behave as malware when the junk data is too high and takes large memory from processor speed from the system.
Is it safe to remove it?
Yes, it is entirely safe to remove it. Deleting this file does not cause any malfunctions in your system. You can opt to clean out this thing from your computer if you don't mind keeping the same version for a considerable period.
Delete squirreltemp file:
It is a very simple step, you just have to search the name in the search box.
Or

locate

Microsoft Teams/Discord/Brave or in whichever

application's folder

you got it
Now

right click -> delete

, to delete it from the popped list.
Then delete permanently from the recycle bin if you wish to free your recycle bin from more space.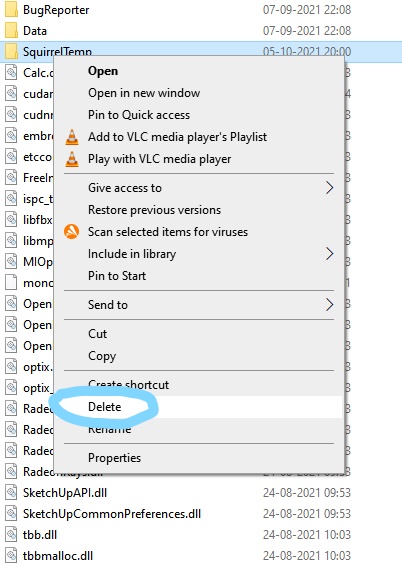 Fix monitor crash caused by it:
When this weird folder gets loads of data held inside it, it causes the system overload and pops out a black screen on your monitor.
This can be fixed by restarting

or

rebooting

your device to halt the long ongoing process of the logs based file.
If this didn't work, then you may have to

delete it by entering in the safe mode.

You can use the task manager also to track the resource and time consumption done by this malicious like behaving application.
What is atom squirreltemp?
GitHub develops Atom.exe, and this is also an executable file. It is used for browser launching and similar purposes. There may sometimes be malware like squirreltemp, so it is highly recommended to use atom.exe after downloading it from the official sources.
What is update.exe squirreltemp?
This executable file is found inside the squireltemp folder. It is assigned the work of creating logs, storing vital data of the users. Sometimes it makes too many quantities of logs which leads to overloading of the system.
Found squirreltemp folder – Empty
Usually, the size of this folder is more than a GB (GigaByte). But if you found an empty folder, it means that an anti-virus software detected unusual activities and has taken action to terminate its things after seeking permission from you.
FAQs Related to Squirreltemp
What does squirreltemp contain inside it?
It holds tools and few libraries in it. These are to check to update and installing your Windows and applications like Microsoft Teams, Brave, etc.
What packages does squirreltemp contain?
It contains NuGet packages.
Is this a squirrel-temp, a virus, or malware?
It may behave like malware by lagging and slowing down your system, as it contains loads of data about few apps. But no, it is not a virus nor malware.
Can I remove and delete squirrel-temp?
Yes, you can remove it by navigating in the AppData folder and searching this executable file in it. You will then have to right-click on it and choose the delete option.
Is it safe to remove squirrel-temp?
Yes, removing or deleting this file does not do any harm to your device. You can delete it by navigating in the AppData folder and searching this executable file in it. You will then have to right-click on it and choose the delete option.
Can I delete everything in squirreltemp?
Yes, removing or deleting this memory space-consuming folder will not do any harm to your device. There are no files or folders inside it, which concerns with better performance of your computer systems.
Squirreltemp error – Discord can't be downloaded:
It would help if you terminated all the old version Discord's processes and its cache by moving to the task manager (Ctrl+Shift+Esc), then go to the AppData folder and delete the old files of Discord (it will b with the name "Discord").
Winding up
We hope that you got to know much about this less popular file, and what are the specifications of squirrel-temp. If you still have queries, you can ping us by typing in the comments section.