Almost every business or individual has valuable data that would be devastating to lose. A lot of people don't think about data loss happening to them. But is much more common than you'd think. Around 140,000 hard drive crashes happen in the US every week.
Backing up your data is important. But backing it up with the right software is even more essential. Statistics show that 60% of data backups are incomplete, and 50% of restores are unsuccessful. To avoid such a situation, Acronis True Image 2022 offers backup software to protect your data reliably.
Read on to find out more about the features and benefits of their latest version of the backup software, Acronis True Image 2022.
What is Acronis True Image 2022?
Acronis True Image 2022 is a personal backup and antivirus software. It is the only solution that combines backup and antimalware to provide complete protection to your data from threats like accidents, failures, or attacks.
You can protect everything, including photos, files, applications, systems, and the devices they're on. In two clicks, you can do complete disk cloning and full image backup. Whenever you want, quickly restore your files or the entire system. With the software, you have the backup option locally, to the cloud, or both.
Did you know?
The three most common causes of data losses are human error, hardware/system failure, and malware attacks-Netwrix Research.
Unlike any other backup software, they offer protection against malware, ransomware, and crypto-jacking. Even if it is neither the best backup software nor antivirus software, it is still a great choice. You can eliminate the cost and complexity of managing multiple tools using Acronis True Image to stop any threat from disrupting your digital life.
Features of Acronis True Image 2022
Backup Solution Features
Dual protection: Helps you abide by the 3-2-1 backup rule by letting you replicate your local backup in the cloud automatically. This means you always have an off-site copy available for recovery.
Active disk cloning: You no longer have to stop and reboot during backup. As it can make a replica of your system while it's in use. Streamlines migrate all your data to a larger or faster disk.
Non-stop backup: You don't have to stop what you are doing as the backup runs in the background without affecting your computer's performance. It captures changes every 5 minutes.
Universal cloud restores: With their bootable media and driver injection technology, you can easily restore your system to the same or new hardware. Your data is loaded with better speed, reliability, and stability from the cloud.
Flexible management: You can schedule your backup, select destinations, and backup type (full image, incremental, differential, or custom). With the visual protection dashboard, you can monitor your backup activity, data statistics, etc., for all your devices in one place.
Diverse backup options: With full image backup, you have a mirror image of your system disk or a selected partition from which you can easily recover whatever you need. When you don't want a full image backup, you can select individual files and folders that you want replicas of. You can also perform cloud-to-cloud Microsoft 365 backups
Unlimited mobile devices: You can cover all your family's smartphones with one license and manage them from the same dashboard. The data in your mobile is not lost even if it is stolen.
Data Protection Features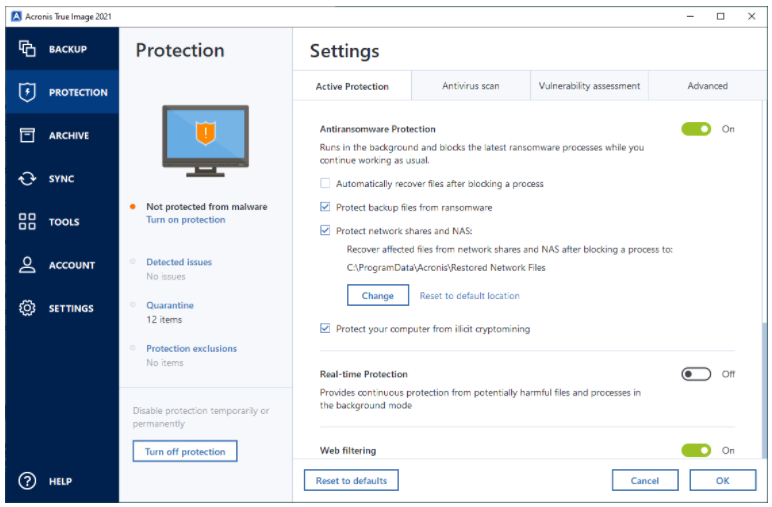 End-to-end protection: Whether on-site, in-transit or on the cloud, your data backup is secured with end-to-end enterprise-grade AES-256 encryption.
Anti-ransomware and crypto-jacking protection: By detecting and stopping ransomware and crypto-jacking attacks, protects your files and automatically restores them when affected.
Secure data centers: Their data centers have the highest levels of security and are built for data privacy and security.
Blockchain notarization: With Acronis Notary, you can create a unique fingerprint for your data. It uses a blockchain-based certificate to prove authenticity.
What's New in Acronis True Image 2022?
The software is regularly updated, with a new version released each year. Similarly, Acronis True Image 2022 has many new features and functionalities, especially in terms of security. Some of them are as follows.
Resumable replication: Whenever the data backup is interrupted, the process restarts from the interruption point to avoid any data duplication.
Quick backup validation: You can speed up the process of validating the effectiveness of a backup by only checking the latest version.
On-demand antivirus scans: With a click of a button, you can do a quick file scan or a full system scan to ensure there are no threat or malware on your PC.
Real-time protection: With their AI-enhanced antimalware, they check every file you interact with to block all cyberattacks in real-time.
Web filtering: You can block malicious URLs trying to harm your device and data by injecting malware, ransomware, etc. Websites that are harboring scams, phishing threats, and fake news are all blocked automatically.
Vulnerability assessments: Their vulnerability assessment tool identifies weaknesses in your operating system and apps, assigns severity levels, and recommends critical updates.
Getting Started with Acronis True Image 2022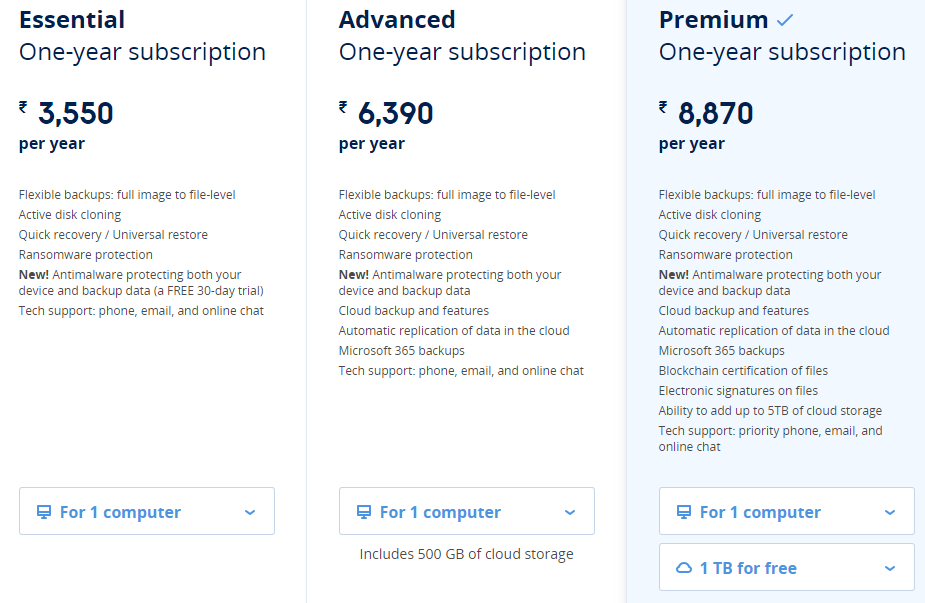 With flexible backup options and extensive security features, Acronis True Image 2022 is a great option to keep your data safe and secure. To get started, you can use their 30-day free trial to see if it suits your needs. They offer three plans, Essential (₹3550/yr), Advanced (₹6390/yr), and Premium (₹8870/yr).
The prices are for one computer. You can add up to 5 computers with each plan. If you want to add more computers, you can consider Acronis Cyber Protect. Acronis True Image 2022 works on multiple platforms including Windows 7 and later, macOS 10.12 and later, iOS, and Android.
Also Read >>> 5 Minute Guide to UpSafe: The Best Gmail Backup Solution
Acronis True Image FAQs
Here are a few questions from users who want to use Acronis True Image.
What is Acronis True Image 2022?
It is a personal backup and antivirus software.
How much does it cost?
They offer three plans, Essential (₹3550/yr), Advanced (₹6390/yr), and Premium (₹8870/yr).
Are they any other alternatives?
There are quite a few alternatives like NovaBackup, Paragon Backup, Recovery, Genie9 Timeline, etc.
✔ Trending Articles