Bluetooth problems regarding SCMS-T? Content Protection? Here is all you need to know. Hop along.
Now Bluetooth in today's time is one of ' the most important ' stuff to support wireless connectivity. Imagine you need the internet even to play music already downloaded on your phone through your headsets. So annoying, right? If Bluetooth weren't there, we would need internet even to connect our wireless headphones through Wi-Fi with internet access. So yes, the Bluetooth facility has vastly helped humanity in technology.
Thus we are going to discuss SCMS-T, which is related to Bluetooth services of a device. It may seem unimportant, but it is the key to which the Bluetooth devices are configured and working. So without underestimating, hop along.
About SCMS-T
Firstly, the full form of SCMS is Serial Copy Management System. You may get a bit of an idea from the full form. It is a copy protection scheme created to prevent DAT (digital audio tape) recorders from making second-generation or serial copies. Now you may wonder what SCMS-T is. This is also a content protection method created to protect the contents transmitted on Bluetooth wireless technology. It automatically rejects the contents that are previously, by default, protected by the same method.
It's working
Basically, SCMS sets a copy bit in all the copies, which acts as a barrier for anyone who tries to make further copies of those first original copies. However, it does not limit the number of first-generation copies.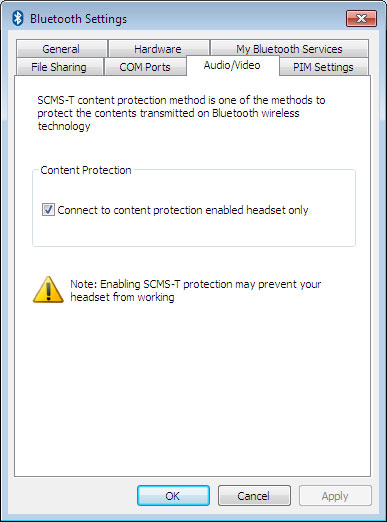 The use of SCMS was not overvalued in the wireless industry as it was not very useful in other wireless connections like satellite connections and wi-fi. Thus, it was limited to Bluetooth connectivity only. The copy protection tool looks for some bits in the subcode data. There are usually three states or three types in these bits: copy once, copy allowed, and copy prohibited. Now from the names, you can make out what it means. For more information, visit this link: https://en.wikipedia.org/wiki/List_of_Bluetooth_profiles.
Thus SCMS-T is an important tool that can be used for content protection via wireless networks and devices.
Recommended Reading | Best Fix- Can't remove Bluetooth device in Windows 10
SCMS-T in CSR harmony
Now many users face some issues regarding the SCMS-T in CSR harmony. So first, let's see what CSR harmony is.
CSR Harmony is a connectivity software that gives its users a seamless wireless experience. It enables the PC Bluetooth Profiles and the low energy Bluetooth profiles designed for devices like mice and keyboards, other accessories, health, fitness, etc. It is an integral element of CSR's Connectivity Platform for PCs and is based on CSR Synergy and Bluecore Host Stack.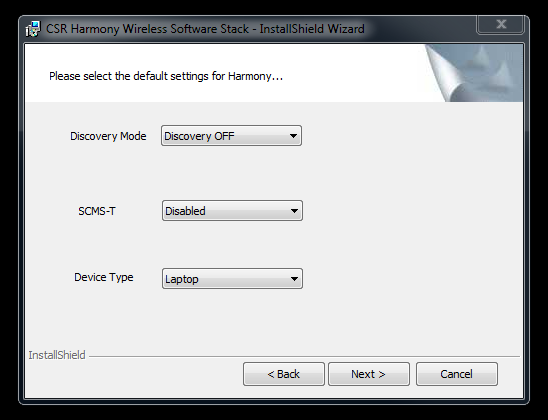 It is free software in the category of Audio and Multimedia, which you can download from here: https://csr-harmony-wireless-software-stack.software.informer.com
Now, what does SCMS-T does in CSR Harmony?
CSR Harmony uses the SCMS-T method for digital rights management to protect your content or someone's content that is being played, used, or transferred. CSR Harmony's SCMS-T method is only compatible with devices that use SCMS-T copy protection. If you are using a device like a headset or any other audio device without the SCMS support, you will not be able to connect or stream the content.
In many cases, the SCMS is disabled by default from the company, resulting in connectivity issues. In the next component of the article, you can find how to configure them.
Also, it does not matter whether the SCMS content protection is enabled on your CSR Harmony device or not. It will not be shown or present on your installation.
How to enable/disable SCMS-T
Now for doing this, there are two different ways for windows 10. Now there may be different reasons for disabling the SCMS-T content protection. Usually, the service is always enabled, but often, if the content you want to configure or play has SCMS-T content protection that cannot be streamed and does not sync with the device. Thus, in these cases, the user finds it annoying and wants to disable the content protection.
Thus to disable the service follow the steps.
Method to disable
This method is the easiest one.
Now follow the steps below to disable the SCMS-T service.
Firstly, in the search bar near the start button, search for services.
Open the services app now, and you will see a list of items appear in a new window.
Now in that list of items, search for Bluetooth support service.
Once found, right-click on it and open its properties.
Now you see a small window pop up on your screen. Now, this can be disabled in two ways.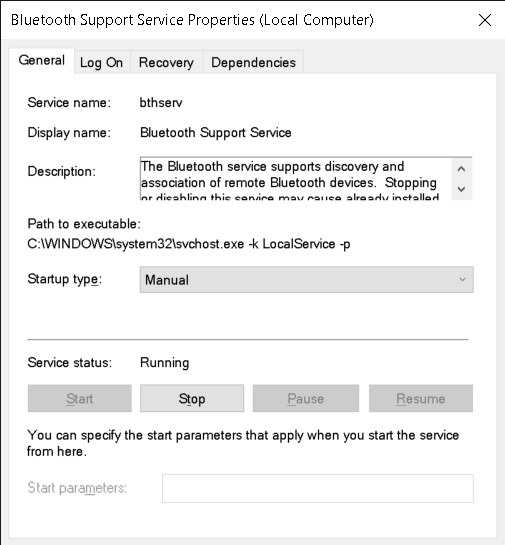 You can either change the startup type to disabled from manual or click on the stop button.
If you want to disable the service forever until you enable it back, change its startup type to Disabled from manual and then click Apply and then ok.
If you wish to stop the service only when you are using the PC, you can click on the Stop button and do the needful. The service will resume back when you restart your device.
Fix SCMS-T Block bluetooth pairing
Many times, you will face an error saying SCMS-T blocked Bluetooth pairing with issues regarding content protection. It does not happen in popular brands, but you face the problem with the local brands nowadays. So here is the fix to this issue.
Near the start button, in the search bar, type in Registry editor and open the app.
In the app go to this path: Computer\HKEY_LOCAL_MACHINE\SYSTEM\CurrentControlSet\Services\BluetoothUserService\Parameters
Now you will see a file names ServiceDllUnloadOnStop.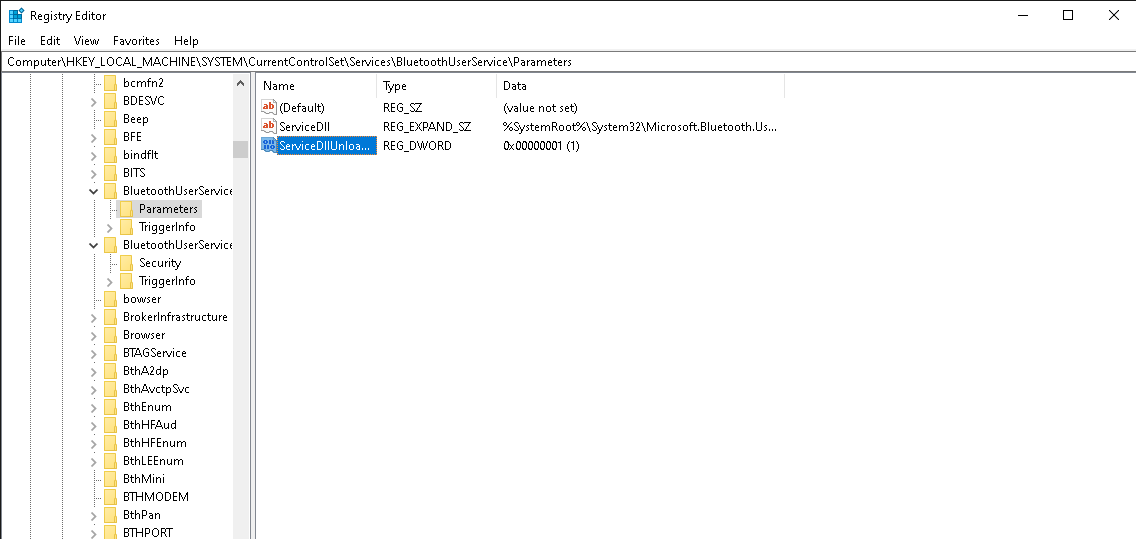 Now right-click on the file, and choose the option –Modify Binary Data
And then, edit the binary data to 0.00000001 and click OK.
Note: This depends from device to device. In most devices, this will be the path. But for many, you will have to configure yourself.
FAQs Related to SCMS-T
Where can I find the registry path for the Toshiba laptop?
For Toshiba, it is totally different path: [HKEY_LOCAL_MACHINE\SOFTWARE\Toshiba\BluetoothStack \V1.0\EZC]
Here change the word with 0.00000001
Can we disable it through CSR Harmony?
YES, CSR also allows you to change the configuration for content protection. You can enable or disable the SCMS-T from there as well.
What about the devices that don't have the SCMS-T service?
You can disable the content protection and reconnect the device to stream the content.
In The End
It is highly advised not to disable the SCMS-T content protection service, but if you cannot stream a particular content, you can disable it, play the content, and then enable it back. In this way, the content also stays protected, and you can have your fun as well.
Do let us know your thoughts. Adios!