Is Adobe CEF Helper troubling you as well? Don't worry. We got the best fixes for you.
Nowadays, we cannot imagine a world without Adobe Creative Cloud applications. Each of those applications plays a key role in industries like the movie-making industry, photography industry, designing industry, etc. So, recently, a new pop-up called the Adobe CEF Helper has been disturbing the users of the Adobe Creative Cloud. Thus, today we will discuss this issue and problems based on it. Hop along!
What is Adobe CEF Helper
So basically, Adobe CEF Helper is a processing service used by the Adobe creative cloud applications (particularly the CCDA) to render various components. For example, when you export a video project from Premiere pro, this service comes into play for rendering, not all time, but most of the time.
You can see different and multiple processes with similar and same names, respectively, running in the background when you are using the Creative Cloud Desktop Applications. The Adobe CEF Helper is a major service required by these applications at runtime and for the rendering process.
Having understood the basic work of Adobe CEF Helper, let's proceed further.
Is it a virus or a malware? It is badfor my device?
Foremost, any virus is not a virus on its own. They are/were normal files that have been infected. Even the most trusted files, even a video file, even an audio file, even Microsoft's own file can become a virus if it comes in contact with malicious content. Thus, no virus is dangerous on its own.
Coming to the Adobe CEF Helper, people have repeatedly reported that this program takes up a lot of the CPU, and thus, their device faces issues like screen freeze, lagging nature, glitches, etc. but only during the time it is running. This may make users think it is a virus as it is giving this kind of issue. But no, it is not any virus or malicious content. To export any project, the application uses Adobe CEF Helper to render, and thus rendering will take up the CPU and GPU of the device. It is simply that the application itself does not render but uses this program to render.
Thus it is not a virus, and your device does not face any danger from it.
Is it necessary to keep it?
Now, this is a double-faced answer. If you use those applications of creative cloud which does not use Adobe CEF Helper – CCDA or any other app utilizing the CEF framework, then you can uninstall this feature.
But if you use any of the programs requiring this feature, it is strongly recommended not to remove it from the device. It may create problems like your apps not starting, creative cloud not opening, rendering issues, loading errors, runtime errors, etc.
Those people who use the Adobe applications through Creative cloud should never uninstall this program as your creative cloud will not open, and you won't be able to use the applications. If you have these applications separately, then depending on the program's need, you can take the required action.
---
Errors faced due to Adobe CEF Helper
Users face many errors regarding the main cause of Adobe CEF Helper, like Creative cloud not opening, White adobe screen, Windows blue screen, Runtime errors, etc. Below are few issues and their solutions.
1. Adobe CEF Helper has stopped working/White screen
Now, many people experience this error where you open the Creative Cloud application, and it shows a dialog box where it says "Adobe CEF Helper has stopped working" or "Adobe CEF Helper not found" or some similar reasons along with a plain white screen.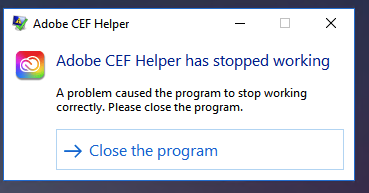 This issue is one of the most common ones and usually pops up just after logging in. Now many people have also tried uninstalling and then reinstalling the program. For some, it worked, but for some, it did not uninstall properly, and when they reinstalled the application(s), the adobe application remained bugged permanently. If you are confident enough to uninstall it properly, then you can try the step, or else it is highly recommended you do not.
To fix this, you can do the following things. Earlier, there was no fix, but now there is.
Go to this link and download the update for the Creative Cloud Desktop app: https://creativecloud.adobe.com/apps/download/creative-cloud
This will download an updated setup. Download the patch and install this update. This will fix your problem.
This issue usually occurs when the creative cloud desktop version mismatches with one of the CEF frameworks.
2. Adobe CEF Runtime errors
Now, this is the second most common error faced by the users. When the program is tempted to run or is already running, this error arises different types of messages according to the problem. For example, 'Adobe CEF Helper.exe- Bad Image", "Adobe CEF Helper.exe could not be found," " Adobe CEF Helper.exe is missing from your computer", " Adobe CEF Helper.exe could not be launched", " Adobe CEF Helper.exe failed to initialize properly," etc.
Before proceeding further, it is always important to keep your antivirus active and up to date. These kinds of errors don't arise thereafter.
There are many so-called fixes to this issue, but most of them don't work. The best solution to this issue is reinstalling the application. Suppose you get the message while running Premiere Pro, then uninstall Premiere Pro and reinstall it again. This will 100% fix the error.
You can also try to restore the system from the checkpoint it was working. This also works for most people. If you don't know how to restore, you can visit this Microsoft link: https://support.microsoft.com/en-us/windows/recovery-options-in-windows-31ce2444-7de3-818c-d626-e3b5a3024da5
3. Windows crash, lag, and blue screen
Many times, if your device is not very high-end, you can face errors of a blue screen, windows crashing, applications crashing, and lagging experience. You can try the below things to fix this.
Firstly, try to end the process through a task manager if you can. Press CTRL+SHIFT+ESC, and this will open the task manager. Now end the process. You may also see a lot of CPU usage and memory usage due to which you are facing these issues.
If the above method does not solve your issue, then your Adobe CEF Helper may be affected. Force shutdown your device and restart it. Just after the BIOS screen, keep on pressing f8 until the advanced options menu opens up. From the list, select safe mode with the command prompt. Once opened, run cmd and type the command SFC/scannow, and hit enter. This will perform a scan, and now you can start windows in normal mode.
4. Other fixes you can try
Now, there may be many different problems regarding this, but there are few things you can try which will either solve the problem or not, but it won't worsen the problem. So, there is no harm in trying.
Run a complete scan through command prompt. Open smd and type the command sfc/scannow and hit enter. This will perform a full scan of the pc.
Try uninstalling and reinstalling the program.
Use your own antivirus for figuring out the issue and try to make your antivirus solve the issue for you.
Make sure your windows in always up to date.
Make sure you have the latest version of Adobe Creative Cloud.
Perform security check regularly.
Try to run the programs in safe mode and then in the normal mode.
Try cleaning the disk where the programs are loacted, for example in Local Disk D
If none of the solutions work then, you can try contacting Adobe Support from here: https://helpx.adobe.com/in/support.html
Must Read | Practical Solutions to Adobe Creative Cloud Keeps Popping Up
How to uninstall Adobe CEF Helper
It is not recommended to undergo this action, but if you are sure you do not need this program, you can undergo the following steps.
First method
Go to the path: C\:Program Files>Adobe Systems>Adobe CEF Helper or Adobe Creative Cloud >Adobe CEF Helper_uninstall.exe.
Now, this may depend on where you have saved the application, but it is the same part in most cases. The file named Adobe CEP Helper_uninstall.exe is the uninstall program for this service. You can use this to uninstall.
Second method
If the program was installed somewhere else, then go to Apps and features in settings, and the search bar, type Adobe CEF Helper. Now when you find the program, uninstall it.
These were the two ways to uninstall the program.
FAQs Related to Adobe CEF Helper
To uninstall, can I remove the files from the directory?
No! Never do that. This will create variants of the connected files and result in the crashing of the main application.
What do I do when the process of Adobe CEF Helper does not end in the task manager.
If it does not end, force shut down your device, run it in safe mode, and perform a full scan.
Is there any way I can decrease the CPU usage of the program?
No! There is no particular way to decrease CPU usage. However, you can modify your project exportation to affect the performance.
Winding up
Firstly, never mistake the Adobe CEF Helper for being a virus. It is a key element for all Adobe applications to perform normally. Do try out the fixes above if you are facing any of the issues. Also, force shutting down and restarting the device and temporarily fix all the problems but will continue to appear after some time. Adobe is important for almost everybody nowadays, and the users do not entertain any problems. Do let us know your thoughts. Adios!