Building and maintaining a relationship with your customers is key to any business's success. Emails are an important part of this process. Reaching out and engaging with your audience through email nudges them forward in the sales funnel.
Email marketing can be ineffective and time-consuming without the right tools. AWeber is one such tool that helps streamline the email marketing process.
In this post, we go into detail about the AWeber's pricing and features.
Introduction to AWeber
Before getting into the nitty-gritty of AWeber's pricing and features, it is important to have some background information about what AWeber is.
AWeber is one of the best email marketing solutions. It allows you to build a strong connection with your audience with email marketing solutions, custom landing pages, and web push notifications.
With AWeber, you can utilise the power of email marketing to its fullest extent and reduce your burden by using features like email automation, segmentation, and auto-newsletters. It is the ideal tool to increase your customer base and make more sales.
AWeber has been serving businesses, entrepreneurs, bloggers, and others all around the world for over 20 years. It is a must-have for email marketing with a wide range of features to improve your customer interaction.
AWeber's Pricing and Features
Pricing and Plans
AWeber offers a Free and a Pro version. A wide variety of Pro plans are available based on the number of subscribers and billing schedule. Pro Plan has many features that are not available in the Free plan, like behavioral automation, advanced analytics, email split testing, webpage tracking, etc.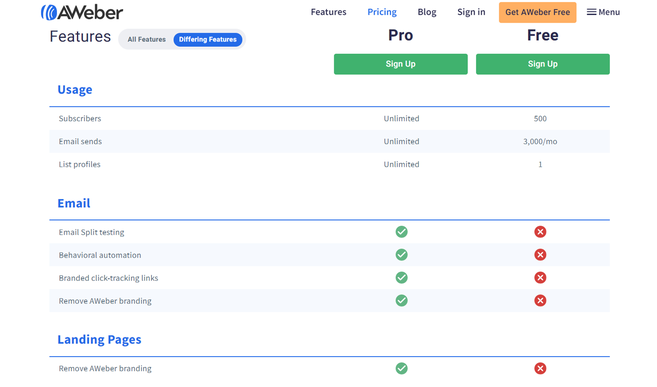 The free plan has a limit of 500 subscribers and allows only up to 3000 email sends per month. While it might not seem like much, it is sufficient for beginners. Unlike some of their competitors, you don't have to be on more expensive plans to unlock certain functionality as the Free plan lets you access most of them. If needed, you can always upgrade to the Pro plan.
For the Pro version, the prices are as follows:
0-500 subscribers: $16.15/mo
501-2,500 subscribers: $26.15/mo
2,501-5,000 subscribers: $46:15/mo
5,001-10,000 subscribers: $66.15/mo
10,001-25,000 subscribers: $146.15/mo
The above-mentioned prices are for the annual billing cycle. The prices vary if your billing cycles are monthly or quarterly. If you have more than 25,000+ subscribers, you need to contact them to get a price quote. This threshold for bespoke plans is slightly lower than the market standard of 100,000+ subscribers.
AWeber's prices are affordable and when compared to others in the market, is roughly in the middle of the email marketing tool spectrum.
Features
Create custom emails
When building your custom email, you can either start from scratch or use the existing templates. You have a choice of over 700 mobile-responsive email templates that you can customize by choosing from multiple color schemes, layouts, and designs. You can also add your logo or one from their 6000+ free stock images.
You can use AWeber's smart designer to create a beautiful email in seconds using only your website's URL. With the drag and drop editor, create professional-looking emails from scratch with few clicks. All you have to do is choose the pieces you want from the toolbar, drag them into your message and customize them.
Suppose you want to add more flair to your emails, design with Canva from your AWeber account. After designing your email, preview your message and send a few test copies before scheduling your campaigns.
Also, Read | iContact vs AWeber: Choose the Best Email Marketing Software
Create Custom Landing Pages
A professional-looking landing page is a must if you want to boost your growth. Since it is quick and easy to build them with AWeber, you can create customized landing pages for each marketing campaign to drive traffic.
Landing pages can be used to promote your products, services, or digital downloads and as a place to test or launch an idea. With such a wide variety of uses, it is essential to have a landing page builder that can help you create as many landing pages as you want.
Choose from a library of landing page templates or use the drag and drop editor to create beautiful landing pages. Make your landing pages interactive by transforming hyperlinks into rich media like polls, video, RSS feeds, etc.
Create custom domains to increase brand recognition and discoverability when you connect your landing page to your domain.
Add AWeber Ecommerce to landing pages to sell products and services, accept payments, and track revenue. You can track traffic across your landing pages with support for Google Analytics and Facebook Pixel. People who sign up through your landing page are automatically added to your AWeber email list with tags.
Email Automation
When it comes to email marketing, sending an email at the right time is as important as sending it with the right content. Automation enables you to send targeted emails like welcome messages to new customers and discounts and offers to customers who abandoned their cart.
Automated campaigns often result in higher open rates and engagement by sending the right message at the right time.
Use AWeber's drag and drop campaign builder to create emails and schedule the campaign. Select from pre-built email marketing workflow templates and customize them to save time.
There are templates for lead generation, eCommerce, and conversion campaigns for different businesses. You can optimize your campaigns with easy-to-read data reports that give you the information you need to adjust your campaign for more clicks, opens, and sales.
Email Segmentation
Segment your subscribers' list with AWeber to send targeted and relevant messages to them. Targeted messages get more opens and clicks. Create dynamic segments by using tags and custom fields to send more personalised emails.
With AWeber, you can create segments based on customer activity like opens, clicks, visits, and purchases and customer information like their location, age, gender, etc. To get relevant customer information, use the sign-up form builder to request specific information.
AWeber lets you treat your customers as unique and send them to content relevant to their needs.
Automated Newsletters
Emailing your blog posts can boost readership. With AWeber, you can automatically convert content from your blogs into an email newsletter template to save time. Use their RSS to email feature to convert and send them your feed.
You can choose how often you want the message sent. This makes it easier for you to your readers up to date by sending them fresh content regularly.
Getting Started with AWeber
Now that we have gone through AWeber's pricing and features, we will show how to get started with AWeber. If you are a beginner, you can start with the free version. For both the Free and Pro plan, you need to sign up first.
To buy the Pro version, fill in the contact information and pay using a credit card. You can use the Free plan to try out the tools and check if AWeber suits your needs. It is an ideal email marketing tool that is both affordable and effective.
Also Read >>> Learn Everything About Zoho Flow: The Latest Complete Guide
AWeber FAQs
Here are a few questions from users who want to use AWeber.
What is AWeber?
AWeber is one of the best email marketing solutions. It allows you to build a strong connection with your audience with email marketing solutions, custom landing pages, and web push notifications.
Is it available for free?
Yes, there is a free version, which allows up to 500 subscribers and 3000 emails.
Are there any other alternatives?
Yes, there are quite a few alternatives like Mailchimp, Getresponse, iContact, etc.
What's the best link to get Aweber in 2022 at the Cheapest Rate?