With tons of video editing platforms in the market, it can sometimes be difficult to choose one. Does it fulfill all your requirements? Can you afford it? Is it reliable?
These are some of the questions you need to ask about editing software before buying it. Corel VideoStudio Ultimate X10 is the software being discussed here.
Read on to find the answers to your questions about Corel VideoStudio Ultimate X10 and its various features.
What is Corel VideoStudio Ultimate X10?
Corel VideoStudio Ultimate X10 is one of the best video editing software on the market. The latest version (2022) of the Corel VideoStudio Ultimate editing platform launched over two decades ago under a different name.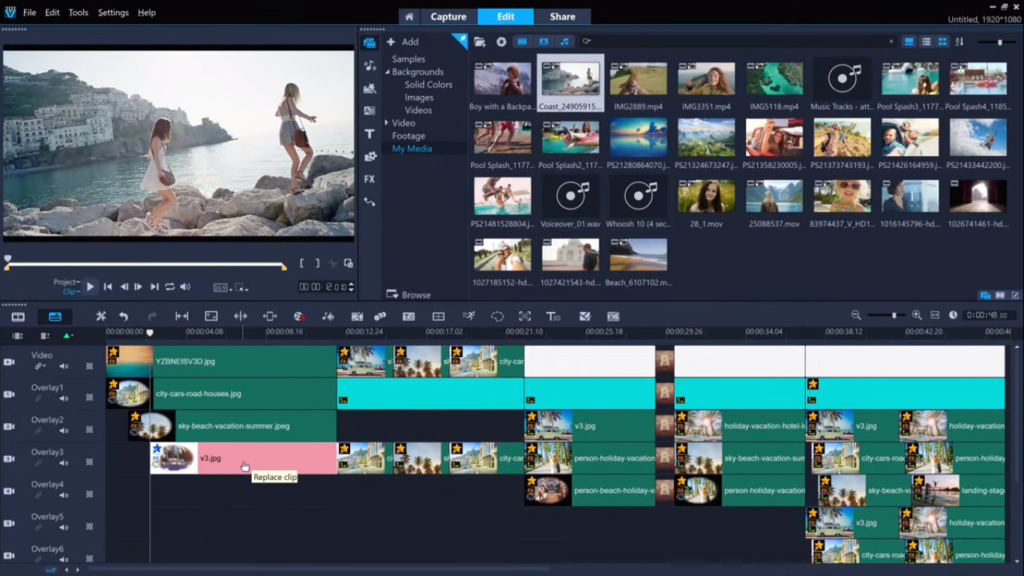 VideoStudio caters exclusively to Windows users with a Pro and Ultimate version. The Ultimate version is the more expensive one. Even though the price difference is quite narrow, the difference in features is large. With additional features like six Multicam tracks, enhanced color grading, a 3D title editor, etc., it would be wise to choose it in the Ultimate version.
Over the years, the software has built up a reputation of being beginner-friendly and relatively easy to use. It has been the go-to editing software for both semi-pros and novices. But it has enough features and tools to satisfy even a hardcore professional.
Corel VideoStudio Ultimate offers powerful video editing tools like multi-camera editing, video mask creation, motion tracking, time remapping, etc. Even with such a wide range of features, it does not skimp on performance. The latest 2022 release has doubled down on making an even more impressive product.
What's New with Corel VideoStudio Ultimate X10?
The new 2022 release of Corel VideoStudio Ultimate X10 has brought some updates to make it even better. While it does not signal a drastic transformation of the software, it has consolidated some of the existing features into a more advanced form, added useful upgrades to the core program, and improved performance and reliability.
Improved Performance: The optimization of the software for the latest video hardware acceleration technologies from Intel, AMD, and Nvidia have sped up rendering and interface responses, improved previewing, and made the overall editing process smoother and faster.
AR Stickers: Taking a page out of Snapchat and Instagram, they have introduced the new AR stickers to add more personality and flair to your videos.
Instant Project Templates: You can customize ready-to-use templates and effects to make eye-popping videos. Instantly recreate the look of viral clips, popular social media posts, etc., with the templates to save time and energy.
Enhanced video stabilization: With the proDAD Mercalli video stabilization tool, you can make real-time corrections to shaky hand-held footage quickly and efficiently.
Enhanced Mask Creator: You can manipulate masks with keyframes and create them in a new interface. With this tool, instead of starting with the clips, you can add the clips to the dedicated Mask Creator.
New Auto Motion Blur: The new tools make the movements of an object more natural.
New Edit Modes: Some of the common modes in high-end video editing software like Slip, Slide, Roll, etc., have been added.
Highlight Reel: This smart movie and slideshow creator can automatically select your best shots and clips with AI-powered facial recognition.
Painting Creator: Create custom animated overlays by recording your brush strokes as you work. They can be integrated as an animated-effects or static graphic asset.
Improved Colour Grading: they have introduced advanced color correction and color grading tools, allowing HSL tuning, tone curves, etc.
More Premium Effects: Get exclusive premium effects from industry leaders like optimized effect packs from NewBlueFX and 100+ new VitaScene effects from proDAD.
Advantages of Corel VideoStudio Ultimate X10
Ease of Use
One of the biggest selling points of the VideoStudio has been its beginner friendliness. Since this non-linear editor is aimed at a consumer audience, it is fairly easy to use. They take feedback from the audience with their active online forum and make improvements.
With the ability to resize and move interface panels, set custom interface layouts, and view multiple screens, it is one of the most flexible UIs. The toolbar has also been a big plus. Clicking on an element of this toolbar brings up the live previews of the effects, which is incredibly helpful for users.
Support
Another reason for the software being so beginner-friendly is its extensive support system. They offer video tutorials on their YouTube channel, Facebook, and on their website. If video is not your thing, you can read in-depth articles on a wide range of video editing topics.
They have a search option that provides the quickest, easiest way to browse the user guide. You can access how-to information on features, learn video editing basics, explore advanced techniques, etc.
360-Degree Video Editing
VideoStudio is one of the few editing software to support 360-degree video editing. They have the complete suite editing tools to trim, enhance, add titles or music, and edit your 360° video on the timeline.
You can transform your 360-degree footage using Tiny Planet or Rabbit Hole effects, convert 360 footage to standard video, and Convert single or dual fisheye footage to an equirectangular or spherical panorama.
System Requirements
OS: Windows 10, Windows 8, Windows 7, 64 bits only.
Processor: Core i3 or AMD A4 series for standard videos. Intel Core i7 or AMD Athlon A10 for HD and UHD videos.
RAM: 4 GB or higher, minimum 8 GB recommended for HD and UHD videos.
Graphics Card: Minimum display resolution: 1024 x 768, minimum 512 MB VRAM or higher recommended for hardware acceleration.
Getting Started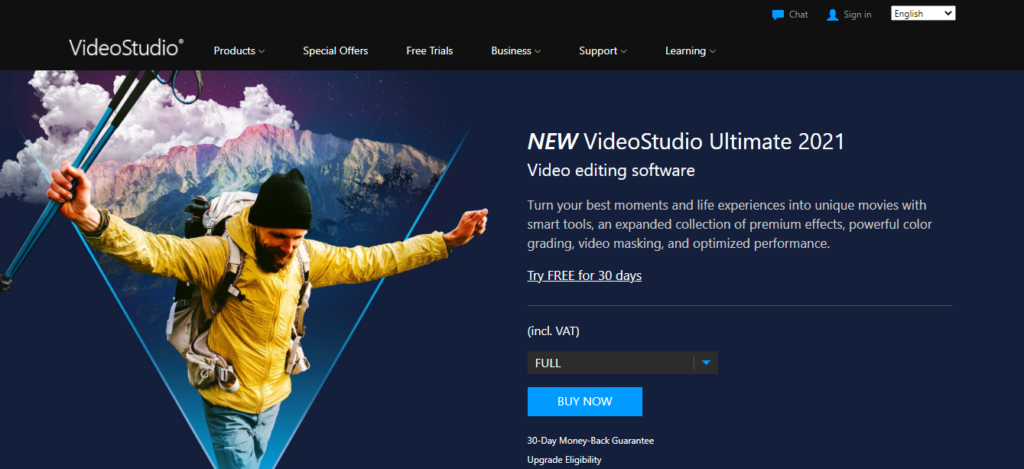 Corel VideoStudio Ultimate X10 costs $99.99 to buy. You have a 30-day moneyback guarantee. They also offer a 30-day free trial so that you may try it before you decide to buy it. You can download the trial version of the program from their website. The trial version has limited functionality and does not offer complete file support, features, and third-party effects.
Also Read >>> Shotcut vs HitFilm: Which is the Best Video Editing Platform for You?
---
Corel VideoStudio Ultimate X10 FAQs
Here are a few questions we quite often hear regarding the Corel VideoStudio Ultimate X10.
What is Corel VideoStudio Ultimate X10?
Corel VideoStudio Ultimate X10 is one of the best video editing software on the market.
Any new updates with Corel VideoStudio Ultimate X10?
The new 2022 release of Corel VideoStudio Ultimate X10 has brought some updates like AR stickers, enhanced performance, instant project templates.
What are the alternatives to Corel VideoStudio Ultimate X10?
There are other popular video editing platforms like Adobe Premiere Pro, Final Cut Pro X, CyberLink PowerDirector 365, etc.