Using resumes and face-to-face interviews to evaluate and hire people feels quaint and old-fashioned in this modern world.
Video interviews provide an opportunity to judge the candidates better. And many recruiters are waking up to this idea. Video Interviews will soon be a widely used tool for the preliminary screening of candidates.
CVideo is one of the best platforms for recruiters to conduct on-demand video interviews.
If you are looking to move into video interviews and don't know where to start, this guide provides everything you need to know about using CVideo.
What is CVideo?
CVideo is a web platform to conduct on-demand video interviews. Companies and hiring agencies can use the platform to organize and schedule asynchronous video interviews.
It simplifies the process of recruiting by making preliminary screening effective and easy. From sending interview invitations to candidates to their selection, the entire process can be done using CVideo.
Advantages of CVideo and video interviews
Since the interviews are automated, they can screen many candidates without wasting a lot of time.
It is done remotely, allowing people from all over the country to interview. It has been especially advantageous during Covid.
Scheduling is easy for the recruiter as busy candidates can give the interview whenever they want.
As the interview is recorded, it can be shared and evaluated by different people.
It is better to evaluate candidates than a resume. You can study their appearance and body language to understand their personality.
Since the questions are the same, interviews are more consistent, and you can easily compare candidates' answers to make better decisions.
Not having to sit across from recruiters makes the candidate more comfortable and showcases their skills.
Save on a lot of costs of conducting in-person interviews.
Allows periodical assessment of employees to decide on promotions or bonuses.
Features of CVideo
Sending emails invitations for interviews to candidates.
Customize questions and answer time.
Archive your video interviews for future reference.
Rate (1 to 5 stars) and leave written comments about interviews.
Share interviews with other recruiters through a single link.
Connect CVideo to your business applications via API
Pricing and Plans
You get a 21-day free trial to test the platform. For paid plans, there are 4 options to choose from.
Small (€249/mo), Medium (€599/mo), Large (€999/mo), and Flat (€950/yr) offer a different number of credits, where 1 credit = 1 video interview.
How to use CVideo?
CVideo is a user-friendly platform designed to make the hiring process simpler. It is easy to get started by following these steps.
Getting Started
1. After entering the home page, click on "Free Trial" in the navigation bar.
2. Fill the details about your company to register.
3. After signing up, you will receive an automatic system email containing the data to access your company profile.
Creating a new video interview session
1. Click "Create Session" for a new interview session.
2. You have fours steps to create an interview.
3. Firstly, add the title (mostly a job role), barrier threshold, the interview's closing date, and a message for candidates.
Define: Candidates who receive a lower assessment than the barrier threshold (rating of 1 to 5 stars) are highlighted negatively.
4. Then add all the interview questions and the time to answer for each.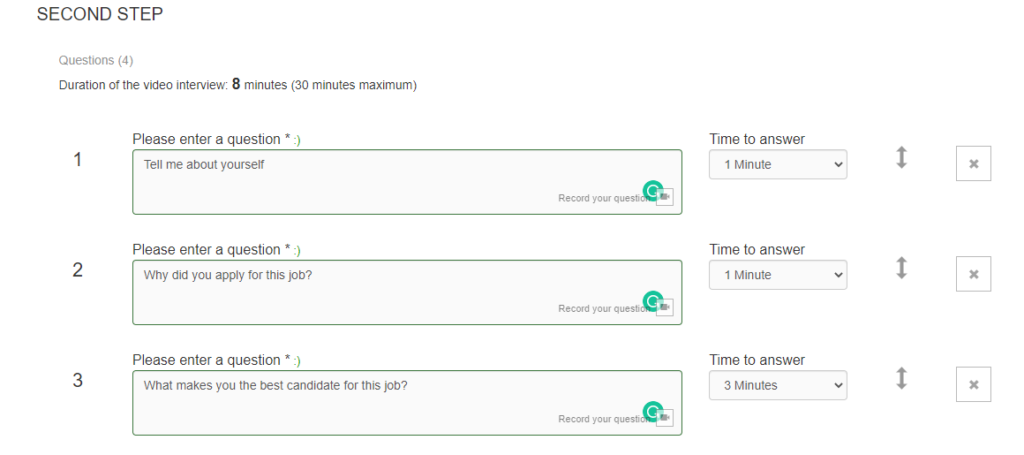 Note: The interview can be a maximum of 30 minutes.
5. Next, you need to add the details of the candidates like email address, mobile phone, and any other remarks.
6. The final step is to decide whether you to store interview recordings for 2 months or 12 months.
7. Click on "Create" to create the interview and send the interview invitations to candidates.
Note: The cost for the interview will be given in the form of credits.
Managing open interview sessions
1. In the open sessions section of CVideo, you will find all the active interview sessions.
2. The details like the number of candidates, answers, and remaining days are given, and click on the session to manage it.
3.You can edit session details, download the session summary (name, emails, date, and result links of candidates.
4.You can track candidates interview videos and solicit those who have not submitted them.
5. Click on "Close Session" to finish it and it will automatically be stored in the archives.
Assessment and Evaluation
1. Click on the submited videos to start playback.
2. The profile can be rated between 1 to 5 stars, and you can leave comments in the evaluation section and save them.
3. Click on the share icon to copy the shareable link and send it to others for evaluation.
These are all the steps involved in conducting video interviews using CVideo.
Also Read >>> The Insider's Guide to Microsoft Au Daemon
FAQs on CVideo
How much does CVideo cost?
There are 4 palns to choose from.
Small (€249/mo), Medium (€599/mo), Large (€999/mo), and Flat (€950/yr).
Can I conduct live interview in CVideo?
No, you can only conduct on-demand interviews.
Are there any alternatives to CVideo?
How long can the interview be in CVideo?
The interview can be a maximum of 30 minutes.
How long can the interviews be stored?
You can store them for either 2 months or 12 months depending on your subscription plan.
In the end…
Pandemic has hastened the adoption of video interviews. It has proven to be a gamechanger and many recruiters are unwilling to go back to the old methods. Platforms like CVideo have played a big part in this transformation. The simple and intuitive process for tackling thousands of candidates has made them very popular. This guide hopefully helps ease the transition to CVideo for newcomers to on-demand video interviews. Test and explore the platform using this guide as a starting point.