CTF Loader- What it is? Is ctfmon.exe a virus? Should you keep it? Issues? All discussed below!
Now, all those people who use Windows. are well acquainted with how important all the programs installed by default in the windows are. Windows being windows every time has many different programs and services, that may look as if they are of no use. But small steps are very essential. Thus today we are going to discuss a program named CTF Loader, that has made many users annoyed and curious for any clarifications. So let's get started.
About CTF Loader
Firstly the full form of CTF is the Collaborative Translation Framework. It is basically a background process responsible for handling and supporting handwritten and voice recognition on programs for Microsoft. It is only meant for Windows 10. It is a method used by Microsoft to control the office language bar and the User input (Alternative).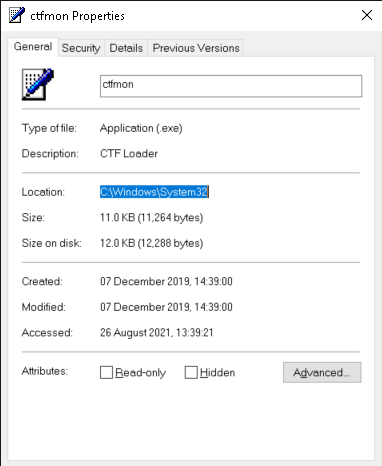 In simple words, when you use your computer or laptop, with voice recognition, i.e., by speech or through wireless display, maybe touch screen or stylus, this service/program comes into play. Even for keyboard translation, and handwriting for many applications that users input, this service is essential. So basically, it is a program used for user input of any kind.
It is a task manager process, and you don't have to run it separately. You can find this file in the following path: C:\Windows\System32 with the name ctfmon.exe
Is it a virus?
Two factors make people think that it is a virus or malware!
It is an .exe (executable) file.
It is always running in the background process in the task manager, sometimes using large amount of resources.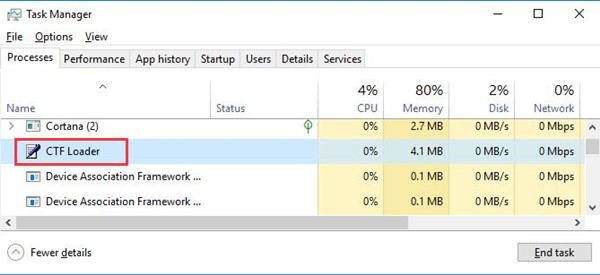 Now many people have this misunderstanding that every executable file is a virus. If that was the case, then all the applications installed on your device would be viruses. The fact that CTF Loader is an executable file, just makes it easy for it to be infected with the malware. Thus, by default, no executable file is a virus.
Secondly, many programs keep running in the background with you not know it. If it is labeled Microsoft, then you think it is a safe program, but if labeled any other thing, then it is said to be a virus. This is so wrong concept. CTF Loader is an important service to perform so many different services.
CTF Loader is a component belonging to the Microsoft Corporation that is fully safe and secure. It is not a trojan. However, since it is an exe file, it may become a virus easily. Thus, keep scanning your files with your antivirus to keep them safe.
CTF Loader using location
Many people may wonder, why does this kind of program need access to your location.
Well, there is not any particular answer for this. But the basic reason is that when you use wireless modes of inputs like the stylus, wireless pen, voice input, etc. the program needs to access the distance from which the input is being received to calculate the latency.
If you have noticed, when you are listening to music through Bluetooth headsets, and as you keep moving farther, the connection becomes weaker. Same thing here as well, Thus the program needs location access to determine many things that are needed for the working.
Coming to the main component of the article- PROBLEMS! This can be considered my favorite part. Well, there are many different problems, related to the CTF Loader. Here, we will discuss only the most common ones that most users face. So without any delay, let's start.
Firstly you have to know if your CTF is fine and is not infected. For this go to the original file path of the program, as mentioned in the above components, and check if the program is the. If it's there then your CTF program is fine and some other factor is the issue. If it is not there, then your CTF has been infected with a virus or malware.
1. Fix for High CPU Usage by CTF Loader
Now, this is the most common problem faced by the users and that is even if no such programs are into play, their CPU is being consumed vastly by this service. Now there are several reasons for this event. Maybe your CTF Loader is not accepting the input commands due to some virus preventing it to do so, or, maybe the configuration of ctfmon.exe has been changed by malware.
But don't worry follow the steps below to fix it:
Firstly run a full system scan through cmd. Open cmd and type in the command sfc/scannow and hit enter. If you see any suspicious activity in the scan results, then first resolve them and see if the problem still persists
See if your windows is up to date by going to the settings anf then Update and Security. If not then first update and install the latest update and try again.
Go to task manager, locate the process, right click on it, and end the task. Once ended, force restart your device and see if the problem still persits.
Uninstall the

windows

updates and reinstall them from the settings. Go to Update and security, then navigate to View update history and click on uninstall updates. Now select the latest update and uninstall it. Thereafter, reinstall it safely, and see if the problem still persists. For more deatiled information on how to uninstall the updates visit this link: https://answers.microsoft.com/en-us/windows/forum/all/how-to-uninstall-updates-and-patches-in-windows-10/b887a5d6-3fbf-4c38-9854-e6fecdf0534e
After all these practices, if your CPU is consuming a lot of power, then disable the program from- which you will learn in the coming up segments.
2. Fix for High Ram Usage by CTF Loader
Now, this is another common issue where the CPU is not consumed but the RAM is exhausted by the program. Follow the steps below for a fix.
Firstly, perform a scan only on the drive. Go to your PC. Select the drive and in the upper tab go to Drive tools. Suppose your main drive in which the operating system is stored is drive C, then select it and go to Drive Tools tab from the top bar. Now select Cleanup. A small window will pop up. From that list select all the unnecessary files and click OK. This will delete all the corrupt files from the drive.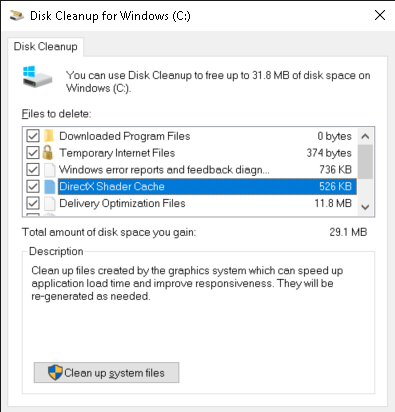 If the problem stil persists, try to disable the touch keyboard and handwriting panel service Open the services window and search for the touch keyboard and handwriting panel service. Now double click to open properties and and change the start up tyoe to disabled. Then click on apply and then ok. This will surely fix the issue.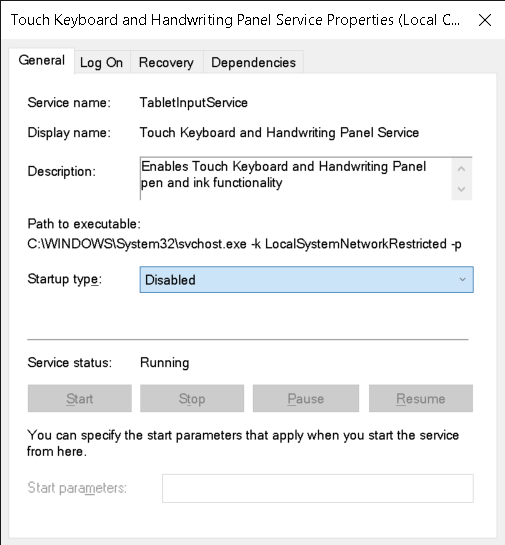 If this does not fix the issue, then try to run the CTF loader in safe mode. Restart your computer, and just after the BIOS screen, keep pressing f8. It will open up an advanced options menu. From there select, safe mode with a command prompt. First, check if the problem is still there. If yes perform a scan from the cms using the command SFC/scannow in the safe mode and then switch back to normal mode. This will surely fix this problem.
3. Fix for CTF Loader – ctfmon.exe has stopped working.
This is also another common problem and can fix using the steps below.
Firstly, try the solutions given in the above two components. If the problem persists, then move on to this solution!
Managing CTF from Task Scheduler
Type task scheduler in the search bar near start, and open the app
Now, from the left panel, go to Task Scheduler Library>Microsoft>Windows>TextServicesFramework
Now select the task> MsCtfMonitor from the top middle framebox and click on disable from the right panel in the bottom left.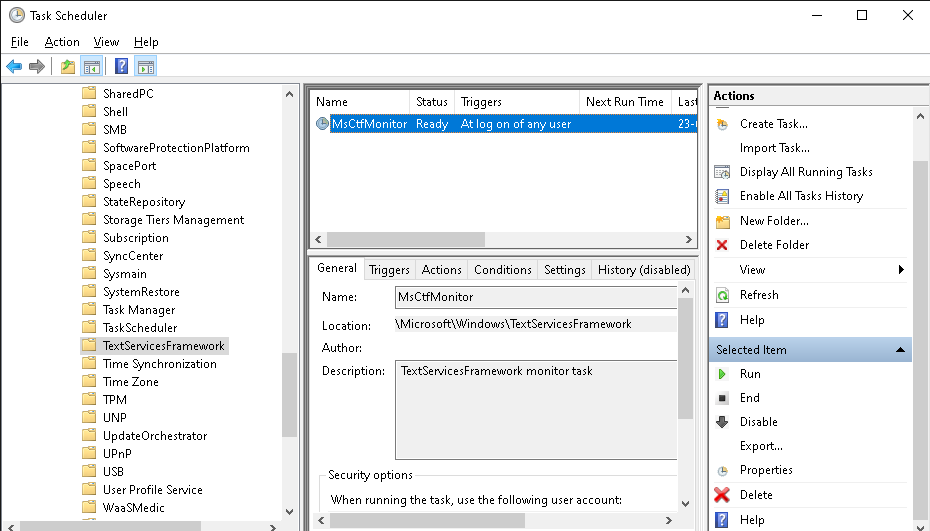 Now, this fix is the ultimate fix for this issue. If you still face the issue, then you may have to contact the support team of Microsoft.
Fix for other issues relating to CTF Loader- ctfmon.exe
Now there may arise many other issues you may face regarding this program. This here are few fixes you can try:
Make sure your windows is up to date
Perform a full device scan using cmd or using your antivirus.
Defragment your storage drives from the settings.
Try to run the service in safe mode. If it is not working in safe mode, then the file is fully spoilt and you may have to delete it.
Disable the startup of Touch keyboard and handwriting panel services from the serives menu
Try to restor your windows to the last checkpoint when the porgram was working.
Try these fixes and hopefully, your issue will be fixed.
How to disable CTF Loader
Now to disable this service, it is not a two-click process. Follow the steps below.
Type Win+R and open the run command box.
In the box type regsvr32.exe /u msimtf.dll
Now press enter.
Again open the run command and type regsvr32.exe /u msctf.dll and press enter
Once botht he commands have been executed, restart your computer and the problem will be fixed.
It is highly recommended not to disable this service, or you may have to restore to this checkpoint if any issues are faced.
FAQs Related to CTF Loader
Can I just delete the exe file from the directory?
No, you have to delete the DLL files as well, and the DLL files are attached to other exe. programs as well. Thus, always use the Regsvr32 tool for the installation.
My antivirus found that there is some other file that is claiming to be a CTF loader? What should I do?
Foremost, delete those files, and thereafter, restart your device. If the files don't come back to the original directory then restore to the last checkpoint when the CTF Loader- ctfmon.exe was present in its original directory.
Can I use these solutions directly in safe mode?
No, especially for CTF Loader, first try it in normal mode. Try to ignore safe mode as much as possible.
Winding up
CTF Loader is an important part of windows. Issues with this program can further result in your working rate because of many issues. Keep scanning all your files regularly and you will not face these kinds of issues. Moreover, many solutions have been provided in the components above. Do try them and they are 100% safe. Do let us know your thoughts. Adios!