Being troubled by DiagTrack? No issues! We got you covered with all the things you need to know.
You know well, Windows being windows is ' the most ' annoying thing one can go through while usage. However, even us being technicians, know how to deal with them. Today we will discuss a service called DiagTrack, which for some users, turns out to be annoying, whereas, for some, it is advantageous. We will look into the detailed matter today! So, hop along!
About DiagTrack
So basically, every device, be it a Windows, mac, android, etc., has a tool that periodically sends the system data to their host servers. Thus, DiagTrack is a tool by Microsoft that is responsible for this work. It is a part of the Univeral Telemetry Client.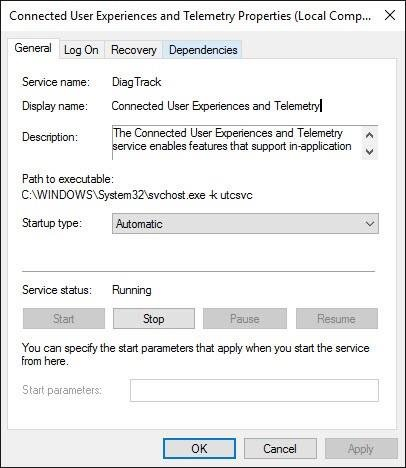 Now, the Windows DiagTrack is very useful in ensuring your security and reliability from the data collected by Microsoft. The service works on the file named diagtrack.dll, which is a dynamic link library file. You can find this file on the following path: %SystemRoot%\System32\svchost.exe.
Under the registry editor, you can find it on this path: HKEY_LOCAL_MACHINE\SYSTEM\CurrentControlSet\Services\DiagTrack.
Is it safe? Is it a virus?
Now there is no clear answer whether Microsoft uses this tool to spy on your data. However, it has been stated that the data they collect is not shared with anyone and is not linked to anyone. They keep this data stored in case of crashes and other errors to reconstruct them back.
It collects data like what movies you watch, what songs you listened to, your browsing data, PC Specs, usage timings, disk space, contact windows licenses, etc. You can view the data that is being collected by going to this link: https://account.microsoft.com/privacy.
There is nothing to worry about in the case of your data. All the operating systems have these tools to store your data for any further problems to arise. Furthermore, it is located in the system 32 folder, which does not grant access to exercise control over other applications and programs. Thus it is fully safe!
Many people think that DiagTrack is a virus or malware and tend to remove it as soon as possible. Not everything running in the background and consuming your CPU resources is a virus. It has a VeriSign that assures that trusted developers, i.e., Microsoft develop it.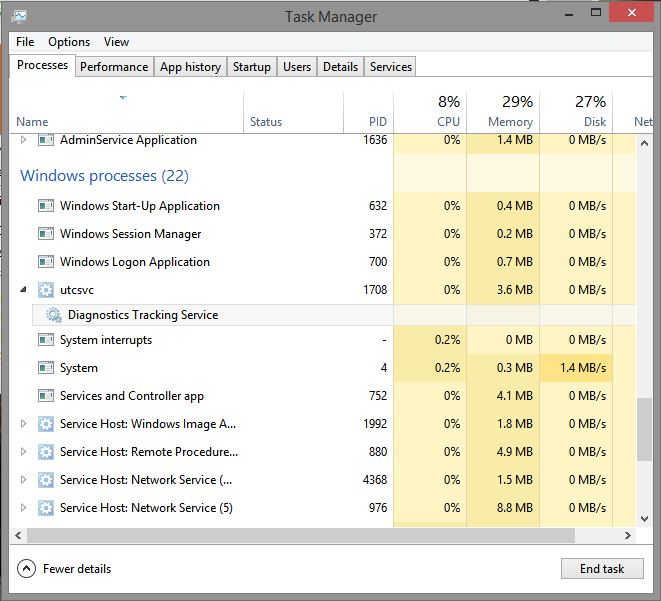 Now there are possibilities that there may be some corrupt file pretending to be DiagTrack. To prevent them from invading your device, regularly scan your files with the use of your antivirus. But by default, it is not any virus and is completely safe for your system.
Does your system need it?
Now, this may be a double-answer question.
If you decide to uninstall it, you may see a mild boost in performance. Also, many people don't like it when Microsoft is storing their data and thus decide to uninstall the service. However, many users have reported many issues regarding their usage after uninstalling this program, and few issues were easily resolved. Thus, it is suggested not to uninstall the process as it does not harm you and your device.
Even still, you decide to uninstall the program due to privacy ego or any other reason. You can find the process in the upcoming components.
How to disable DiagTrack
Now many users want to temporarily disable the service, which is one of the best choices. Follow the below steps to do so:
In the search bar, type services and open the services app.
Now search for the service named Diagnostics Tracking Service and double click to open properties.
Now locate startup type and change it to disabled.
Now click on apply and the OK.
This will disable the service and will not resume until you do so or in any emergency during the safe mode.
Dynamic Link Library diagtrack.dll errors
Since it is a DLL file, errors have to occur no matter how clean your device is. Thus below are few common errors that users come across and the solutions along with them-
Fix for Access Violation at address- diagtrack.dll
This error occurs irrespective of the windows version you are using. This error usually occurs when the software you are trying to run asks for a protected memory address that the client is not allowed. This prevents you from using the programs. Below are few solutions you can try:
Perform a malware scan using your antivirus. Scan the program files and the software you are trying to open. If there are any kind of negative files, resolve them and see if the problem still persists.
Disable user account control- Open control panel and locate and open User accounts. On the right panel, click on Change user account control settings. Now, move the slider to never notify and click OK.
Make sure the none of the program files are blocked by the firewall. If yes, allow them on the device and try again.
If all these dont work then, try reinstalling the program and try again.
Fix for diagtrack.dll could not be found
Follow the steps to fix this issue:
Open cmd and type the command sfc/scannow and performa complete scan of your device.
Add Data Execution Prevention Exception– Open control panel and go to advanced system settings. Under advanced tab click on settings under perfromance section. Now click on Data Execution Prevention Exception tab and check the "Turn on DEP for all programs and services except those I select" option. Now apply and click OK.
If it doesnot work then try to reinstall the diagtrack.dll file- which you will learn in the upcoming components.
Fix for cannot register diagtrack.dll
This error is also one of the most common errors that users face. Thus follow the following steps for it:
Restore your system to the last checkpoint when the service was working. You can do this by going into settings and then Restore and backup.
Update your windows to the latest version and check if the porblem still persists.
Try to run it in safe mode and see if it is working. If it is then perform a malware scan in the normal mode and you are good to go.
Lastly, replace the old DiagTrack dll file with a new downloaded one.
So these were the 3 most common errors faced by the users and their solutions.
How to uninstall DiagTrack
Now there are two ways you can do this with.
If the diagtrack.dll is part of a game or software, then it will have an uninstall option. Here, you can go to this path: C:>Microsoft>Microsoft Windows Diagnostics Tracking or Microsoft Windows Operating System >diagtrack.dll_uninstall.dll and run the program to uninstall the service.
If the program was installed using the windows installer, go to system settings and click on Add or remove programs. Now search for the service and click on Uninstall. Don't forget to clean the directory after the process.
Downlaod and replace the DiagTrack.dll
Again Microsoft does not offer these types of files for downloading separately. However, you can head over to this link to fix your issue: https://www.dll-files.com/diagtrack.dll.html and scroll down to find your desired version.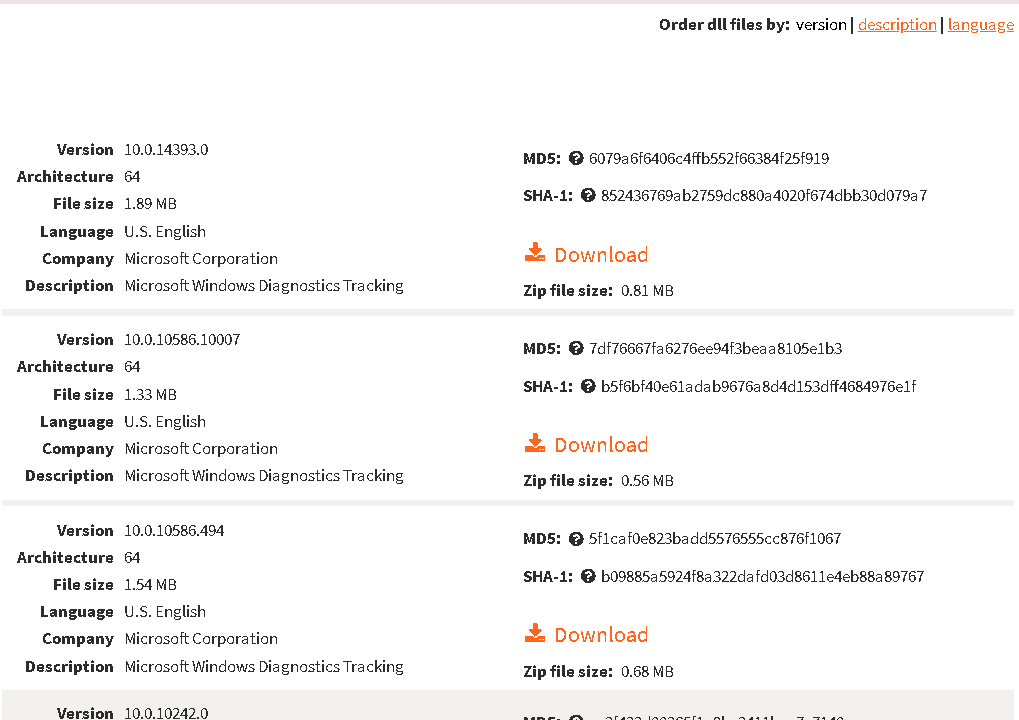 Now, if you don't know your version, you can first update your windows to the latest version and then download the latest version. They will probably match. Once download, replace the files, and you are good to go.
FAQs Related to DiagTrack
Can I delete the DLL from the original directory?
Yes, you can do that, but it will not be deleted completely as that folder is the system folder, and the antivirus will not be able to scan the files completely.
Is the download link provided fully safe?
Yes, the download links are 100% safe and secure.
If I temporarily disable this service, will it still capture my data?
No, it will not. Your data will not be transferred to their servers.
Winding Up
DiagTrack is one of the most important DLL files needed by the operating system. It does ensure your safety by not transferring your data to anyone. If your server or account gets crashed, they can use this info to restore it. It is completely safe, and your system has no danger from it. Three important errors have been fixed, and this article has provided you with all the stuff you need to know about this service. Do let us know your thoughts. Ciao!