One more windows glitch error? Windowsupdate_80092004″Windowsupdate_dt000? No need to be anxious cuz we got you covered.
Getting used to windows errors and glitches is one way to survive technology, but getting that brains up and fixing those errors is a lifestyle. Too exaggerated, though, but today we are discussing a common update error – windowsupdate_80092004. These kinds of errors do appear on systems very often nowadays, but there are solutions to get rid of them. Never get disappointed, and let's solve this problem. Hop along!
What Causes the error windowsupdate_80092004
Let's first look at the cause of the error before looking into solutions, as the causes are the most important thing to notice, and you have to apply solutions based on what caused this error in your system.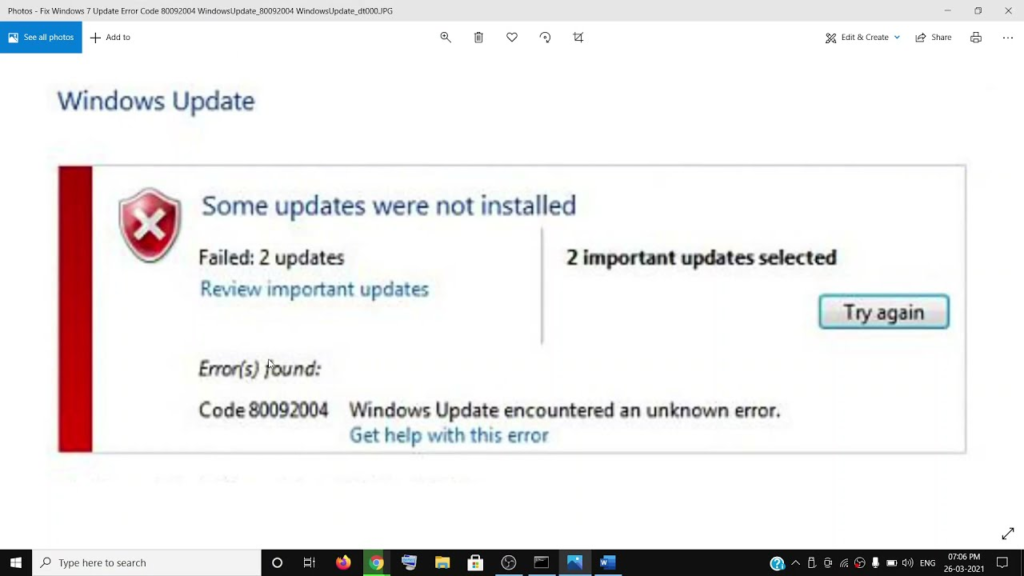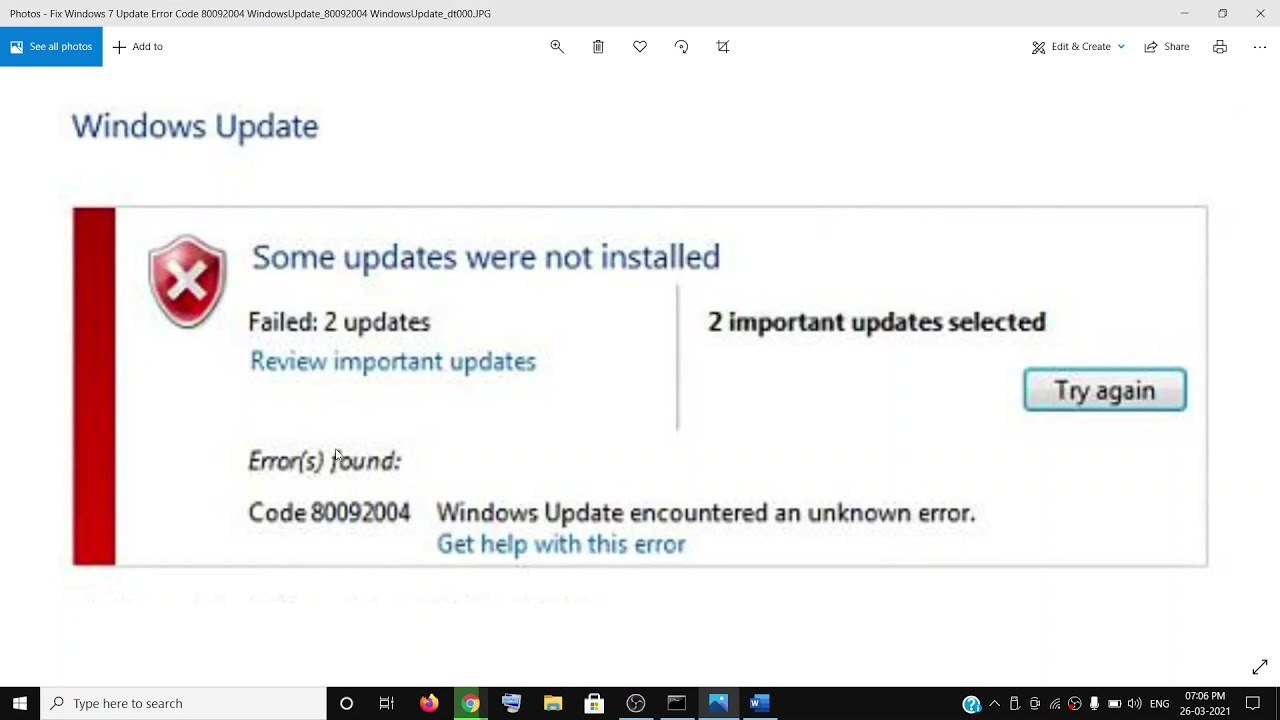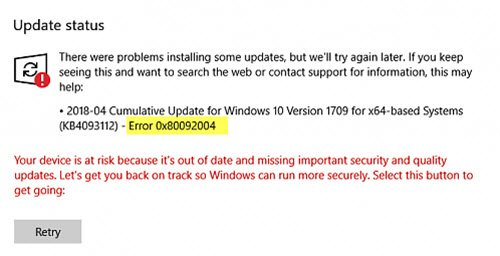 Now there may be several problems or issues that may have caused this error. Few causes are given below according to Microsoft:
The database of the Windows Update is corrupted.
There is a program called Background Intelligent trnsfer service (BITS) and maybe BITS is not being able to receive content header or some other problem with BITS.
If a rrequired file of the system update is corrupted or registered on an incorrect basis path or similar.
Now, these were some of the most common reasons for the error windowsupdate_80092004. Without any delay, let's hop on to the solutions.
Recommended Reading | Windows Update Error 0x80080008: Causes and Best Possible Solutions
4 Solutions for the error windowsupdate_80092004
Following are some best solutions for the above error and will probably help you solve them.
Solution 1
This is the first step to take though it doesn't work sometimes. We should solve problems in the least easy way possible. First, we will try to solve the problem using the Windows Update troubleshooter. I know it sounds easy. Follow the following steps:
Go to Start and navigate yourself to Settings
Now head over to Update & Security and once you get there look for the labell : Additional Troubleshooters
From the list that pops up, run the Windows Update troubleshooter.
Once the troubleshooter has finished its job, restart your device and the issue should have been fixed.
If the issue does not resolve, then try over to the next few solutions.
Solution 2
If your problem is showing because of the Background Intelligent Transfer service, this solution may be handy. Even if you don't know the cause of your problem, you can try the solution as it does not have any side effects on your system. So let's get started.
Foremost, press Win+R and open the run command prompt.
Once it pops up, type services.msc in the command box and click on OK.
You will see a big window open up labelled services on top.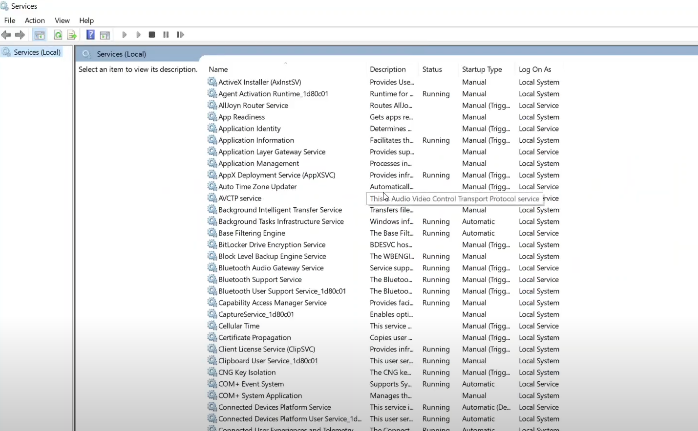 Here, locate Background Intelligent Transfer Service in the list and double click.
You wll again see a small window pop up.
Now here navigate the label staartup type and make sure its set to automatic.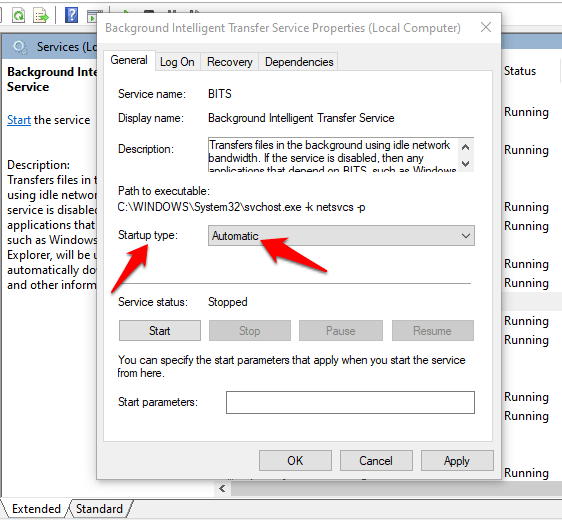 Now click on Apply and then click on Start below service status. Once done click on OK.
Now in the big list, select Background Intelligent Transfer serive and click on Restart device on the top left corner of the screen of the same windows
Now once this is done, in the same list, find the service labeled Windows Update and do the same for this as you did for BITS.
Once done, do not restart your computer or laptop, and try to update your windows now. This will probably solve the error of windowsupdate_80092004. If this, too, does not solve the error, then try the other solutions below.
Solution 3
Sometimes when the files get damaged, or the windows updater database gets damaged, this problem of windowsupdate_80092004 comes into play. In this method, we will use CMD to solve the problem. This cause is a bit rare compared to other causes but usually works oftentimes.
So follow the steps listed below.
Type WIN+R and when the command box pops up, tyoe in cmd and hit enter or type cmd in search box and run the prompt from there.
Now when the command prompt pops up, Type dism/online/cleanup-image/scanhealth after your system name.

Now press Enter and it will take some time for this program to finish.
Once finished, run the commnad prompt again and this time type dsim/online/cleanup-image/restorehealth and press enter key.

Now exit from the command, and check whether the issue persists. This solution usually solves the problem of windowsupdate_80092004, and if it does not, you can try solution 2 after this.
If this whole solution doesn't work out, you can try the last solution.
Solution 4
Now sometimes, when the update package is spoilt or corrupted, the error is commonly shown as windowsupdate_80092004 but along with a code starting with KB*******. Now, this is a major issue, but we have got the solution for this as well.
We have to install an update from the Microsoft catalog named KB4490628 for (wIndows 7 only)
Go to this provided link: https://www.catalog.update.microsoft.com/Search.aspx?q=KB4490628, and on the top right corner, in the search bar, type KB4490628 and hit the search button.
Now you will see several items labeled there.


Select the second option and download that. It will open a small window, and you will see a link on there. When you click on it, nothing will happen, but you can right-click on the link and save it on your desktop. This will start a download and once it is finished, install this update, and your problem of windowsupdate_80092004 will be fixed.
If you have windows 10, then go to this link:https://www.catalog.update.microsoft.com/Search.aspx?q=KB4554364 or go to the catalog site and type KB4554364 (for Windows 10 only)
Form the number of items, select either the first one or the third last option based on your version and do the same thing as you did for windows 7. Also, read FAQ number 3 for fluency.
This will surely solve the problem in Windows 10 as well.
FAQs Related to Windowsupdate_80092004
Are these solutions safe, or will they do something to my device?
Absolutely! They have no side effects on the working of your device.
Do I have to restart the device in solutions 2 and 3?
No! You don't have to restart your device in solution 2 and solution 3.
In solution 4, what should I do if the download pauses?
Near the download, there will be an arrow-up option. You can click on that, and further click on the options keep. This will resume your download without any barriers.
Conclusion
Above were few solutions for the error windowsupdate_80092004. These solutions will surely help you solve your error. The cause may be any from the above listed, but these solutions will help even if the cause is unknown or uncommon. Usually, solutions 2 and 3 help out the people to solve their issues, but who knows, the first solution may solve your problem. Do let us know your thoughts. Adios