Really embarrassing, huh? Avast UI failed to load after the update? No worries- We have the best solutions.
Imagine you know that your device is facing some problem, and suddenly you find out there is a corrupted file in the windows directory, but you delete it. So you try to use the antivirus, but this error appears "Avast UI failed to load windows 10 after 1803 update". So embarrassing, right? Furthermore, you cannot do anything of the corrupted file except for playing with the administrative permissions on your device.
Thus I am sure you don't want you and your device to face such a problem, and thus, we are here to solve the error of Avast Ui failed to load. So hop along and solve your problem with us.
Cause for the error- Avast UI Failed to Load.
Now many people have installed this third-party program called Avast to safeguard your device. Now many people get this error of Avast UI failed to load Windows 10 after the 1803 update.
Now they do give the option to restart the service. But guess what? It never helps. Even if you uninstall the entire program and reinstall it again, it won't solve the error because of Update 1803.
Recommended Reading | Avast Not Updating Virus Definitions: 3 Easy Fixes
Avast has also made it clear on its website that incorrect windows services configuration can cause Avast to load into this error. It is also said that Avast may trigger this error due to few related services running along with your device, like Remote Desktop Services. This error can also be caused due to the new update package installed via the update that may have corrupted some UI files of Avast. Another reason for the Avast Ui failed to load could be its service failure. Sometimes the avast program does not run due to failed permissions or different startup type commands and this resetting the system configuration is the only way to solve this issue then.
Without any delay, let's directly look into the solutions for the issue: Avast UI Failed to Load Windows 10 After 1803 Update.
4 Solutions to Avast UI Failed to Load windows 10 After 1803 Update.
Few solutions like going to the windows services catalog and setting remote desktop services startup type to automatics and status to running or repairing and reinstalling the Avast program have not helped. Most people continue to go through the problem even after these fixes. But for many, these fixes do help. So we will first go through one of the above fixes of getting your issue fixed with 40 percent probability.
Solution 1
So the first solution is to Set Remote Desktop Services Startup Type to Automatic.
Follow the solutions below.
Type Win + R and open the Run command box. Now type in services.msc in the box.
You will see a list of items appear in a big window labeled as Services.
Now in that list find the service with the name Remote Desktop Services and right click to open properties.
Now you will see a small window open up.
Now look for the label Start up type and set that from manual to automatic and then click Apply
After that click the Start button below service status.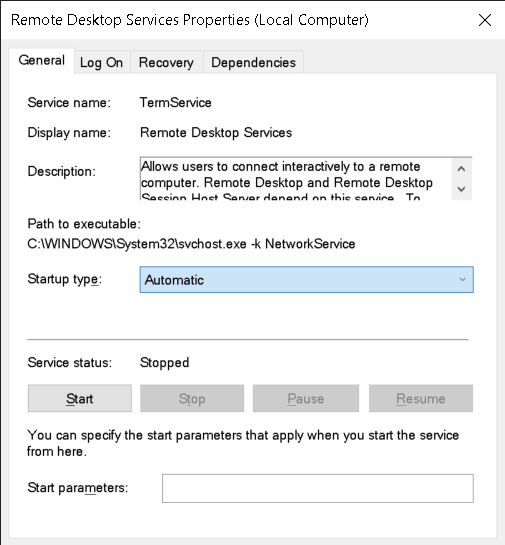 Now try to open Avast and look if the changes are in your favor. 40 percent of the time, this does solve the issue but if not, let's get into other solutions for Avast Ui failed to load.
Solution 2
Here we won't uninstall and reinstall the program as when we reinstall it, the corrupted files are still there, and as soon as it comes in contact with the new files, it again damages them, and the system configuration is still collapsed. Thus, in this step, we will try to repair the program instead of uninstalling it. This has helped many users but let's see if it works out for you.
SO follow the steps below:
Open up Control Panel and navigate yourself to settings.
Now locarte Programs and go to Programs and Features.
Here you will see a lot of programs installed in your device.
Now locate Avast Antivirus
And then click on Unsinstall/Chnage button. Dont worry we are not going to uninstall the program.
In the next step, click Change and then choose the Repair option.
Now, wait for the software to change or repair the program as per the necessary changes and repairs required. Once done, again open the software and check whether the necessary step worked. If not, you can try the solutions below.
Solution 3
For the third solution for Avast UI failed to load, we have a solution similar to reinstalling the program but this time with a cleanup tool. When you uninstall the program and use the cleanup tool, the tool clears out all the corrupt and unnecessary files.
So follow the steps ahead.
First go to Programs and features in control panel and uninstall the program of Avast Antivirus.
Now recheack if any files of it is remaining. If yes then delete them as well.
Now head to the Avast/s official website and download their clean up tool from here: https://www.avast.com/en-in/cleanup#pc
Then use this tool to completely remove all the unnecessary files and sorrupt files from the device.
Now reinstall the antivirus program
After reinstallation, check whether the solutions helped you or not. If not, you can try the final step and see if that works or not.
Solution 4: Supreme solution for Avast Ui failed to load
This is the final solution for Avast Ui failed to load Windows 10 after the 1803 Update.
This solution will not immediately fix your issue, but it scans your entire system for all the possibilities of the arising problem and sends it to the support team of Avast. They will look through your issue and send you all the possible solutions themselves.
This involves using the Avast Support Tool. You can download the tool from here: https://s-install.avcdn.net/support-tool/avast/avastsupport.exe
This will download an exe file. Now run the file as administrator. Make sure to click yes if they ask for permission to modify your system.
Now you have to create a separate support log file. Fill in your email address. You have an account with Avast. Then fill up the ticket number you received from avast and write few details about your issue. Then click on Generate, and this may take a few minutes to gather all the files and then submit them to the support team.
For the full article for solution number 4, head to: https://support.avast.com/en-ww/article/Submit-support-file/
This will probably resolve your issue.
FAQs for Avast UI failed to load Windows 10 after 1803 Update.
Are these solutions totally safe for my device?
Yes! These solutions are absolutely safe for your device and don't have any side effects.
Are these cleanup tools and support tools secured?
Yes! The links provided are from the official website of Avast, and thus you will not face any issue.
My Avast runs on rebooting the Pc, but after some time of using it, it shows the same problem. Should I follow the same steps for this issue?
I would suggest that you only follow Solution 1 for this issue and if it doesn't work, then directly follow Solution 4.
Conclusion
Avast UI failed to load Windows 10 after 1803 Update is somewhat an annoying issue faced by the users. It keeps you protected, but it will not resolve the issues if you find any. Thus fixing this Avast issue is mandatory and is important for your devices' safety. Avast faces some issues with windows configuration as the files avast needs to access, which makes them corrupt sometimes, causing this embarrassing and annoying issue. But in this article, we have provided the best and detailed solutions for this issue. Do let us know if these helped you out. Ciao.