KB4075211 was a rollout update released by Microsoft for Windows 7 and Windows Server 2008 R2. It was released as a preview of Monthly Rollup, and it was a non-security update. Even though it did not have any security updates, it did include some improvements and fixes for the operating system.
Downloading KB4075211
Microsoft did not highly recommend this rollout, but it was provided as an optional update on Windows Update. It can be downloaded as per your OS and system architecture from the Microsoft Update Catalog website.
https://www.catalog.update.microsoft.com/Search.aspx?q=KB4075211
Improvements in KB4075211
Even though the rollout KB4075211 did not have any security updates, it did have some improvements and fixes over the previous rollouts. The following are the critical improvement and spots of this rollout.
Information related to time zones was updated in this rollout.
Previously found issues with services.exe were addressed in this update which caused the system to enter a restart loop under certain conditions.
Sluggishness of Microsoft Outlook Web App in Internet Explorer 11 was fixed.
Issues in KB4075211
The following issues were found in this rollout update.
Issues with Antivirus programs
Not all versions of all Antiviruses ran smoothly with this update. Some of the Antivirus software reported issues. It could have been fixed by a registry update, but that would not have been suitable for an average user. Microsoft later fixed this issue in the later update. This issue was resolved in the April of 2018 with the KB4093113 update.
Bug in LSM.exe
LSM stands for Local Session Manager, and it is responsible for handling terminal services such as Remote Desktop sessions and Terminal sessions on hosted machines. LSM.exe was experiencing handle leaks in this rollout. This bug was later resolved in KB4091290.
Memory leaks
The memory leak is a condition in which a program fails to release the memory space it was using, even when the memory is no longer required. This results in degrading performance of the operating system as less memory is available for the OS to allocate to other programs.
SMB(Server Message Block) servers were found to experience memory leaks under certain conditions in this rollout. This issue was later resolved in KB4103718.
Problems With Windows Update kb4075211
If you are having trouble updating your windows, you could follow the given procedures that might help you get through.
Stop and restart windows update service
Open the run window by pressing windows key + R.
Type 'services.msc' in the search bar and hit enter.
search for windows update under the name section and stop the process by right clicking on it.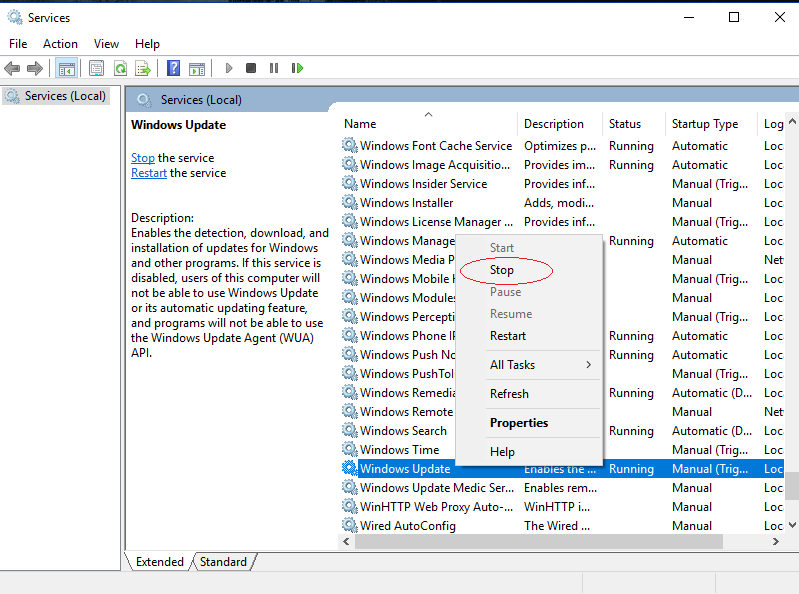 close the services window and wait for few minutes.
Again open the services window and search for Windows Update.
But this time Start the service by right clicking on it.
Cleaning Windows Update Cache
Open the run window by pressing windows key + R.
Type %windir%\SoftwareDistribution\DataStore in the search bar and hit Enter.
A directory will open in the windows explorer which would contain cache and log files.
press ctrl + A to select all and delete those.
Running SFC Utility
Right click on the Start menu icon.
Click on Windows PowerShell (Admin).
Enter 'sfc /scannow' in the shell and hit Enter.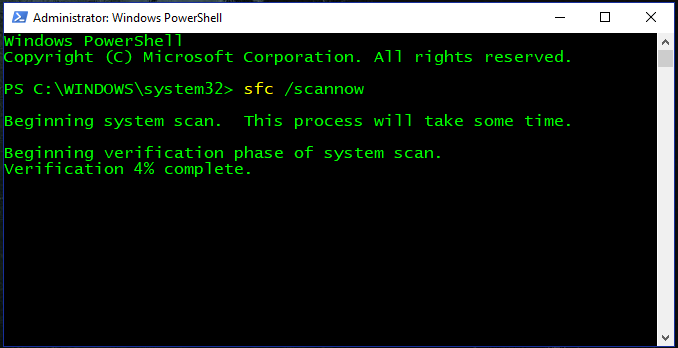 The process would take some time depending on your system.
Once done Restart your computer.
Is KB4075211 safe?
Bugs are inevitable in computer programs and software. Developers are also humans, and they do make mistakes. Even though KB4075211 had some bugs, that doesn't mean it is unsafe.
KB4075211 is safe to use and can be downloaded and installed from Microsoft's official Product Catalog. Still, it is recommended to use the latest security patches.
Helpful Reading
The following article provides all the necessary information regarding windows update KB4471318, which might be relevant to KB4075211. Interested readers are advised to read the following article.
FAQs
When was the KB4075211 update available to download?
It has been available since Feb 22nd, 2018
Do I have to be an Administrator to run the SFC utility?
Yes, Only administrators can run the SFC utility.
Can I use the command prompt instead of PowerShell?
Yes, you can use either one as long as you have administrator privileges.