Healthcare providers have been running on fumes for the past year. The pandemic has overwhelmed most hospitals. It has become increasingly difficult to dedicate sufficient time to handle front office concerns like Online Reputation, HIPAA Compliant Patient Intake Forms, Effective Marketing of ancillary services, and Patient Engagement, including Automated Reminders.
Simple Interact promises to assuage your worries and ease your troubles by delivering the following results.
Huge increase in positive online reviews and patients acquired.
At least 10% reduction in staff needs.
No-shows drop below 2% while staff call time is reduced
40% of visits turn into qualified leads for ancillary services
80% of new patients complete online forms before they visit
Read on to find out more about the services Simple Interact offers that can deliver such great results.
What is Simple Interact?
Simple Interact is cloud-based front office automation that helps healthcare providers increase efficiency and profitability. It enables you to attract and retain more patients and automates routine tasks to help you manage a large number of patients.
This innovative health tech company caters to hospitals, medical practices, surgery centers, health systems, etc. From handling online reputation to patient engagement, various tasks can be simplified with this solution. Decreased paperwork due to Simple Interact leads to improvement in patient convenience and experience, which ultimately leads to an increase in the bottom line.
7 Amazing Ways Simple Interact Will Transform Your Front Office
HIPPA compliant online intake forms
With a slow paper intake process, you are losing valuable time and slowing down your patient flow. Simple Interact provides online intake firms fully HIPPA compliant for your patient to fill up in advance. All it takes is three simple steps to ease your burden,
Patients fill up forms online before visiting the hospital.
The patient data is automatically sent to the staff for review and added to their PM/EMR.
Patients who have not filled their forms before arrival can use the tablet kiosk.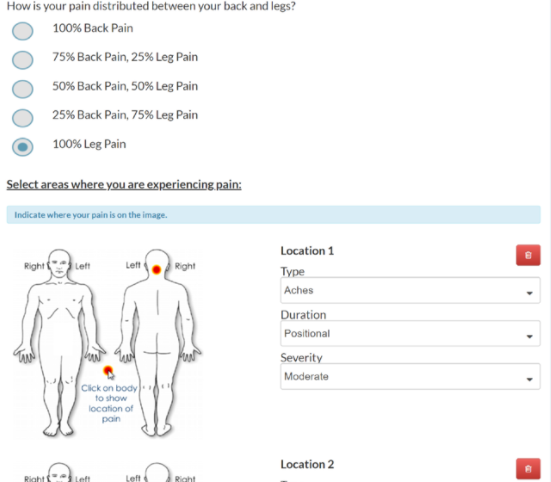 They also provide certified integrations with electronic health record software like Greenway, eClinicalWorks, NextGen, Lytec, MDConnection, InSync, etc. The forms are fully customizable, highly integrated, and ultra-secure. You can streamline patient workflow by providing multiple options like online, tablet, and paper for patients and reducing paper usage, thus eliminating time-sucking tasks like scanning and shredding.
Telehealth Consent forms and Reminders
There are few things as tiring and cumbersome as the manual telehealth consent forms and reminders process. Simple Interact provides an elegant Telehealth Patient Engagement Solution that is just three steps,
Send your patients an online telehealth consent form to sign.
Patients submit photos of their driver's license and insurance card.
Finally, they receive a reminder with a session link to your telehealth platform.
This is an easy-to-use, mobile-friendly solution that automates telehealth offering notifications, intake forms, confirmations, and telehealth link sharing.
Automated Appointment Reminders
Did you know?
The No-show rate is 23% without the use of any reminder system – NCBI
Simply put, no-show means no dough. If this hole is not plugged, it can quickly drain out your bottom line. Use their appointment reminder solution to reduce no-shows in three simple steps,
Remind your patients to complete forms in advance.
Ask them to confirm their appointment days in advance.
Send the patients a reminder with navigational information on the day of the appointment.
This solution is highly effective because it is non-intrusive, and its timing and content are configurable. It uses an HL7-based integration with scheduling systems to deliver a cost-effective solution.
Patient Feedback and Online Reviews
Did you know?
94% of patients use online reviews before selecting a doctor

Software Advice
Your reputation online is of prime importance for attracting clients. With this Simple Interact solution, you can both encourage positive reviews and privately handle negative comments in three easy steps,
After every patient encounter, send a survey via text or email.
Capture and handle negative comments privately in real-time.
Encourage satisfied patients to leave reviews on sites like Google, Yelp, and Healthgrades.
The survey is mobile-friendly with no typing required, and the review instructions are tailored to the device. It also provides insightful analytics and reports that have a great impact on patient retention and acquisition.
Clinical Self Assessments and Screenings
Consistently capture clinical self-assessment data with this digitized solution in three repeatable steps,
During intake and follow-up, patients are asked to complete a self-assessment form.
Your staff can track the progress over time.
Display the progress with the data to patients and referrers.
The data can be used to improve reimbursements and develop new business.
Patient Marketing During Intake
It is time for you to stop ignoring in-office advertising like your patients. Use the patient marketing solution in three effective steps,
When patients digitally check in, they are made aware of the ancillary services you offer.
During check-in, patients can express interest in learning more about the services.
Staff is automatically notified, and they try to upsell to the patients during their visit.
Local Search Engine Optimisation
Did you know?
Search drives nearly 3x as many visitors to hospital sites compared to non-search visitors – Google
If you want the locals to find your hospital, practice, or surgery center, you need to focus on local SEO. Simple Interact provides an affordable solution that makes it easy for patients to find you. You need to mainly drive the local search results that are organic using this solution. Having Google My Business accounts is the first essential step towards making you easily discoverable.
Getting Started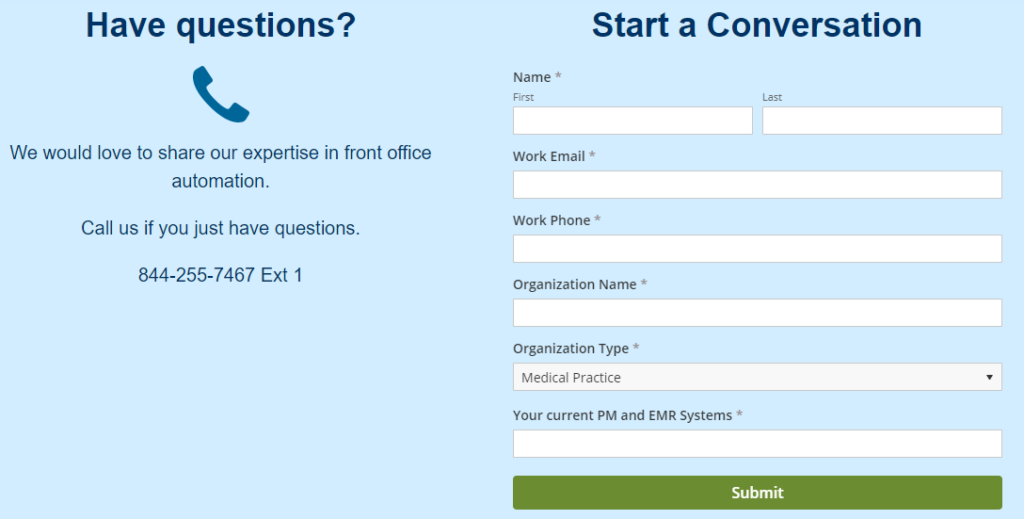 To use the cloud-based automation solution, you need to contact them by call, email, or through their website. Fill in basic information like contact details, organization type, and your current PM and EMR systems to start a conversation. Their sales team will contact you to discuss further. You can pick and choose the services and features you need based on your budget and requirements.
In The End…
The primary aim of Simple Interact is to mitigate the frustration of healthcare providers and to fuel their flow of patients. This front-office automation solution is intuitive and requires minimal training. Using digital intake forms to automate the survey and feedback process can transform the way you handle these mundane tasks and ease a lot of unnecessary burdens. If you think the solution would be useful to you, contact them and discuss it further.
Also Read >>> Complete Guide to Sage Live: The Best Cloud-Based Accounting Solution
FAQs
What is Simple Interact?
Simple Interact is cloud-based front office automation that helps healthcare providers increase efficiency and profitability.
Who is Simple Interact for?
It caters to hospitals, medical practices, surgery centers, health systems, etc.
Are there any other alternatives?
There are a few similar applications like CounSol.com, NueMD, MedEvolve, etc.