Are you a home service business owner, a franchisor, or any other field service business owner?
If the answer is yes, you most probably need help in attracting, managing, and converting leads for your business. The Serviceminder platform streamlines all your business operations and performance. It is the perfect one-stop solution for all your business-related woes.
Read on to find out how Serviceminder makes a difference in service business management.
Before Moving Further, if you are looking for other service management platforms which can ease your management. Do check out:
What is Serviceminder?
Serviceminder is a field service management platform that helps businesses attract prospects, create proposals, and convert them to paying customers. The comprehensive platform can handle order management, billing and invoicing, scheduling, payment collection, campaign tracking, and sales pipeline management.
It caters mainly to franchise owners, home service businesses, resellers, and more. Managing and automating the entire life cycle from scheduling the estimate to delivering the work with this platform eases your burden considerably.
Benefits of Serviceminder
Attract qualified leads: Track leads to make informed marketing strategies to help you stay within budget and get more leads.
Close more deals: With expirations, offer codes, and self-funded payment plans, control and monitor every stage of the sales pipeline to close more deals.
Grow your client base: Manage and track your leads, customers, and partners with their CRM platform to increase the number of clients.
Generate more invoices: Automatically generate invoices, capture payment information in advance, and allow customers to pay from their copy of the invoice.
Flexible scheduling: The ability to create flexible schedules to fit your workflow with the help of automatic drive time calculation and integrations with web, chat, and bot systems.
Seamless Tech Stack Integration: You can integrate with different applications like payment processing, call centers, reviews & referrals, vehicle tracking, etc. (Eg: Stripe, Signpost, TSYS, WebPunch, etc.)
Workflow with Serviceminder
Capture Leads
You can get leads by easily adding a lead capture form to your website. Hook up landing pages from your campaigns to track where your leads come from. Whenever a lead is added, you will get an email or in-app alert. Then you can follow up with a call, text, or email to book the appointment.
They make it easy for you to combine lead data from different online and offline sources with an open API. For follow-up, you can either directly send the data to their integrated call centers to schedule immediately or choose to automate drip notifications that educate or share discounts with lagging leads.
Book Appointments
Use their built-in online scheduling tool that lets you capture leads and book appointments for sales and service calls. To ensure you are paid after the job is done, you can capture the payment information in advance. With serviceminder.io geocodes, you can verify the location of your clients and ensure the ones that are close to each other are scheduled together.
Create Interactive Proposals
A great-looking proposal can tell the clients a lot about what you intend to do for them. So, with Serviceminder, you can add pictures and annotations, different terms and conditions based on the type of job, options that they can select or unselect based on their budget or needs.
Offer different payment plans, even those that require a deposit (so you can have money coming in before even getting started), to make the large projects more palatable for the clients. You can also track close rates and how often your clients review your proposal to increase the number of deals closed.
Schedule Jobs
You can either schedule everything yourself or outsource it to their call center partners (Answerconnect, Perceptionist, etc.) and easily get appointments on your calendar whenever you want. Appointments can be assigned based on skills, drive time, geography, etc. They have complex algorithms that present the available time and dates to the client based, minimizing unprofitable drive time and increasing service delivery efficiency.
Invoices and Online Payments
Clients can click to pay online directly from their copy of the invoice. They can also pay on the spot with your app. You can customize your invoices to show as much or as little as you want. Serviceminder has built-in integrations with popular accounting tools like QuickBooks, making your invoices and payment bills show up automatically.
Integrated Texting
Currently, texting is the preferred communication channel for most clients. It is important to have the ability to text with the client and store those conversations with the rest of the client's data. With this platform, the clients can text pictures of their available problems for technicians to see. All the conversations can take place through the platform.
Marketing
To nurture your prospects with email, you broadcast email directly with Serviceminder. Personalize the emails with available data on clients to boost conversion. You can manage the success of your email campaigns by tracking revenue and the number of proposals generated. Drips is a marketing automation tool offered by the platform to help with nurturing prospects and the conversion pipeline.
Make marketing strategy decisions by tracking the money spent on a campaign and the number of clients it generated. Use the readily available ROI and cost per lead data to make immediate and informed decisions.
Getting Started
To get started with Serviceminder, book a demo session to see how the platform can simplify your workflow and decide whether it suits your requirements. Fill in the contact information and book a slot for the demo.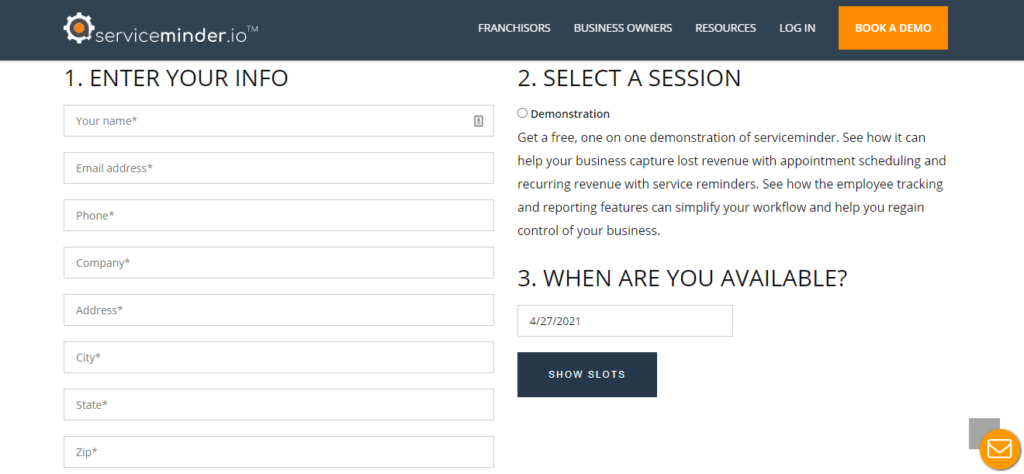 They offer two subscription plans, Standard ($99/mo) and Professional ($199/mo), with additional add-ons available based on your needs.
FAQs
What is Serviceminder?
It is a field service management platform that helps businesses attract prospects, create proposals, and convert them to paying customers.
Who is this platform for?
It caters mainly to franchise owners, home service businesses, resellers, etc.
Are there any alternatives?
They are quit a few similar alternatives like Freshdesk, Geopointe, Syspro, etc.