Vehicles can break down and come to a grinding halt in the middle of nowhere. This is a fact of life. The best thing you can do under such circumstances is called a tow truck.
Tow truck businesses often receive calls from multiple outlets like police departments, repair shops, companies, etc., to move vehicles.
TowDesk helps towing businesses like yours manage their daily tasks like order entry and dispatching smoothly.
Read on to find out more about the advantages of using TowDesk and the process of implementing it.
What is TowDesk?
TowDesk provides easy order-entry, dispatching, and back-office tools for your tow truck business and owner-operators. They help you streamline your business's complete workflow by making it simple, quick, and cost-effective to perform routine tasks.
Operations like taking orders, dispatching tow trucks, tracking drivers, accounting, etc., are digitized and made available in a user-friendly interface.
Handling all your administrative and operational needs frees you up to get more business and make more profits.
What does TowDesk do?
TowDesk and trade serve all your operational needs with three user-friendly tools, Dispatch Center and Trade, Administrator Office and Trade, and Calltaker Desk and Trade.
Dispatch Center and Trade
Dispatch rooms continuously deal with calls from stranded drivers. They are your customers. The more calls you answer, the more money you get to make. So, every dispatcher must address each caller's needs and send a driver their way efficiently, smartly, and quickly.
To help you make your dispatcher room more organized, TowDesk provides a tool that displays all the orders and driver locations on your service area's map. In just three clicks, you can dispatch an order. It immediately sends a message to your drivers via text.
The dispatcher's profile can be customized to choose from the list of services, drivers, or zones covered by them.
All the essential data like order summaries and driver's list of orders are easily accessible to help the dispatcher make fast and reliable dispatching decisions.
Bottom line: Save more time, handle more customers, make more money.
Administrator Office and Trade
To build a sustainable business, it is important to be aware of your company's economic position and financial status at any given point in time. From the minutest detail to an overall big picture view of the business, all the data needs to be recorded and be accessible in the form of reports.
TowDesk provides a tool that gives you control of every detail of your business operations. You can configure and set up the business to run it in your own way.
You can easily make reports on order summaries, employee performance, client invoices, etc., to provide a comprehensive and detailed view of your business. This can help you handle all your administrative needs and make informed decisions.
Bottom line: Store more information, gain more control, ensure more productivity, make more profits.
Calltaker Desk and Trade
The agents who take calls from customers for your business might be experienced. But without a proper tool to help ease their process, they are like a boat without oars. TowDesk provides a very effective order entry tool that provides the wind to your agents' sails and pushes them to deal with customers quickly and efficiently.
The tool's intuitive interface allows a call taker with minimal experience to start taking orders immediately. The operators can now validate the address and zone information with the built-in mapping interface.
To ensure the business data is entered accurately and promptly, order pricing and deadline calculation are done automatically. You can even assign certain call takers the ability to dispatch or cancel orders and change the price or discount.
TowDesk also minimizes costly data errors by helping the operator follow an established order-entry routine.
Bottom line: Handle more calls, gain more customers, make more money.
Getting started
It is easy to get started with TowDesk. They offer one free installation and 2 free training sessions with every order.
You can either install and configure the software for your business or hire TowDesk for full system support. They provide the following with every order.
IT Support
Installation and configuration of TowDesk and trade Headquarters 2.0
TowDesk and trade Headquarters 2.0 application server and database hosting.
Transfer of existing data into the database.
Integration with accounting and other office systems.
System integration with GPS devices.
System integration with pagers or other mobile devices.
Custom system development, Software Development, Website Design
To order TowDesk and trade products, for support, to get a price quote, or for pre-sale questions, contact them on their toll-free number, email them, or fill the contact form on their site.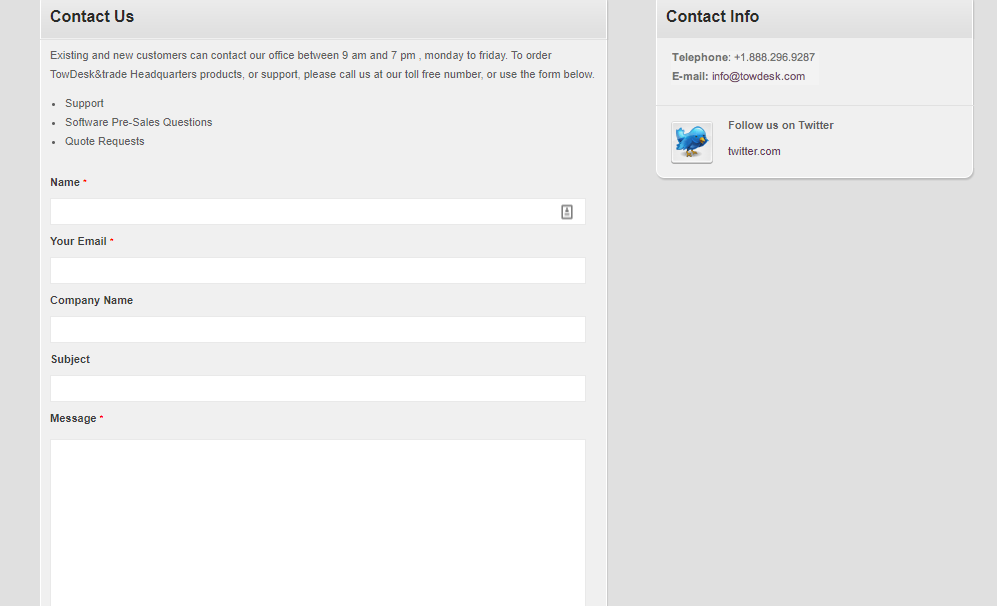 Telephone: +1.888.296.9287
Email: [email protected]
Also, Read >>> Learn Everything About Zoho Flow: The Latest Complete Guide
FAQs on TowDesk
What is TowDesk?
It provides easy order-entry, dispatching, and office solutions for your tow truck business.
Are there any other alternatives?
There are other applications like TowManager, Roadside, TOW123, etc.
In the end…
TowDesk functions as an ideal solution for tow truck companies that are looking to streamline their business operations. From order entry to billing and invoicing, everything becomes simple with this software. You can count on them to reduce your costs and increase your efficiency. Try it out for yourselves by contacting them with your requirements.