You open your system to access your other device, but suddenly, Chrome remote desktop shows black screen! Don't know how to fix this nuisance? Do not worry. We will help you to fix it and by the various available solutions for Chrome remote desktop shows black screen.
Why Chrome Remote Desktop Shows Black Screen?
Many reasons can make a black screen on your Chrome Remote Desktop when you try to access another device. A few of the reasons are:
Loads of cookies and cache.
Outdated version of Chrome Remote Desktop.
Improper internet connection.
Improper access key.
Curtain mode is enabled.
How to fix it:
You can fix Chrome remote desktop shows black screen by:
Disable curtain mode:
In the search bar, search for Registry Editor.
Click on "YES" when it asks for allowing to make the changes to your system.
When the window of Regisrty Editor opens, go to the top address bar.
Type or paste the following:
HKEY_LOCAL_MACHINE\Software\Policies\Google\Chrome\RemoteAccessHostRequireCurtain
Change the value to ZERO.
Restart your device.
Clear cache and data:
Press Ctrl + H, to open the history tab in your Chrome browser.
Choose the button of Clear Browsing Data which will be at the left side.
Choose All time, [press on Clear data.
Close your browser and restart.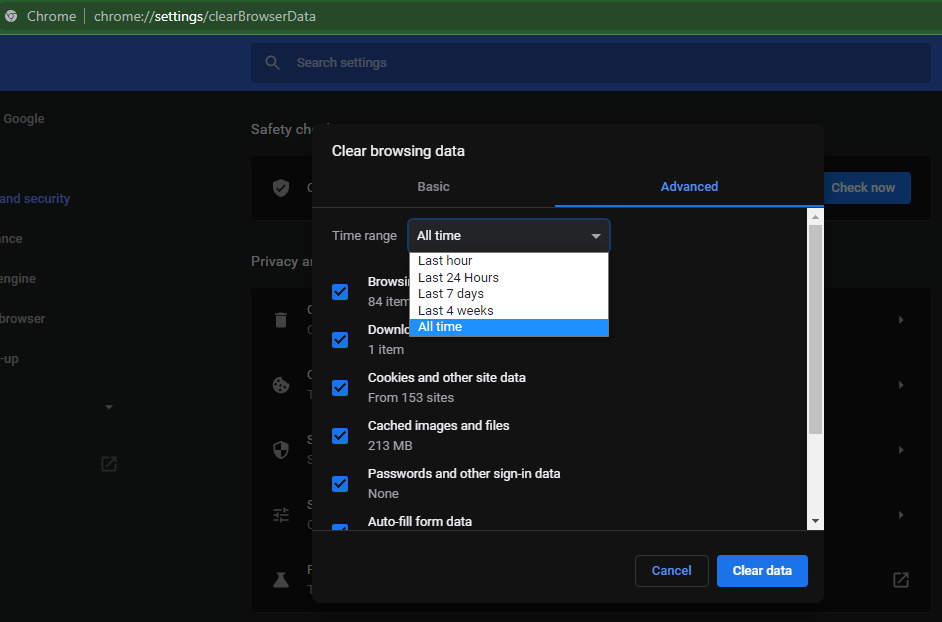 Try Incognito mode:
Open your Google Chrome.
When your chrome icon appears on the task bar, right click on it.
From the pop up menu, choose Incognito mode.
Try using this Incognito tab for using Remote Desktop Access.
Update your browser:
Click on the three vertical dot icons, present at the top right corner.
Navigate through: Help -> About Chrome
It will lead to an automatic update of your Chrome browser.
Reinstall Chrome Remote Desktop:
If you have the software application of Chrome Remote Desktop, then uninstall it.
Open Control Panel, move to Uninstall a program.
In your Mac device, find Chrome Remote Desktop and choose uninstall.
After the uninstalling finishes, go to the official website of Chrome Remote Desktop using the link https://remotedesktop.google.com/access/
Click on the button, Add To Chrome.
Install the extension in your Chrome.
If there are some other iunnecessary extensions in your browser, then remove it.
Graphics Card:
Open your NVIDIA or any other graphics card panel.
In the control panel, move to Manage 3D Settings, then to Program Settings.
Set the performance to High for Chrome.
Save and restart your device.
How to install Chrome Remote Desktop in your system:
Move to this website: https://remotedesktop.google.com/access/.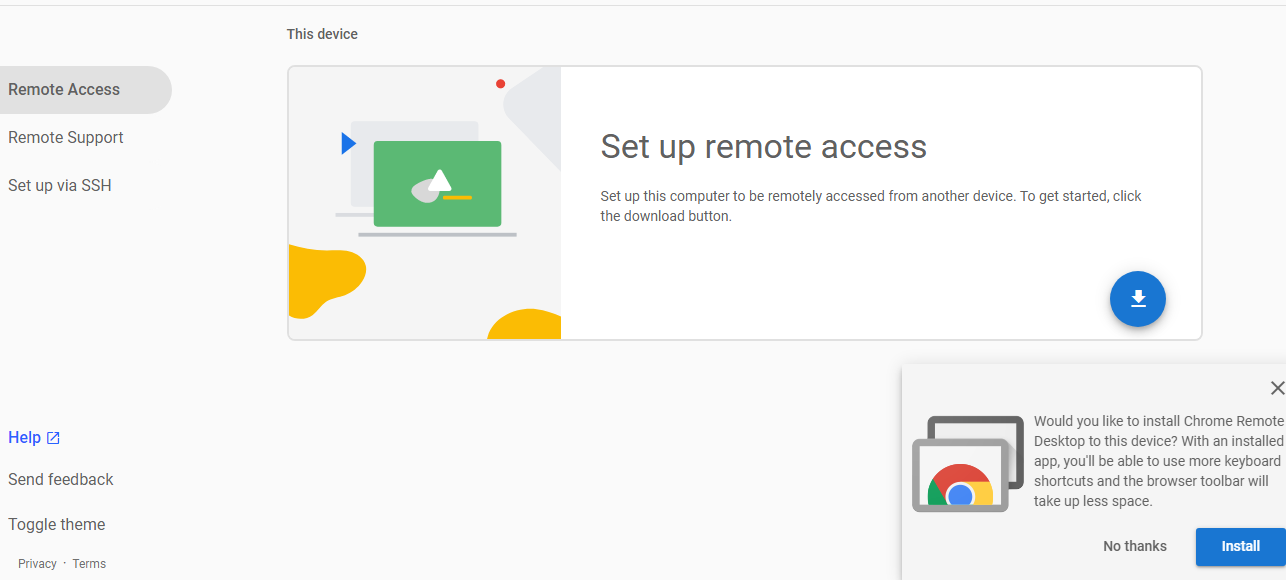 Click on the download button, which will be a down arrow mark.
A new page will open in which you have to click on Add to Chrome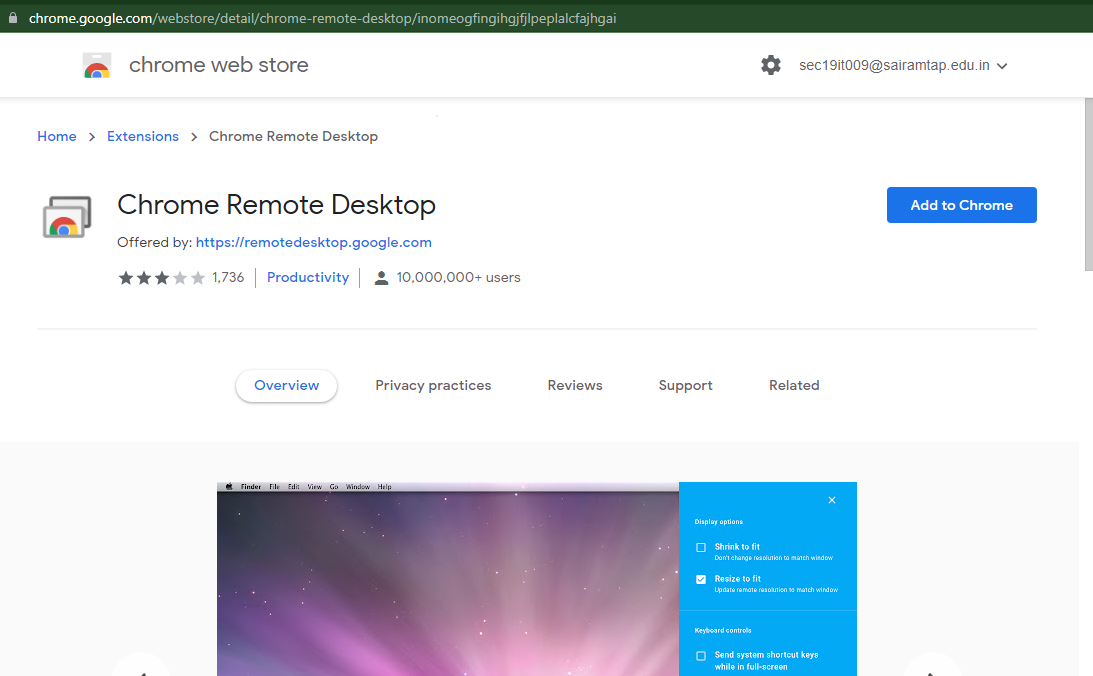 Click on Accept and Install, follow the instructions that appear on your screen.
Login to your account, or create a new account.
Set a name and a pin for your device.
How to Uninstall and remove Chrome Remote Desktop:
Click on the extensions tab on the right side of your Chrome browser.
The Chrome Remote Desktop Icon will be like two rectangle boxes with an icon of Chrome on it.
Right-click on it and choose the option of removing it as an extension.
Move to the Control Panel, choose Uninstall Program.
Select the Chrome Remote Desktop and opt for uninstalling.
Click on confirm/Ok.
Fixing Chrome Desktop black screen issue in Ubuntu:
Download and install ATOM by clicking here.
Set up the configuration for Auto-Login by removing the hashtag "#" from these two lines:
#WaylandEnable=false
#AutomaticLogic Enable=false
Install the barrier client: sudo snap install barrier
Type the following:
sudo atom –no-sandbox /etc/default/grub
GRUB_CMDLINE_LINUX_DEFAULT="fsck.mode=skip quiet splash"
sudo update-grub
Reboot your device.
Fixed Chrome remote desktop shows black screen in ios and android phones:
Check whether your Macbook or PC has not logged off.
Restart your Remote Device and the Chrome Remote Desktop Service.
Clear the cache in your mobile device for Remote Desktop. Check for updates in the store.
Restart your phone. Check if the issue of the Chrome remote desktop shows black screen persists.
Fixed Chrome Remote Desktop Black Screen When Playing Games
Reduce the performance and resolution of your computer by moving into the display settings.
Update your GPU drivers from the Device Manager.
What is a Chrome Remote Desktop?
This software is developed by Google by which you can use a system that is far away (Remote) from you with the help of another device. This helps reduce a whole load of heavy files and folders onto just one system, gaining access to important documents and passwords.
Which devices can be accessed with the help of Chrome Remote Desktop?
Windows Operating systems of version 7 and above.
MacBook.
ipads.
Tablets.
Smartphones.
How to fix Chrome remote desktop showing black screen?
1. Test if the problem continues with the incognito mode.
2. Clear the cache and cookies data of both devices.
3. Update your browser as well as your system.
4. Check the settings in your Graphics card.
5. Disable "Persistent bitmap caching" in Remote Desktop Panel.
6. Disable fast startup.
Conclusion on Chrome remote desktop shows black screen:
The complications caused when Chrome remote desktop shows a black screen is a difficult thing to eliminate quickly. It is essential to have quick and fast access to necessary files held in another device without any inconvenience.
If you have any doubts regarding Chrome remote desktop shows black screen, or on any other topics, you can use the comment box available at the bottom of the page to ping us.