Double underlined words in chrome browser are a rare condition, in which a very few selected words of the whole web page turn into red color mostly, with two underlines beneath it.
These words behave in a similar way as the hypertext words do. When a hypertext link is clicked, a new page opens in the same tab, or a new page opens in a new tab. The used hyperlink changes into some other color like blue.
The double underlined words in chrome also behave as the same, they just have an extra underline beneath them, and a pop-up text appears at the side which describes the new page that gets opened.
Double underlined words in chrome:
Not only in Chrome, but these may also appear in other browsers too. When you hover your mouse over the double underlined words in chrome, a small text popup appears that describes the page that will get opened if a click is done on that hypertext of double underlined word in chrome.
This is called in-text advertising.
The web pages to which you will be redirected are advertising web pages in which you can buy some products or services.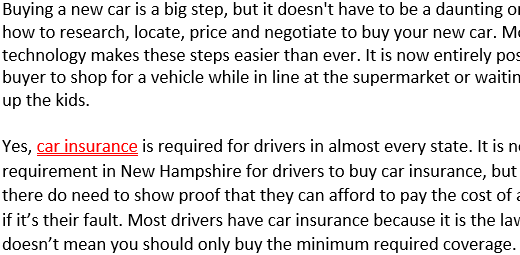 What causes double underlined words in Chrome:
There are mainly two reasons that can cause this odd-looking thing on your web pages:
Opting for in-text advertising in the settings.
Accidental downloading of adwares.
What is in-text advertising:
It is targeted advertising (contextual advertising) which is sponsored and has ads about buying services or buying products from the ad companies.
Whenever a user is on a webpage and clicks on these double underlined words in Chrome, the webpage is automatically paid by the sponsor or by the advertising sites.
Only relevant words are used for advertising. If you are looking for a car on a webpage, and you see the word "car insurance" double underlined, then clicking on this will take you to a company's website which provides car insurance to customers. The car webpage will also earn a little bit through this.
What is an Ad-ware:
If you are noticing the double underlined words in chrome very often, it is due to adware.
Adware is similar to malware, which keeps displaying multiple ads through various ways and sources.
You might have accidentally and unintentionally downloaded and installed this in your system while downloading and installing pirated versions of games, movies, videos or songs.
We will now discuss the ways to stop these.
How to fix: double underlined words in Chrome
Through in-text:
Hover your mouse on a double underlined words in Chrome.
A small popup rectangular box will appear.
There will be a Question Mark sign '?' at a corner of the popup box.
Click on that question mark sign.
It will take you to a new window.
There will be an option to disable or uncheck the option for cookies for it.
Save/Apply the changes and restart your computer.
Through Cookies:
Open Chrome.
Click on the three vertical dots button, available at the top right.
Navigate through:
Settings -> Privacy and security -> Cookies and other site data -> See all cookies and site data
Hit the Remove All button at the top right.
Close and open your Chrome.
Check for Ad-Wares:
Download Adwcleaner from the official website given below:
https://adwcleaner.en.uptodown.com/windows
After the downloading completes, double tap on it to start the installing.
It will ask to scan for adware. Click on it.
After the scan gets over, click on the Quarantine button.
Later, you can choose to delete those files or restore them.
Using Browser Extensions, like AdBlock / uBlock:
The unwanted advertisements can be blocked automatically by ad-blocking extensions of the web browsers. There are a few trusted browsers that you can use to prevent the pouring of ads on your screen.
uBlock Origin.
AdBlock, AdBlock Plus.
Proper Blocker.
AdGuard.
AdLock
Privacy Badger.
You can add an extension like these by using the following steps:
Go to this link.
At the search bar situated at top left, type any one ad-blocking extension.
Hit the search or Enter button.
Choose the respective Extension from the search list.
Click on "Add to Chrome".
After the install gets over, you will have to click on the extension button.
Then select the new extension so that it starts to work on your browser.
FAQs on Double underlined words in Chrome:
How can I add in-text ads to my web pages?
You can take the help of online advertising websites like http://text-enhance.com/, or similar sites for gaining money from the sponsors.
How to remove double underlined words in chrome?
You can remove double underlined words from Chrome by:
1. Reset the settings to default settings for Chrome.
2. Remove all the extensions from Chrome.
3. Use the '?' to disable the pop-ups.
4. Scan your system with Malwarebytes, AdwCleaner, hitman pro, or using Avast.
5. Clean the cookies of your browser.
Conclusion:
Even though the double underlined words do not look disgusting for most of us, they still can be malware that consumes a lot of memory and internet data, and is recommended to remove them.
You can ping us by using the comment box below for any obtaining technical solutions for any difficulties.