Adware.g00 is adware, short for Advertising-supported software. This comes inside a bundle of application software when downloaded from illegitimate websites.
This file is capable of showing unintrusive ads in your browsers like Chrome and Microsoft Edge. Some adware may also act as spyware too. Spyware steals sensitive information from the user's devices like passwords, bank details and sends it to the hacker, over the internet.
Today, we will discuss how Adware.g00 might have got installed, what are the problems faced when it is accidentally installed in your systems and how to rectify all these issues. There are a few ways to keep unwanted applications like Adware.g00 far away from your devices and systems.
What is Adware.g00?
Adware.g00 is a type of malware that is capable of displaying intrusive and annoying advertisements (ads) on your desktop when you open the browsers.
These show the same ads repeatedly more often than normally a browser should show.
How did I get an Adware.g00 in my system?
These are transferred into your computer when:
You opted to download free software applications from pirated sites.
Importing files from an external source (pendrive, CD) into your system.
Clicking on popups of illigetimate websites.
How to remove Adware?
Using the Control Panel
Open the Control Panel by searching it in the Task Bar Search.
From the list of Actions, select Uninstall a program.
From the various applications and software shown, find the one which you are not using and is suspicious.
Right click on it and choose to uninstall.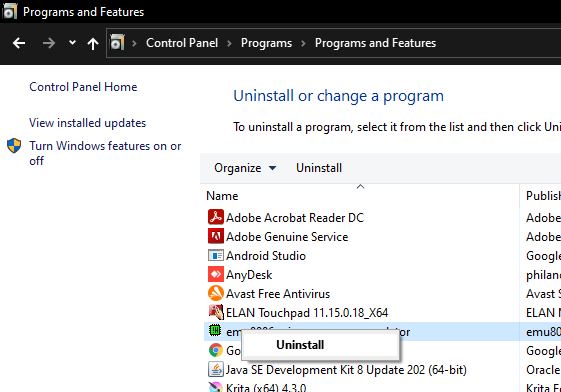 Using Microsoft Edge
If you are using Microsoft Edge, then:
Open Microsoft Edge, remove the extensions by moving in the Menu Option (three vertical dots).
Select all the extensions and click on the settings (gear) icon.
Choose the Uninstall option.
Clear the Cookies and cache data.
Open Privacy & Security of Microsoft Edge, using the settings.
Navigate to Clear browsing data.
Select everything and click on the Clear button.
If the above methods did not help in removing the Adware, then uninstall and reinstall the Microsoft Edge app.
Using Google Chrome
Remove all Extensions:
Open your Chrome Browser. Clcik on the menu icon, the three dots button at the top right.
Now go to More tools -> Extensions.
Click on extensions one by one and choose to remove/ uninstall the the extensions.
Exit and open your Chrome again.
Clear cache and other data:
Open the settings page inside the Chrome.
Navigate through Privacy and security -> Clear browsing data.
Select everything.
Go for Clear Data option and select it.
If still the issue persists, uninstall and reinstall the Chrome app.
Recommended Reading | Adblock Plus Vs Ublock Origin: Choose the Best
Using anti-virus software
Download and install a good anti-virus program from legal sites, like Avast, McAfee, Malwarebytes, etc.
Run the full system scan and wait till the scan completes.
Remove all the junk and threats which is appeared in the suggested area.
Link to download avast: https://www.avast.com/en-in/free-antivirus-download#pc
Do an SFC scan
Open Command Prompt with admin privilages.
Type the below code in it:
sfc /scannow
Or copy-paste it and execute the code by hitting Enter.
How to prevent my system from installing an Adware.g00
There are a few precautions that everyone can undertake to safeguard their computer from external threats:
Do not install applications from unknown websites.
Install programs from trusted sites only.
Do not download multimedia files from pirated sites.
Use a good application to extract/ unzip your folders (e.g. : WinRar).
Scan the external devices like USB and CD before performing anything with it.
Do not enable unnecessary extensions in your browser.
Do not click on random popups that appear on your screen.
Use a good anti-virus software.
Malwarebytes shows adware.g00 in Google Chrome user data
If you have Malware installed, then you may get an adware threat when your browser is bleached. This also leads to the showing of ads related to your search. To prevent these messages from appearing:

Reinstall Chrome:
Uninstall the app Chrome from control panel.
Go to: %LOCALAPPDATA%\Google\Chrome
delete those files.
Install Chrome again from: Chrome for Enterprise

 

Deselect the option of "sync my extensions & application data".
FAQs on Adware.g00
Why do some companies make Adware?
When the software products and applications of some companies (like gaming companies) have been hit with a terrible loss, the company needs to advertise its products to various users to take over the loss.
This is accomplished by showing ads of it in the pop-up windows of the browsers.
How can I remove Adware.g00?
1. By SFC scan
2. Clear cache and other data of your browsers.
3. Use Control Panel to uninstall fake applications
4. Uninstall and re-install your browser.
5. Do a system scan using anti-virus software.
Malwarebytes detected adware in web data?
Download the below two apps:
1. Adwcleaner
2. Ccleaner
Run a full system scan and analysis.
After the error gets resolved, you can uninstall these two apps.
Malwarebytes detects adware.g00 in syncdata.sqlite3 daily
Uninstall and reinstall Chrome, even delete the old user data.
If this didn't work:
1. Open the Chrome browser.
2. Navigate through: Settings -> Search Engine -> Manage Search Engines
3. Remove and delete the links which you feel as suspicious and dangerous.
Winding up
A secure and protected system will execute tasks with smooth flow and without any lags and crashes. Not having any types of malware or adware is important for it.
You can ping us if you have any suspicions using the comment box.