Encountered an unknown folder labeled as "spacekace", and you are perturbed why is this present in your device/computer? And you have no idea how it got installed? Why is it specifically in C: Drive only? And the most important query of all, is it malware?
What is spacekace?
"Spacekace" is the name of a folder, maybe you unintentionally downloaded it in your system along with downloading some other files and folders from pirated websites. Inside this folder, you can find a file log named "FileViewerPro". This log has the capability of accessing and using various items from all of your PC, which means that it can access the whole items which you stored on your computer.
The log FileViewer is like an EZ file Explorer and other kinds of file managers. If installed accidentally, this malfunctioned application will gain access to everything on your laptop. This will aid in corrupting your system, and even placing junks similar to itself anywhere in your laptop or computer.
Malware: definition
It is short for "Malicious Software". As the name implies, It is a file or software capable of wreaking havoc in your system by placing junk and bad codes in your computer. It arises due to vulnerabilities in your software/hardware and technical flaws. Few are capable of leaking private information to hackers.
How did it get installed in C drive?
There are a few software or files which we need to pay some amount to obtain it. But by installing pirated versions for free, we think that a few bucks will be saved. But entering in the pirated links and software will launch a background app that will install the malware in your default drive.
As Drive C: is the default drive, this Spacekace folder will be loaded in that drive, and not somewhere else. Most of the reporters have found this folder in C: drive only.
Recommended Reading | Windows NT Folder: 3 Important Things You Need to Know
What does it do?
It may be capable of accessing all the files, as all file managers are capable of it.
It can leak private information obtained from the accessed files.
It can damage the other files and applications of your system.
Is it safe to uninstall it immediately?
No, uninstalling it will not avert the danger forever. As mentioned above, this program can keep its junk around anywhere in your system. So, you first have to do a full anti-virus scan using a good app.
Program Assoicated with Spacekace
Inside this "spacekace" folder, there is a file named setup_FileViewerPro_.exe, it is a File Manager application program, intended to gain access to locations and folders in your PC.
How to scan for external malware caused by spacekace?
You can download one anti-virus software from chrome, install it and execute it. It will scan for threats and will neutralize them.
Avast Anti-virus:
After completing the required steps, choose the option of full computer scan or smart scan, to search for threats in you system.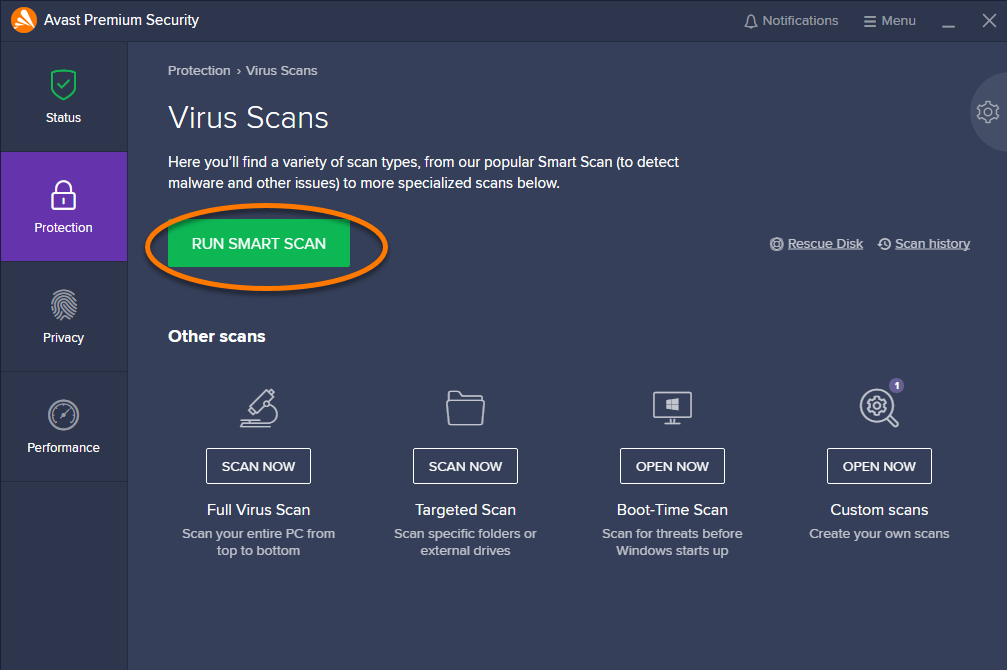 After the scan finishes, it will show the files which can corrupt your system. Or else it will show a message that everything is safe.
RKILL Malware Terminator
Download this from the official website.
You can choose the required platform: Windows, Mac, Linux.
After downloading andinstalling it, run a full system scan for threats and malwares.
After this process gets complete, a message will pop showing the results of the scan.
There are a few software available free in the website in their official websites:
What if I don't remove spacekace?
This PUP- Potentially unwanted Program, which is spacekace, will hang your system, and you will either have to buy a new one or hand it over to a technician to repair it.
Removing Spacekace without using any Software
You can reset the computer to the previous state as it was before the installation of the Spacekace folder. This can be done in the Recovery panel. For doing this, follow the below steps:
Initially, in your computer, open Boot panel.
Hit F8 button.
Go to Advanced Boot Settings, and then choose Safe Mode using Command Prompt.
Click on ENTER.
Type the following : rstrui.exe
Press Enter
Choose an available restore point from the available options.
Spacekace transmitting through Pen drives
It can also be transmitted using external devices. If you take a pen drive from your friend copying a specific folder, but along with that specific folder, you unintentionally copied a spacekace folder along and pasted it, it can lead to damaging your system.
FAQs Related to Spacekace
Give an example for malware:
There is much malware that can infect the system. These include:
Virus, worms, spyware, trojan viruses, ransomware, adware, etc.
Can private information be stolen by using malware?
Yes, hackers can steal your private information and can sell it to third parties.
Can Spaceace corrupt my system?
Yes, as discussed above, it can not only corrupt your system but is also capable of sending valuable data from your PC to other people.
Winding Up
We hope that you got here what you were looking for. In case of more help, you can comment down below.
Have a great day.