Sony Vegas Pro is one of the best video editors out there. With this Sony vegas Pro, video editors could use lots of effects, extraordinary filters, and some of the best features to enhance their work. In today's world of vlogging, video editing software is playing a vital role. Therefore, video editors should be such that the quality of the video and the audio will be good.
Sony Vegas is not the only top-quality video editing software out there. There are a bunch of Sony Vegas alternatives in the market. Those areas are as follows.
Adobe Premiere Pro
Adobe Premiere Pro should be the first choice in the list of Sony Vegas alternatives. It is used by top-rated video editors and bloggers in the world. Production houses are also using this software all over the world. The most famous names are BBC, CNN, etc.
Adobe Premiere Pro is also used in very famous movies like Avatar, Gone Girl, etc. Not only video editing but also animation and graphic designs are part of it. The cost of Adobe Premiere Pro starts from around 20 dollars per month for the annual subscription pack. It is a bit costly for the video editors. However, it provides the best results than most of the video editing software.
Filmora
Filmora is also popular among some of the best video editing software. It is also considered as one of the Sony Vegas alternatives. Video editors of any level can work with Filmora easily due to its user-friendly interface. Video with very resolution can be made using this tool without damaging the quality.
Videos for social media such as YouTube, Instagram, Facebook, etc., can be edited easily with Filmora. Trimming of videos, visual effects, and audio setup is easy and smooth. However, to work with Filmora, the users need sufficient storage in their system. Although, there is the issue of lagging with it. Filmora costs 10 dollars per month as a subscription plan.
Final Cut Pro
Final Cut Pro falls in the list of top five video editing software for most video editors. It has some outstanding features, and the results are also eye-catching. Amazing visual effects, 3D effects, masking tools, and many more tools are available in Final Cut Pro software. Final Cut Pro is considered an advanced-level video editor, and it is used mainly by professionals.
With the latest technology, it offers the best results to video editors. It is compatible with different types of video formats. Final Cut Pro is also among the Sony Vegas alternatives. However, from the price point of view, it is costly software. It is costly and costs 300 dollars for a one-time purchase. Although, you can get a 90-day free trial.
PowerDirector
PowerDirector is a contender for the Sony Vegas alternatives. The PowerDirector is software by Cyberlink. It has a lot of features that provide the user with an advanced-level video editing platform. The software provides a user-friendly interface. However, there is no lacking of high-end features to perform advanced tasks. A moderate user can create some impressive videos with this software within a little period. Camera tools, 4K and HD videos, 360-degree footage support, video stabilization, etc., are part of its features—PowerDirector costs around 20 dollars per month.
Pinnacle Studio
Pinnacle Studio comes with different types of video editing features. Video editing, as well as screen recording, is part of this software. It is considered a fast video editing tool with smooth video editing features. Pinnacle Studio also one of the Sony Vegas alternatives. It supports split-screen, 3D videos, HD videos, etc. The user interface also looks user-friendly. Pinnacle Studio has three different plans. It started with the base plan of around 60 dollars and the highest plan of around 130 dollars.
iMovie
iMovie is a video editing software from Apple. It is an easy tool to import videos and edit those. Video selection and trimming are also a lot easier here. The drag and drop feature is available here, which is cool, actually. The mobile version and the desktop version of iMovie software work the same. To share the video is a lot easier here in iMovie software. It is a modern video editing tool with some powerful features. iMovie is also among the Sony Vegas alternatives. It takes a lot of storage space. However, for iPhone or Macbook users, it is free.
OpenShot Video Editor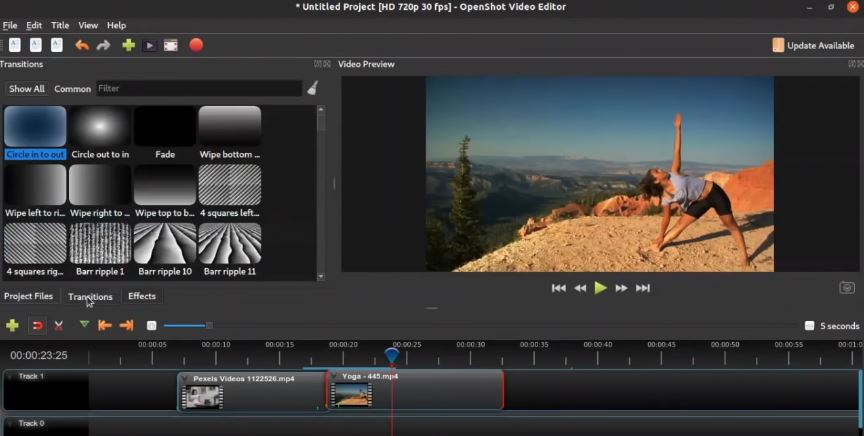 OpenShot Video Editor is a popular video editing software among video editors. Although it is most compatible with Linux OS, it still operates smoothly on Windows and Mac OS.OpenShot Video Editor supports features like video editing with 3D resolution, transition, audio mixing, etc. It is also simple in design, and the user interface is also simple. Curve-based animation, compatible with any format of image, video, and audio, video transition, desktop integration, real-time preview, all are here. OpenShot Video Editor is considered as one of the Sony Vegas alternatives. The best part of it, you can get all those for free.
Lightworks
A list of some of the best Sony Vegas alternatives is incomplete without Lightworks. It is also an advanced video editing tool with tons of features. Lightworks could be equally beneficial for a beginner as well as for a professional. Videos with a resolution of SD, HD, and 4K will work fine in it. The interface of Lightworksis user-friendly. Smooth video editing, import, and export with ease, and simple yet powerful editing controls are also part of this beautiful software. Lightworks comes with a 30 dollars of monthly package, a 210 dollars pf yearly package, and a lifetime package of 526 dollars are available.
Also Read >> Shotcut vs HitFilm: Which is the Best Video Editing Platform for You?
FAQs on Sony Vegas alternatives
In this list of Sony Vegas alternatives, which one is the costliest?
Final Cut Pro is the costliest here.
As per performance, name the best three software here?
Adobe Premiere Pro, Lightworks, and Final Cut Pro are the best three on this list.
Which software is free on this list?
iMovie and OpenShot Video Editor are free here on this list.
Conclusion
Here some of the Sony Vegas alternatives are discussed. Apart from iMovie and the OpenShot Video Editor, all are chargeable. All those software have their benefits. Therefore, the users have to choose the most suitable one for them.