Little Snitch is a complete security solution that gives users full control over their applications. It features a built-in security engine that enables users to restrict or enable access.
This tool sends you an alert every time an application tries to access the Internet. It lets you decide whether or not to allow the connection, and it will prevent the application from sharing any information without your consent.
This article will brief you about the best Little Snitch Alternatives for different platforms…
Let's begin reading and know what little snitch alternatives are more advantageous for you…
Top 11 Little Snitch Alternatives for macOS Users (2022)
No matter how widely Little Snitch is being used by its users, it is only available for macOS users. If you are also enthusiastic about knowing Little Snitch Alternatives, then you must check out our shortlisted Top 11 Little Snitch Alternatives for macOS Users available in 2022: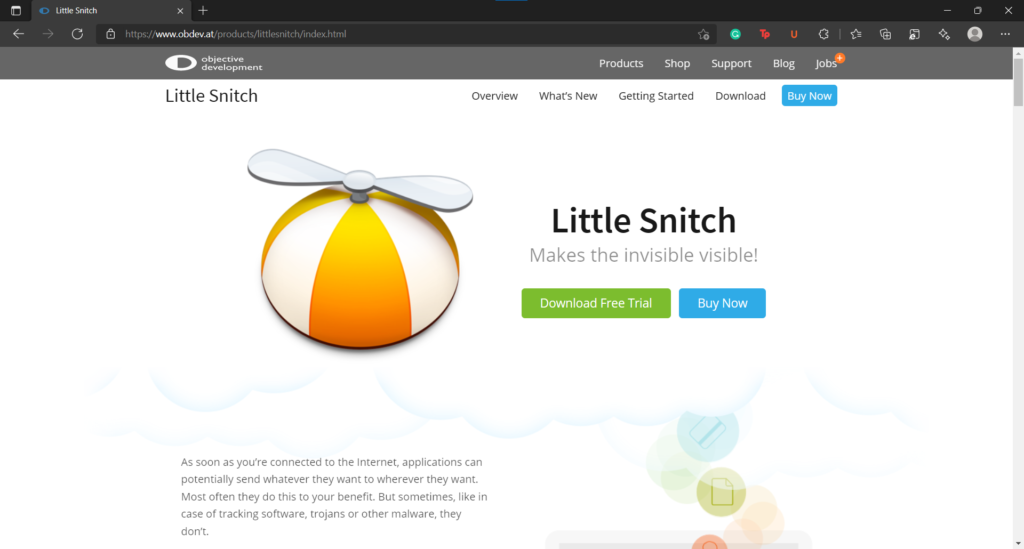 Hands Off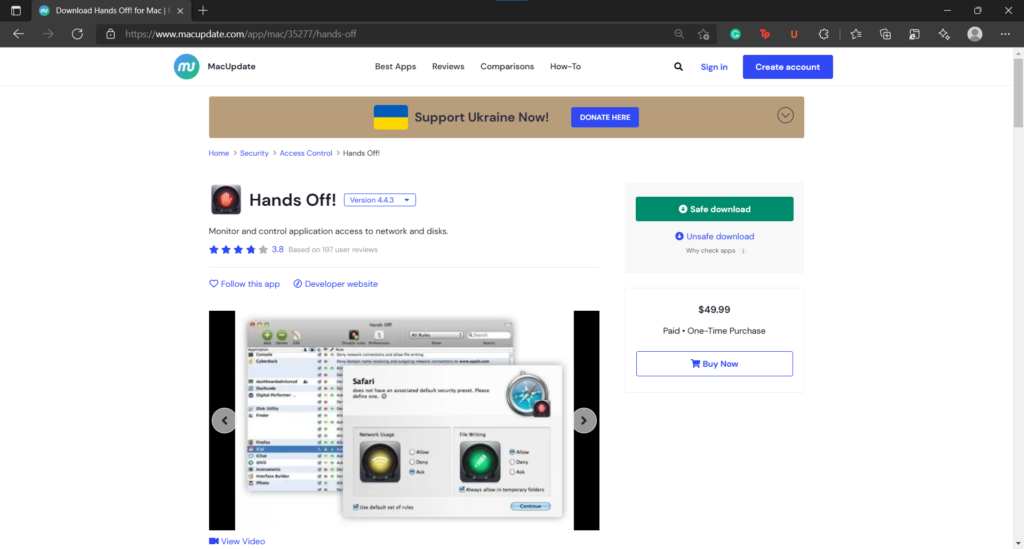 Let's begin with our first shortlisted little snitch alternatives, i.e., Hands Off! Just like Little Snitch, this application lets users monitor and control the access of their network and disks.
TCPBlock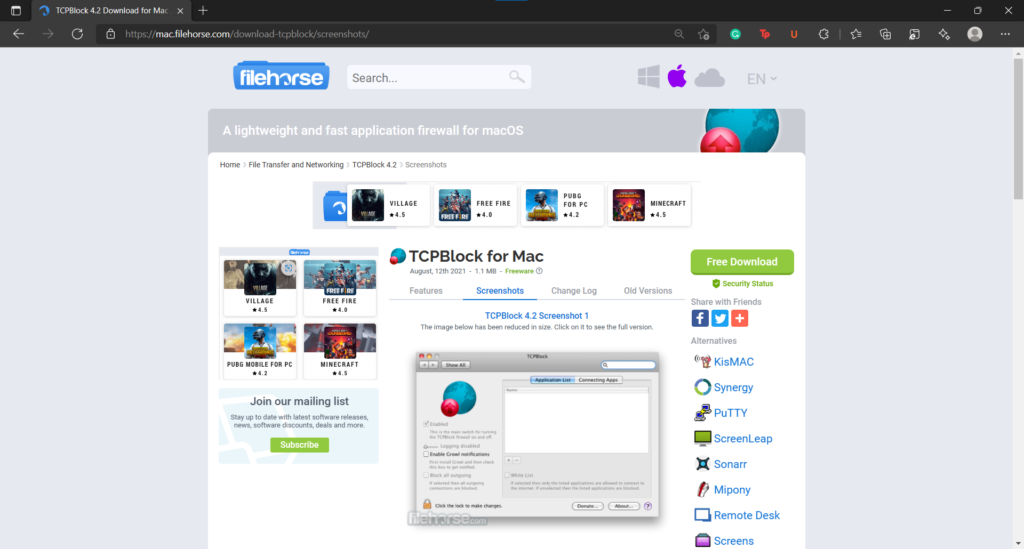 It prevents unauthorized traffic from accessing your network and monitors and secures internet traffic.
TCPBlock is a lightweight application-based firewall that works seamlessly on Mac. It follows a freemium business model that can block individual programs or allow you to filter the entire Internet. Another feature of this tool is supporting both TCP and UDP filtering. If a program is blocked, it can also send a notification to prevent it from being released. It is also capable of banning all Internet connections globally. It costs $49 with a free trial version available.
Murus
Coming to our second most useful in Little Snitch Alternatives list, Murus. Mac users commonly use this security tool to control the images stored on their computers. It has tools that are integrated into the operating system of Apple. It's also designed with advanced monitoring features.
Radio Silence
One of the other Little Snitch Alternatives is RadioSilence which can block other apps that can make unauthorized internet connections.
Vallum 4
Listed fifth in Top 11 Little Snitch Alternatives for macOS Users (2022) comes Vallum 4 macOS Application Firewall. This tool can easily intercept and maintain all application connections while deciding which ones to pass or block. It is straightforward to use and does not require any special skills or interaction with networkers.
TripMode
TripMode is a better alternative to LittleSnitch due to its UI and ability to monitor and block app usage.
LuLu by Objective-See
LuLu by Objective-See is a macOS shared-source firewall that prevents unauthorized connections. Its goal is simple: block all outgoing connections until approved by the user.
Micro Snitch
With Micro Snitch, you can now confirm that an application secretly records audio and video without your consent.
Flying Buttress
With the release of Apple's built-in Firewall, Flying Buttress will be optimized to provide users with the most modern security and configuration options.
Netiquette by Objective-See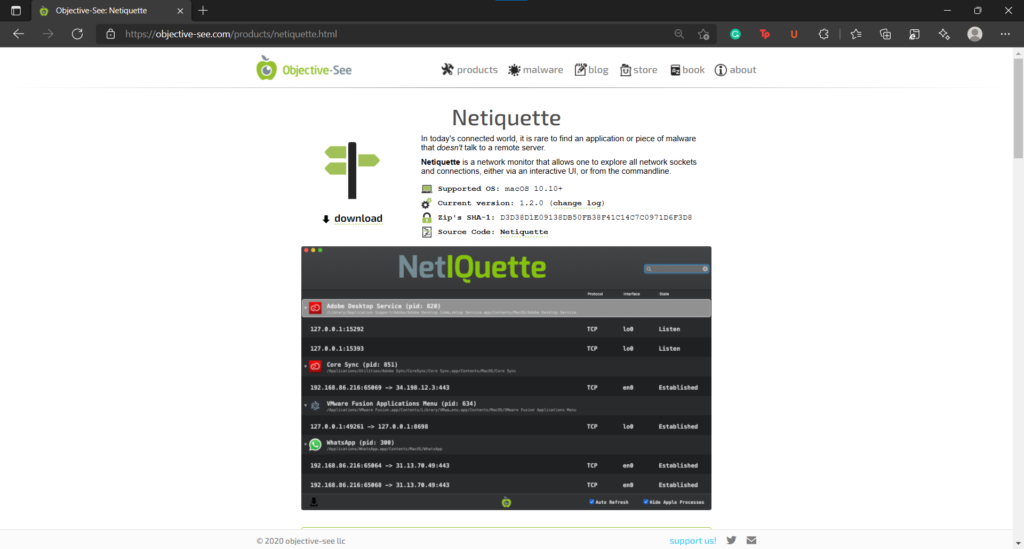 The Netiquette by Objective-See is a set of rules and guidelines that describe how to behave on the web. These rules and regulations apply to various platforms and various types of content.
Security Growler
Little Snitch is still the best connection software for Mac, but there are more Little Snitch Alternatives available out there. One of these is Security Growler, a utility that monitors all of the log files containing sensitive information.
It is still the best connection software for Mac. Security Growler is a more comprehensive solution that can monitor all of your network events. It also sends out alerts about Keychain events, Sudo events, and anything else that's reported to a log file. It does a great job of alerting you when events happen in a log file, and it can also monitor the various log files that contain specific patterns.
Little Snitch Alternatives for Different Platforms (Windows/Linux/Android)
Being less cross-platform compatible, Little Snitch works only for Mac OS and iOS users. But you need not worry about its lower compatibility with platforms, as we've come up with Little Snitch Alternatives for various and different platforms to give you a hassle-free security package of solutions in 2022!
Below you can find all the Little Snitch Alternatives available in 2022:
Windows OS Users
GlassWire
Starting with one of the best Little Snitch Alternatives, Glasswire. It comes with a built-in firewall. However, it doesn't allow specific permissions or rules for an app like its counterpart. It also blocks all connections an application might attempt to establish.
It shows you which programs are connected to which IP address. However, the paid version has an "Ask to connect" feature. It usually provides its service for free and then charges a premium for additional features.
Netlimiter
NetLimiter is an excellent Windows application that enables users to control and monitor their Internet traffic. The app displays the current download and upload speeds of all the currently connected apps to the Internet. You can also restrict the amount of bandwidth that a particular app can provide. The app is a paid version that comes with a 30-day trial which costs about $29 a month.
Portmaster
The Portmaster is built into your kernel, and it can also protect your whole computer from all types of ads and analytics.
BiniSoft Windows Firewall Control
Windows Firewall Control features new features that make the security suite more robust by letting you extend the functionality of the Windows Firewall.
Windows 10 Firewall Control
Windows 10 Firewall protects your computer from unauthorized access and helps you keep your sensitive and private information secured.
TripMode
TripMode is considered to be one of the most valuable "Little Snitch Alternatives". It is the same as the macOS version of TripMode, which helps in monitoring data and managing usage.
Looknstop Firewall
Looknstop Firewall protects your PC from unauthorized access and changes in network behavior. It also controls the types of applications that can access it.
According to its developers, it is the best tool to prevent spyware. Its ability to completely hide your PC from hackers makes it undetectable to them.
Wallix BestSafe
Wallix BestSafe is a computer security solution that prevents unauthorized individuals from accessing your computer. It features an advanced defensive system that blocks all known attacks.
Filseclab Personal Firewall
Filseclab Personal Firewall is a powerful and easy-to-use security suite that can protect you from various types of attacks. It is available only for older versions of Windows.
Private Eye
Private Eye is an application that lets users keep track of their live connections. It also shows the presence of an online server. The app also shows the location of the online server that's supplying the information about your live connections.
Linux Users
Although Little Snitch is not available on Linux, some little snitch alternatives can run on the operating system.
Below you can find the list of Best Little Snitch Alternatives for Linux OS:
OpenSnitch
OpenSnitch is a Linux and Unix-based port of the Little Snitch firewall.
Portmaster
The Portmaster is built on top of the kernel so that it can protect your entire PC.
Douane
Douane, a user, 's privacy by restricting the network traffic they can allow to their computer.
Upribox
The Upribox software works seamlessly with other devices by creating a secure wireless network with adblocking and Tor.
PicoSnitch
Picosnitch is a lightweight program that will monitor your system and alert you when a new program comes into existence. It can also detect and report suspicious activities.
InJoy Firewall
InJoy Firewall 4.0 is a revolutionary new type of Firewall that eliminates the need for cumbersome and complex solutions.
UFW (Uncomplicated Firewall)
UFW is a program that simplifies the management of a network filter. It sends and receives commands through a command-line interface.
Android OS Users
There are Little Snitch Alternatives for android users in 2022. You can find them as listed below:
NetGard
NetGuard is an advanced and straightforward way to prevent people from accessing the Internet. It works by individually restricting or denying access to specific applications and addresses.
Sophos Cyberoam UTM
Sophos Cyberoam UTM is security software that provides comprehensive protection against threats. It features an easy-to-use UI that enables users to identify and secure various network parts quickly. It also supports multi-core technology to prevent future attacks.
GlassWire Data Usage Monitor
Like its Windows version, it is a security monitoring tool that lets users monitor and analyze their network activities. It sends alarms when suspicious activities happen.
Quantum Flare
Quantum Flare protects you from unauthorized apps that steal sensitive information from your devices, such as credit card and login credentials. It also includes a complete ransomware protection solution. It also allows you to control and protect your settings. The paid version of Quantum Flare consists of various advanced features that will enable you to control and protect yourself from unauthorized apps. Some of these include anti-phishing, tracking IP, and custom settings management.
Note – Unfortunately, there are no such little snitch alternatives available on the desk as Apple does not allow it to be installed on their iOS devices.
Latest Features Provided by Little Snitch 5
Now that you've seen all the little snitch alternatives available for different platforms in 2022.
Little Snitch 5 is a brand new version of the popular macOS utility that features a brand new look (UI), Drag and drop facility, Better traffic monitoring, and a brand new command-line interface.
However, since macOS Big Sur requires an older version of the operating system to install Little Snitch 5, users who are still running Catalina can still purchase and install it later.
Little Snitch 5 features the ability to integrate the latest network filter technologies into macOS Big Sur. The app's engine was also rebuilt to replace the old kernel extension-based approach.
The new version of Little Snitch allows the app to collect connection details in the background. It also allows the system to keep track of traffic information for up to a year.
System administrators can now easily modify the settings of Little Snitch through a command-line interface. This new feature allows them to monitor all network connections. The drag-and-drop installation also eliminates the need for restarting the app.
The latest version of Little Snitch is now available for $45 per license. Those who bought the app before November 1, 2019, can upgrade to the free version for free. The free version of Little Snitch 5 is also available for existing users.
When enabled, the command-line tool must be used only as long as it is necessary. Doing so should prevent any unauthorized processes from gaining root privileges. It is also recommended that you only enable access to the tool for a limited time to avoid unauthorized processes from obtaining root privileges.
The command-line interface of the AFA is used for various tasks such as managing configuration changes, debugging problems, and capturing internal information. It also supports importing and exporting backups.
The command-line interface also supports various features, such as allowing configuration changes to be executed without affecting the system's stability. It also allows us to collect internal information such as traffic and user mapping. It also supports various features that allow configuration changes to be executed without affecting the system's stability.
Restructured UI
The new UI features, such as a prominent search bar and a new structured sidebar, are designed to make Little Snitch more user-friendly. One of these includes a search bar that lets users quickly find their way around.
Drag and Drop Facility
This simple and effective Drag and drop installation allows users to install and update Little Snitch without restarting their PC.
Better Internet Traffic Monitoring
Instead of running the Network Monitor application to collect the data, Little Snitch now automatically collects the connection details in the background. This saves system resources and lowers CPU consumption.
Command-Line Interface (CLI)
Administrators can now easily modify various program settings through a Command-line interface (CLI). This new feature allows them to easily report network connections and monitor traffic analysis.
FAQs Related to Little Snitch Alternatives
What is a Firewall?
A firewall acts as an intermediary between the network and the user, by inspecting incoming and outgoing traffic to identify and block threats. It is widely used in various settings. Many devices come with built-in firewalls.
Why are Firewalls important?
Firewalls are widely used in modern security techniques due to their significant influence on the development of modern security tools. They were first introduced in the early days of the Internet to handle increasing intricacy. Most devices now use firewalls to protect themselves from unauthorized access.
How does a Firewall work?
A Firewall creates a network border that prevents unauthorized traffic from entering and leaving a guarded network. It uses predefined rules to identify which packets are legitimate and which are malicious.
Is Little Snitch the best solution for macOS users?
Yes, Little Snitch 5 is the best solution that will work seamlessly on your Mac. Still, you can explore different little snitch alternatives for macOS.
Why are there no true Little snitch alternatives for Windows users?
There are "little snitch alternatives" available for Windows users but there's no true alternative because some products have not been designed to be cross-platform compatible.
Is cross-platform compatibility an issue when it comes to Little Snitch Alternatives?
Not really. There are alternatives available of little snitch alternatives like LuLu by Objective-See.
Does Little Snitch require Internet?
Every time you open up this application, you must be connected to a safe internet to use it. Even all the Little Snitch Alternatives (Firewall& Security) requires a good internet connection.
Which is the best Little Snitch Alternatives for Big Sur (macOS) users?
Which is the best amongst the two: Little Snitch or RadioSilence?
It depends on your needs. If you want to set up a real-time pop-up window, go with Little Snitch. If you're looking to block a few apps, then use Radio Silence as it is considered to be one of the most useful in the little snitch alternatives list by us.
Conclusion
I am concluding this article by telling you that I've covered all the Best Little Snitch Alternatives currently being used.
Some of the Cross-platforms Little Snitch Alternatives have also been mentioned in this paper.
I am hoping that you, most probably, would've found this article beneficial.
If you do find this article to help you find the Little Snitch Alternatives, then do share it, and you may also Check out our daily blog posts.
Till the next time, Keep reading and learning through Toolspond…